Casa Tota in La Palma - Las Casas Canarias

Casa Tota
Rustic two-bedroom house with a magnificent outside area with nice details, private pool and fantastic views to the green landscape of La Palma
Casa Tota
(+34) 928 580 030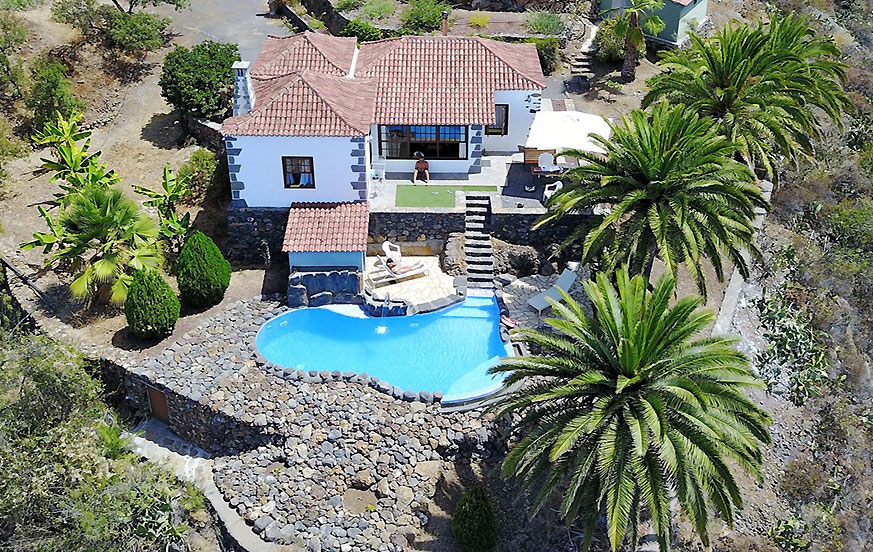 Rustic two-bedroom house with a magnificent outside area with nice details, private pool and fantastic views to the green landscape of La Palma
Rustic two-bedroom house with a magnificent outside area with nice details, private pool and fantastic views to the green landscape of La Palma
Description
Reference number: 11024
Cottages with private swimming pool
Maximum occupancy: 4 Adults + 1 Child up to 2 years
Place: Tijarafe, La Palma
Location: 500 meters above sea level. In a rural area overlooking the sea and mountains.
House / Terrain: 86 m2 / 4.000 m2
License: CR-148
Ground floor
1 Bedroom with double bed (150 cm x 200 cm)
1 Bedroom with 2 single beds
1 Bathroom with bathtub and shower
1 Living room
---
Equipment
Gas stove
Fridge
Microwave
Toaster
Coffee machine
Washing machine
Clothes iron
Ironing board
Hair dryer
Cot
High chair
Heater
Fireplace
Internet (WIFI)
Satellite TV
Sound system
---
Outside
Terrace
Sun loungers
Sun umbrella
Barbecue
Garden
Parking
Private pool
Solar pool heating (ideal bathing temperatures cannot be guaranteed)
---
Additional information
Located in a farm next to Casa Almendra
Firewood is provided for the fireplace
There is a radiator on request
---
House rules
1 Child up to two years in cot: free
Pets not allowed
Minimum stay of 7 nights
Check-in from 15:00
Check-out until 10:00
Surroundings
Supermarket: 2, 8 km
Beach: 20, 4 km
City: 21, 6 km
Airport: 53, 2 km
---
Activities
Horse riding
Paragliding
Cycling
Mountain climbing
Deep sea fishing
Fishing
Boat trips
Sailing
Kitesurfing
Windsurfing
Surfing
Diving
Snorkeling
Swimming
Hiking
Offers
Special offer Children (3-12) 5 Euros/night
---
1
2
3
4
5
6
7
8
9
10
11
12
13
14
15
16
17
18
19
20
21
22
23
24
25
26
27
28
29
30
31

1
2
3
4
5
6
7
8
9
10
11
12
13
14
15
16
17
18
19
20
21
22
23
24
25
26
27
28

1
2
3
4
5
6
7
8
9
10
11
12
13
14
15
16
17
18
19
20
21
22
23
24
25
26
27
28
29
30
31

1
2
3
4
5
6
7
8
9
10
11
12
13
14
15
16
17
18
19
20
21
22
23
24
25
26
27
28
29
30

1
2
3
4
5
6
7
8
9
10
11
12
13
14
15
16
17
18
19
20
21
22
23
24
25
26
27
28
29
30
31

1
2
3
4
5
6
7
8
9
10
11
12
13
14
15
16
17
18
19
20
21
22
23
24
25
26
27
28
29
30

1
2
3
4
5
6
7
8
9
10
11
12
13
14
15
16
17
18
19
20
21
22
23
24
25
26
27
28
29
30
31

1
2
3
4
5
6
7
8
9
10
11
12
13
14
15
16
17
18
19
20
21
22
23
24
25
26
27
28
29
30
31

1
2
3
4
5
6
7
8
9
10
11
12
13
14
15
16
17
18
19
20
21
22
23
24
25
26
27
28
29
30

1
2
3
4
5
6
7
8
9
10
11
12
13
14
15
16
17
18
19
20
21
22
23
24
25
26
27
28
29
30
31

1
2
3
4
5
6
7
8
9
10
11
12
13
14
15
16
17
18
19
20
21
22
23
24
25
26
27
28
29
30

1
2
3
4
5
6
7
8
9
10
11
12
13
14
15
16
17
18
19
20
21
22
23
24
25
26
27
28
29
30
31

1
2
3
4
5
6
7
8
9
10
11
12
13
14
15
16
17
18
19
20
21
22
23
24
25
26
27
28
29
30
31

1
2
3
4
5
6
7
8
9
10
11
12
13
14
15
16
17
18
19
20
21
22
23
24
25
26
27
28

1
2
3
4
5
6
7
8
9
10
11
12
13
14
15
16
17
18
19
20
21
22
23
24
25
26
27
28
29
30
31

1
2
3
4
5
6
7
8
9
10
11
12
13
14
15
16
17
18
19
20
21
22
23
24
25
26
27
28
29
30

1
2
3
4
5
6
7
8
9
10
11
12
13
14
15
16
17
18
19
20
21
22
23
24
25
26
27
28
29
30
31

1
2
3
4
5
6
7
8
9
10
11
12
13
14
15
16
17
18
19
20
21
22
23
24
25
26
27
28
29
30

1
2
3
4
5
6
7
8
9
10
11
12
13
14
15
16
17
18
19
20
21
22
23
24
25
26
27
28
29
30
31

1
2
3
4
5
6
7
8
9
10
11
12
13
14
15
16
17
18
19
20
21
22
23
24
25
26
27
28
29
30
31

1
2
3
4
5
6
7
8
9
10
11
12
13
14
15
16
17
18
19
20
21
22
23
24
25
26
27
28
29
30

1
2
3
4
5
6
7
8
9
10
11
12
13
14
15
16
17
18
19
20
21
22
23
24
25
26
27
28
29
30
31

1
2
3
4
5
6
7
8
9
10
11
12
13
14
15
16
17
18
19
20
21
22
23
24
25
26
27
28
29
30

1
2
3
4
5
6
7
8
9
10
11
12
13
14
15
16
17
18
19
20
21
22
23
24
25
26
27
28
29
30
31
1
2
3
4
5
6
7
8
9
10
11
12
13
14
15
16
17
18
19
20
21
22
23
24
25
26
27
28
29
30
31

1
2
3
4
5
6
7
8
9
10
11
12
13
14
15
16
17
18
19
20
21
22
23
24
25
26
27
28

1
2
3
4
5
6
7
8
9
10
11
12
13
14
15
16
17
18
19
20
21
22
23
24
25
26
27
28
29
30
31

1
2
3
4
5
6
7
8
9
10
11
12
13
14
15
16
17
18
19
20
21
22
23
24
25
26
27
28
29
30

1
2
3
4
5
6
7
8
9
10
11
12
13
14
15
16
17
18
19
20
21
22
23
24
25
26
27
28
29
30
31

1
2
3
4
5
6
7
8
9
10
11
12
13
14
15
16
17
18
19
20
21
22
23
24
25
26
27
28
29
30

1
2
3
4
5
6
7
8
9
10
11
12
13
14
15
16
17
18
19
20
21
22
23
24
25
26
27
28
29
30
31

1
2
3
4
5
6
7
8
9
10
11
12
13
14
15
16
17
18
19
20
21
22
23
24
25
26
27
28
29
30
31

1
2
3
4
5
6
7
8
9
10
11
12
13
14
15
16
17
18
19
20
21
22
23
24
25
26
27
28
29
30

1
2
3
4
5
6
7
8
9
10
11
12
13
14
15
16
17
18
19
20
21
22
23
24
25
26
27
28
29
30
31

1
2
3
4
5
6
7
8
9
10
11
12
13
14
15
16
17
18
19
20
21
22
23
24
25
26
27
28
29
30

1
2
3
4
5
6
7
8
9
10
11
12
13
14
15
16
17
18
19
20
21
22
23
24
25
26
27
28
29
30
31

1
2
3
4
5
6
7
8
9
10
11
12
13
14
15
16
17
18
19
20
21
22
23
24
25
26
27
28
29
30
31

1
2
3
4
5
6
7
8
9
10
11
12
13
14
15
16
17
18
19
20
21
22
23
24
25
26
27
28

1
2
3
4
5
6
7
8
9
10
11
12
13
14
15
16
17
18
19
20
21
22
23
24
25
26
27
28
29
30
31

1
2
3
4
5
6
7
8
9
10
11
12
13
14
15
16
17
18
19
20
21
22
23
24
25
26
27
28
29
30

1
2
3
4
5
6
7
8
9
10
11
12
13
14
15
16
17
18
19
20
21
22
23
24
25
26
27
28
29
30
31

1
2
3
4
5
6
7
8
9
10
11
12
13
14
15
16
17
18
19
20
21
22
23
24
25
26
27
28
29
30

1
2
3
4
5
6
7
8
9
10
11
12
13
14
15
16
17
18
19
20
21
22
23
24
25
26
27
28
29
30
31

1
2
3
4
5
6
7
8
9
10
11
12
13
14
15
16
17
18
19
20
21
22
23
24
25
26
27
28
29
30
31

1
2
3
4
5
6
7
8
9
10
11
12
13
14
15
16
17
18
19
20
21
22
23
24
25
26
27
28
29
30

1
2
3
4
5
6
7
8
9
10
11
12
13
14
15
16
17
18
19
20
21
22
23
24
25
26
27
28
29
30
31

1
2
3
4
5
6
7
8
9
10
11
12
13
14
15
16
17
18
19
20
21
22
23
24
25
26
27
28
29
30

1
2
3
4
5
6
7
8
9
10
11
12
13
14
15
16
17
18
19
20
21
22
23
24
25
26
27
28
29
30
31
Reviews
(26)
Ingrid & Patrick
very nice and clean cottage, beautiful view for sunset and starry sky, friendly owner we felt very welcome !
J.H.
Die Woche in diesem wundervollen Haus hätte nicht besser sein können. Alles war sauber und super gepflegt. Der Pool war perfekt und die Obstbäume auf dem Grundstück waren auch ein Highlight. Wir werden bestimmt noch einmal wieder kommen!
O und R aus Stuttgart
Alles Prima
ENRIQUE MORA
Entorno maravilloso, Pedro fantástico anfitrión ...han sido unas vacaciones magníficas. Gracias Pedro.
NK
Wir würden das Haus jederzeit wieder buchen! Pedro war ein sehr netter Gastgeber!
Alberto
The house is situated in a wonderful landscape. There is one km of slope to arrive to the house, but this is a carachteristic of La Palma. The owner Pedro is very discreet, he works sometimes near the house but doesn't bother you. The pool is nice, ad the house is well equiped (not so modern, but still good). One of the few negative points is that the bad sheets aren't so good.
W.A.
Sehr schönes Haus mit traumhaft schönem Blick aufs Meer und einem tollen Pool. Pedro, ein super netter Vermieter, der sich um das Anwesen und seine Gäste liebevoll kümmert.
Elke P.
hervorragende Aussicht
Sander C.
We have booked Casa Tota already several times. A beautiful renovated traditional casita in a marvellous surrounding. And this time with a new good kingsize bed! Pedro takes care very well for his property and garden. Till next time.
Any question? Special wishes? We are here for you!
Casa Tota


La Palma

from 79,00 Euros/night
Maximum occupancy: 4 People
2 Bedrooms
1 Bathrooms
Private pool