Casa El Roquito in La Palma - Las Casas Canarias

Casa El Roquito
Newly renovated holiday home with a long pool for swimming on the east side of La Palma with views of the Atlantic Ocean and Tenerife
Casa El Roquito
(+34) 928 580 030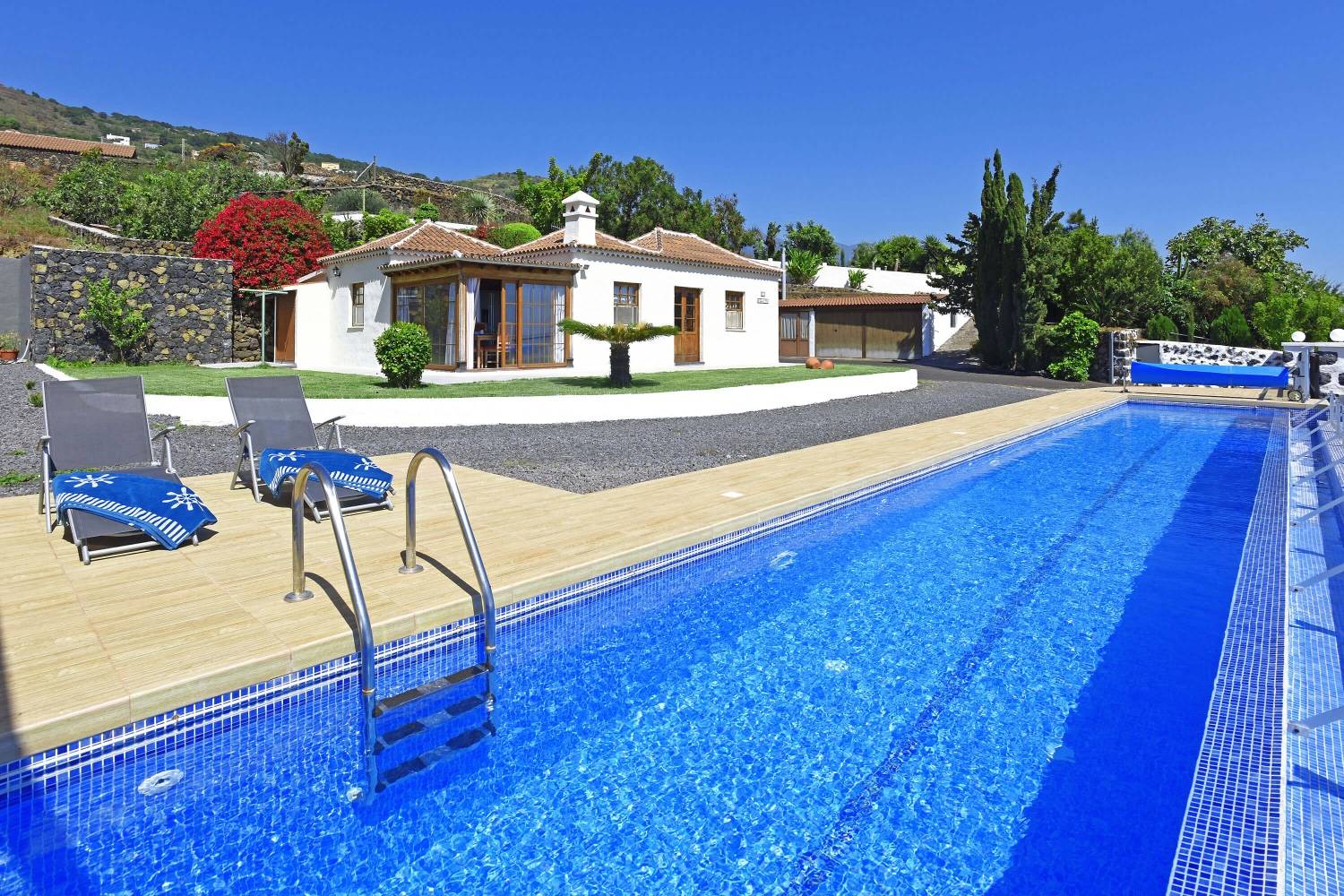 Newly renovated holiday home with a long pool for swimming on the east side of La Palma with views of the Atlantic Ocean and Tenerife
Newly renovated holiday home with a long pool for swimming on the east side of La Palma with views of the Atlantic Ocean and Tenerife
Description
Reference number: 63903
Cottages with private swimming pool
Maximum occupancy: 6 Adults + 1 Child up to 2 years
Place: Mazo, La Palma
Location: 337 meters above sea level. In a rural area overlooking the sea and mountains.
House / Terrain: 100 m2 / 3000 m2
License: VT-38-5-0000330
Rooms
1 Living room
Sofa bed
1 Dining room
1 Kitchen
1 Laundry room
1 bedroom with double bed (180 cm x 200 cm)
1 Bedroom with 2 single beds
1 Bathroom with bathtub
1 Dressing room
1 Fitness room
---
Equipment
Gas stove
Fridge with freezer
Oven
Microwave
Toaster
Coffee machine
Squeezer
Juice extractor
Mixer
Washing machine
Clothes iron
Ironing board
Vacuum cleaner
Hair dryer
Cot
Air conditioning
Heater
Unlimited Internet (WiFi)
Spanish TV
Smart TV
DVD Player
Sound system
---
Outside
Terrace
Covered terrace
Sun loungers
Outside shower
Barbecue
Garden
Fruit orchard
Parking
Private pool 18 m x 2,5 m
Thermal swimming pool cover
---
Service
Inclusive
Towels and sheets
Pool towels
Intermediate cleaning with linen change after 7 nights
Final cleaning
Pool cleaning 1 time per week
Welcome pack with food and drinks
---
House rules
1 Child up to two years in cot: free
Small pets on request
Smoking not allowed except in outdoor areas
Minimum stay of 6 nights
Check-in from 15:00
Check-out until 10:00
Surroundings
Town: 2,4 km
Restaurant: 2,4 km
Supermarket: 2,4 km
Airport: 6,2 km
Beach: 6,4 km
City: 10 km
---
Activities
Horse riding
Paragliding
Cycling
Mountain climbing
Deep sea fishing
Fishing
Boat trips
Sailing
Kitesurfing
Windsurfing
Surfing
Diving
Snorkeling
Swimming
Hiking
1
2
3
4
5
6
7
8
9
10
11
12
13
14
15
16
17
18
19
20
21
22
23
24
25
26
27
28
29
30

1
2
3
4
5
6
7
8
9
10
11
12
13
14
15
16
17
18
19
20
21
22
23
24
25
26
27
28
29
30
31

1
2
3
4
5
6
7
8
9
10
11
12
13
14
15
16
17
18
19
20
21
22
23
24
25
26
27
28
29
30
31

1
2
3
4
5
6
7
8
9
10
11
12
13
14
15
16
17
18
19
20
21
22
23
24
25
26
27
28
29
30

1
2
3
4
5
6
7
8
9
10
11
12
13
14
15
16
17
18
19
20
21
22
23
24
25
26
27
28
29
30
31

1
2
3
4
5
6
7
8
9
10
11
12
13
14
15
16
17
18
19
20
21
22
23
24
25
26
27
28
29
30

1
2
3
4
5
6
7
8
9
10
11
12
13
14
15
16
17
18
19
20
21
22
23
24
25
26
27
28
29
30
31

1
2
3
4
5
6
7
8
9
10
11
12
13
14
15
16
17
18
19
20
21
22
23
24
25
26
27
28
29
30
31

1
2
3
4
5
6
7
8
9
10
11
12
13
14
15
16
17
18
19
20
21
22
23
24
25
26
27
28
29

1
2
3
4
5
6
7
8
9
10
11
12
13
14
15
16
17
18
19
20
21
22
23
24
25
26
27
28
29
30
31

1
2
3
4
5
6
7
8
9
10
11
12
13
14
15
16
17
18
19
20
21
22
23
24
25
26
27
28
29
30

1
2
3
4
5
6
7
8
9
10
11
12
13
14
15
16
17
18
19
20
21
22
23
24
25
26
27
28
29
30
31

1
2
3
4
5
6
7
8
9
10
11
12
13
14
15
16
17
18
19
20
21
22
23
24
25
26
27
28
29
30

1
2
3
4
5
6
7
8
9
10
11
12
13
14
15
16
17
18
19
20
21
22
23
24
25
26
27
28
29
30
31

1
2
3
4
5
6
7
8
9
10
11
12
13
14
15
16
17
18
19
20
21
22
23
24
25
26
27
28
29
30
31

1
2
3
4
5
6
7
8
9
10
11
12
13
14
15
16
17
18
19
20
21
22
23
24
25
26
27
28
29
30

1
2
3
4
5
6
7
8
9
10
11
12
13
14
15
16
17
18
19
20
21
22
23
24
25
26
27
28
29
30
31

1
2
3
4
5
6
7
8
9
10
11
12
13
14
15
16
17
18
19
20
21
22
23
24
25
26
27
28
29
30

1
2
3
4
5
6
7
8
9
10
11
12
13
14
15
16
17
18
19
20
21
22
23
24
25
26
27
28
29
30
31

1
2
3
4
5
6
7
8
9
10
11
12
13
14
15
16
17
18
19
20
21
22
23
24
25
26
27
28
29
30
31

1
2
3
4
5
6
7
8
9
10
11
12
13
14
15
16
17
18
19
20
21
22
23
24
25
26
27
28

1
2
3
4
5
6
7
8
9
10
11
12
13
14
15
16
17
18
19
20
21
22
23
24
25
26
27
28
29
30
31

1
2
3
4
5
6
7
8
9
10
11
12
13
14
15
16
17
18
19
20
21
22
23
24
25
26
27
28
29
30

1
2
3
4
5
6
7
8
9
10
11
12
13
14
15
16
17
18
19
20
21
22
23
24
25
26
27
28
29
30
31
1
2
3
4
5
6
7
8
9
10
11
12
13
14
15
16
17
18
19
20
21
22
23
24
25
26
27
28
29
30

1
2
3
4
5
6
7
8
9
10
11
12
13
14
15
16
17
18
19
20
21
22
23
24
25
26
27
28
29
30
31

1
2
3
4
5
6
7
8
9
10
11
12
13
14
15
16
17
18
19
20
21
22
23
24
25
26
27
28
29
30
31

1
2
3
4
5
6
7
8
9
10
11
12
13
14
15
16
17
18
19
20
21
22
23
24
25
26
27
28
29
30

1
2
3
4
5
6
7
8
9
10
11
12
13
14
15
16
17
18
19
20
21
22
23
24
25
26
27
28
29
30
31

1
2
3
4
5
6
7
8
9
10
11
12
13
14
15
16
17
18
19
20
21
22
23
24
25
26
27
28
29
30

1
2
3
4
5
6
7
8
9
10
11
12
13
14
15
16
17
18
19
20
21
22
23
24
25
26
27
28
29
30
31

1
2
3
4
5
6
7
8
9
10
11
12
13
14
15
16
17
18
19
20
21
22
23
24
25
26
27
28
29
30
31

1
2
3
4
5
6
7
8
9
10
11
12
13
14
15
16
17
18
19
20
21
22
23
24
25
26
27
28
29

1
2
3
4
5
6
7
8
9
10
11
12
13
14
15
16
17
18
19
20
21
22
23
24
25
26
27
28
29
30
31

1
2
3
4
5
6
7
8
9
10
11
12
13
14
15
16
17
18
19
20
21
22
23
24
25
26
27
28
29
30

1
2
3
4
5
6
7
8
9
10
11
12
13
14
15
16
17
18
19
20
21
22
23
24
25
26
27
28
29
30
31

1
2
3
4
5
6
7
8
9
10
11
12
13
14
15
16
17
18
19
20
21
22
23
24
25
26
27
28
29
30

1
2
3
4
5
6
7
8
9
10
11
12
13
14
15
16
17
18
19
20
21
22
23
24
25
26
27
28
29
30
31

1
2
3
4
5
6
7
8
9
10
11
12
13
14
15
16
17
18
19
20
21
22
23
24
25
26
27
28
29
30
31

1
2
3
4
5
6
7
8
9
10
11
12
13
14
15
16
17
18
19
20
21
22
23
24
25
26
27
28
29
30

1
2
3
4
5
6
7
8
9
10
11
12
13
14
15
16
17
18
19
20
21
22
23
24
25
26
27
28
29
30
31

1
2
3
4
5
6
7
8
9
10
11
12
13
14
15
16
17
18
19
20
21
22
23
24
25
26
27
28
29
30

1
2
3
4
5
6
7
8
9
10
11
12
13
14
15
16
17
18
19
20
21
22
23
24
25
26
27
28
29
30
31

1
2
3
4
5
6
7
8
9
10
11
12
13
14
15
16
17
18
19
20
21
22
23
24
25
26
27
28
29
30
31

1
2
3
4
5
6
7
8
9
10
11
12
13
14
15
16
17
18
19
20
21
22
23
24
25
26
27
28

1
2
3
4
5
6
7
8
9
10
11
12
13
14
15
16
17
18
19
20
21
22
23
24
25
26
27
28
29
30
31

1
2
3
4
5
6
7
8
9
10
11
12
13
14
15
16
17
18
19
20
21
22
23
24
25
26
27
28
29
30

1
2
3
4
5
6
7
8
9
10
11
12
13
14
15
16
17
18
19
20
21
22
23
24
25
26
27
28
29
30
31
Reviews
(3)
La Palmine
Es war alles wunderbar. Vor allem die äußerst herzliche Begrüßung vor Ort durch Maria-Luz, die uns immer wieder mit kleinen Presenten verwöhnte. :-) Außerdem fragte sie immer wieder nach, ob auch alles in Ordnung sei. Die Reinigung nach einer Woche erfolgte prompt mit Ankündigung und wurde sehr gewissenhaft ausgeführt. Vielen lieben Dank an Maria-Luz. Den Pool konnten wir auf Grund der fürs Baden eher kühleren Temperaturen nicht nutzen, aber für das Beine-abkühlen reichte es dennoch. Die Liegen waren sehr bequem und man konnte sich gut vorstellen im Pavillon einen schönen Abend zu verbringen. Auch den Grill haben wir nicht benutzt (wegen des Wetters); hier ein kleiner Tipp: eine Erhöhung für den Grillrost wäre nicht schlecht, sonst verbrennt das Grillgut zu schnell. Die Lage ist sehr ruhig, trotz der Nähe zum Flughafen. Supermärkte, Santa Cruz und Wandermöglichkeiten sind in der Nähe und gut zu erreichen. Fazit: Sehr gerne wieder.
Gordon McNab
This was our first visit to La Palma. You need a car to explore. There are no restaurants or shops within easy walking distance. This may be because we booked last minute and it was mid October. May be more earlier in season. Saw evidence of places but closed when we were there. Not a problem with a car. The island was stunning. So much colour. Fantastic gardens and allotments. Most of the houses have great gardens full of produce. Some spanish is helpfull. The house is great with the pool for swimming. The island is not a tourist trap like some of the neighbouring ones. We had the first week with my brother in law and the second just us. Slept well. Stars were amazing. It was quiet and peaceful. Feel relaxed and would come back to la Palma. If you want night life and craick this is not the spot. If you want peace and quiet with relaxation then this house is for you. Steep hills to walk to the shop in Mazo. Very steep but we met lovely people en route working in their gardens. Good rep /housekeeper. She was very kind and helpful. This was a good find. Weather was beginning to break. Now home back in Oban ,Scotland. Miss La Palma and la casa. Gordon and Alison McNab.
VERÓNICA
Muy recomendable, zona tranquila, bien cómica da, con todo lo necesario y más. Buen trato y atendimiento, para repetir
Any question? Special wishes? We are here for you!
Casa El Roquito


La Palma

from 79,00 Euros/night
Maximum occupancy: 6 People
2 Bedrooms
1 Bathrooms
Private pool