Casa Vista Mar in La Palma - Las Casas Canarias

Casa Vista Mar
Beautiful two-storey house with fireplace and private pool with spectacular views of the sea and the mountains
Casa Vista Mar
(+34) 928 580 030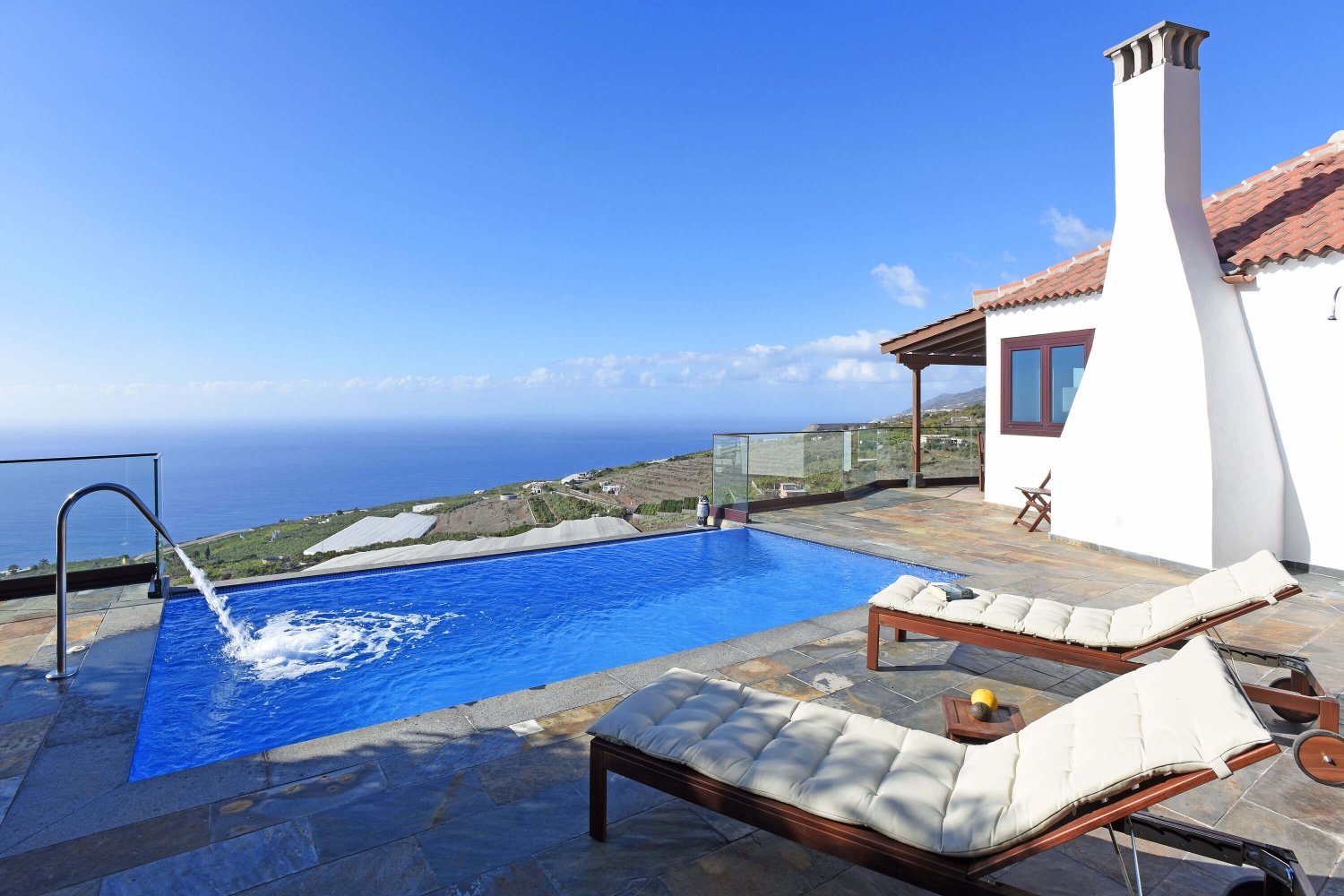 Beautiful two-storey house with fireplace and private pool with spectacular views of the sea and the mountains
Beautiful two-storey house with fireplace and private pool with spectacular views of the sea and the mountains
Description
Reference number: 58730
Villa with private swimming pool
Maximum occupancy: 6 Adults + 1 Child up to 2 years
Place: Tijarafe, La Palma
Location: 400 meters above sea level. In a rural area overlooking the sea and mountains.
House / Terrain: 200 m2 / 4000 m2
License: VV-38-5-0000067
First floor
1 Living room with dining area and kitchen
1 bedroom with double bed (180 cm x 200 cm)
1 Bedroom with 2 single beds
1 Bathroom with bathtub and hydromassage shower
1 Bathroom with shower
Ground floor
1 Living room
1 Bedroom with 2 single beds
1 WC
---
Equipment
Ceramic hob
Fridge with freezer
Oven
Microwave
Dishwasher
Toaster
Electric kettle
Coffee machine
Squeezer
Mixer
Washing machine
Clothes iron
Ironing board
Hair dryer
Cot
High chair
Safe
Heating
Floor heating
Heater
Fireplace
Internet (WIFI)
Spanish TV
Satellite TV
DVD Player
Bluetooth speaker
---
Outside
Terrace
Covered terrace
Dining area
Sun loungers
Sun umbrella
Outside shower
Barbecue
Garden
Fruit orchard
Parking
Private pool 6 m x 3,5 m x 1,4 m
Jet massage
Saltwater system (electrolytic process for natural chlorination of water)
---
Service
Inclusive
Towels and sheets
Pool towels
Intermediate cleaning with change of towels and sheets for stays longer than 7 nights
Final cleaning
Pool cleaning 2 times per week
Welcome gift
---
Additional information
A basket of wood for the fireplace is available
Floor heating is available free for the winter months, in summer only on request for an extra cost
---
House rules
1 Child up to two years in cot: free
Pets not allowed
Smoking not allowed except in outdoor areas
Minimum stay of 6 nights, in high season 7 nights
Check-in from 15:00
Check-out until 10:00
Surroundings
Doctor: 6 km
Supermarket: 1,5 km
Restaurant: 1,5 km
Beach: 10,6 km
Airport: 48,0 km
---
Activities
Horse riding
Paragliding
Cycling
Mountain climbing
Deep sea fishing
Fishing
Boat trips
Sailing
Kitesurfing
Windsurfing
Surfing
Diving
Snorkeling
Swimming
Hiking
Offers
Last minute from 14 days before the arrival: 10% Discount
---
1
2
3
4
5
6
7
8
9
10
11
12
13
14
15
16
17
18
19
20
21
22
23
24
25
26
27
28

1
2
3
4
5
6
7
8
9
10
11
12
13
14
15
16
17
18
19
20
21
22
23
24
25
26
27
28
29
30
31

1
2
3
4
5
6
7
8
9
10
11
12
13
14
15
16
17
18
19
20
21
22
23
24
25
26
27
28
29
30

1
2
3
4
5
6
7
8
9
10
11
12
13
14
15
16
17
18
19
20
21
22
23
24
25
26
27
28
29
30
31

1
2
3
4
5
6
7
8
9
10
11
12
13
14
15
16
17
18
19
20
21
22
23
24
25
26
27
28
29
30

1
2
3
4
5
6
7
8
9
10
11
12
13
14
15
16
17
18
19
20
21
22
23
24
25
26
27
28
29
30
31

1
2
3
4
5
6
7
8
9
10
11
12
13
14
15
16
17
18
19
20
21
22
23
24
25
26
27
28
29
30
31

1
2
3
4
5
6
7
8
9
10
11
12
13
14
15
16
17
18
19
20
21
22
23
24
25
26
27
28
29
30

1
2
3
4
5
6
7
8
9
10
11
12
13
14
15
16
17
18
19
20
21
22
23
24
25
26
27
28
29
30
31

1
2
3
4
5
6
7
8
9
10
11
12
13
14
15
16
17
18
19
20
21
22
23
24
25
26
27
28
29
30

1
2
3
4
5
6
7
8
9
10
11
12
13
14
15
16
17
18
19
20
21
22
23
24
25
26
27
28
29
30
31

1
2
3
4
5
6
7
8
9
10
11
12
13
14
15
16
17
18
19
20
21
22
23
24
25
26
27
28
29
30
31

1
2
3
4
5
6
7
8
9
10
11
12
13
14
15
16
17
18
19
20
21
22
23
24
25
26
27
28
29

1
2
3
4
5
6
7
8
9
10
11
12
13
14
15
16
17
18
19
20
21
22
23
24
25
26
27
28
29
30
31

1
2
3
4
5
6
7
8
9
10
11
12
13
14
15
16
17
18
19
20
21
22
23
24
25
26
27
28
29
30

1
2
3
4
5
6
7
8
9
10
11
12
13
14
15
16
17
18
19
20
21
22
23
24
25
26
27
28
29
30
31

1
2
3
4
5
6
7
8
9
10
11
12
13
14
15
16
17
18
19
20
21
22
23
24
25
26
27
28
29
30

1
2
3
4
5
6
7
8
9
10
11
12
13
14
15
16
17
18
19
20
21
22
23
24
25
26
27
28
29
30
31

1
2
3
4
5
6
7
8
9
10
11
12
13
14
15
16
17
18
19
20
21
22
23
24
25
26
27
28
29
30
31

1
2
3
4
5
6
7
8
9
10
11
12
13
14
15
16
17
18
19
20
21
22
23
24
25
26
27
28
29
30

1
2
3
4
5
6
7
8
9
10
11
12
13
14
15
16
17
18
19
20
21
22
23
24
25
26
27
28
29
30
31

1
2
3
4
5
6
7
8
9
10
11
12
13
14
15
16
17
18
19
20
21
22
23
24
25
26
27
28
29
30

1
2
3
4
5
6
7
8
9
10
11
12
13
14
15
16
17
18
19
20
21
22
23
24
25
26
27
28
29
30
31

1
2
3
4
5
6
7
8
9
10
11
12
13
14
15
16
17
18
19
20
21
22
23
24
25
26
27
28
29
30
31
1
2
3
4
5
6
7
8
9
10
11
12
13
14
15
16
17
18
19
20
21
22
23
24
25
26
27
28

1
2
3
4
5
6
7
8
9
10
11
12
13
14
15
16
17
18
19
20
21
22
23
24
25
26
27
28
29
30
31

1
2
3
4
5
6
7
8
9
10
11
12
13
14
15
16
17
18
19
20
21
22
23
24
25
26
27
28
29
30

1
2
3
4
5
6
7
8
9
10
11
12
13
14
15
16
17
18
19
20
21
22
23
24
25
26
27
28
29
30
31

1
2
3
4
5
6
7
8
9
10
11
12
13
14
15
16
17
18
19
20
21
22
23
24
25
26
27
28
29
30

1
2
3
4
5
6
7
8
9
10
11
12
13
14
15
16
17
18
19
20
21
22
23
24
25
26
27
28
29
30
31

1
2
3
4
5
6
7
8
9
10
11
12
13
14
15
16
17
18
19
20
21
22
23
24
25
26
27
28
29
30
31

1
2
3
4
5
6
7
8
9
10
11
12
13
14
15
16
17
18
19
20
21
22
23
24
25
26
27
28
29
30

1
2
3
4
5
6
7
8
9
10
11
12
13
14
15
16
17
18
19
20
21
22
23
24
25
26
27
28
29
30
31

1
2
3
4
5
6
7
8
9
10
11
12
13
14
15
16
17
18
19
20
21
22
23
24
25
26
27
28
29
30

1
2
3
4
5
6
7
8
9
10
11
12
13
14
15
16
17
18
19
20
21
22
23
24
25
26
27
28
29
30
31

1
2
3
4
5
6
7
8
9
10
11
12
13
14
15
16
17
18
19
20
21
22
23
24
25
26
27
28
29
30
31

1
2
3
4
5
6
7
8
9
10
11
12
13
14
15
16
17
18
19
20
21
22
23
24
25
26
27
28
29

1
2
3
4
5
6
7
8
9
10
11
12
13
14
15
16
17
18
19
20
21
22
23
24
25
26
27
28
29
30
31

1
2
3
4
5
6
7
8
9
10
11
12
13
14
15
16
17
18
19
20
21
22
23
24
25
26
27
28
29
30

1
2
3
4
5
6
7
8
9
10
11
12
13
14
15
16
17
18
19
20
21
22
23
24
25
26
27
28
29
30
31

1
2
3
4
5
6
7
8
9
10
11
12
13
14
15
16
17
18
19
20
21
22
23
24
25
26
27
28
29
30

1
2
3
4
5
6
7
8
9
10
11
12
13
14
15
16
17
18
19
20
21
22
23
24
25
26
27
28
29
30
31

1
2
3
4
5
6
7
8
9
10
11
12
13
14
15
16
17
18
19
20
21
22
23
24
25
26
27
28
29
30
31

1
2
3
4
5
6
7
8
9
10
11
12
13
14
15
16
17
18
19
20
21
22
23
24
25
26
27
28
29
30

1
2
3
4
5
6
7
8
9
10
11
12
13
14
15
16
17
18
19
20
21
22
23
24
25
26
27
28
29
30
31

1
2
3
4
5
6
7
8
9
10
11
12
13
14
15
16
17
18
19
20
21
22
23
24
25
26
27
28
29
30

1
2
3
4
5
6
7
8
9
10
11
12
13
14
15
16
17
18
19
20
21
22
23
24
25
26
27
28
29
30
31

1
2
3
4
5
6
7
8
9
10
11
12
13
14
15
16
17
18
19
20
21
22
23
24
25
26
27
28
29
30
31
Reviews
(6)
paul and susy
Beautiful house, well equiped, very nice views and perfect location.
Bernd
Wunderschönes Haus mit sehr schönen Ausblick.
Gerhard Supper
Tolle Lage mit einzigartigem Blick aufs Meer. Das Haus ist gut ausgestattet, wenn auch nicht üppig in der Küche. Sehr sauber. Gute Erreichbarkeit mit dem Auto, Supermarkt in nächster Nähe. 10 min bis in die Stadt Tazacorte. Sehr zum empfehlen.
Fam. Sohl
Wir haben bereits zum zweiten mal unseren Urlaub in diesem tollen Haus verbracht. Wir haben uns wieder sehr wohl gefühlt und die Aussicht und den Pool in vollen Zügen genossen. Der Vermieter ist sehr freundlich und hilfsbereit. Jetzt gibt es auch einen Geschirrspüler, das ist sehr angenehm. Wir kommen gerne wieder!
SLM
Lovely newish house built in more traditional style but with patio doors to upper bedrooms and main living room making the best of the wonderful view. Great terrace with fabulous views and table and chairs for meals and loungers by the pool. Plenty of crockery, glasses and kitchen equipment. Spotlessly clean on arrival, and the one small blip of the lack of underfloor heating (its chilly in evenings in March) was put right within a half hour of emailing. Spacious bedrooms and comfortable king size bed in main room. Perched just above the road so some minor road noise first thing in the morning but very little later (and I am very picky about noise!). The only thing missing was a folder to explain how the various things in the house work - for instance, it took us quite a while to discover that the under cupboard lights in the kitchen area needed to be switched on by the switch which we eventually found in the extractor fan housing. Highly recommended.
Fam. Sohl
Wir haben zwei sehr schöne Wochen in dem Ferienhaus verbracht. Der Ausblick ist einfach gigantisch, der Pool ist ein Highlight. Wir haben alles so vorgefunden wie es in der Hausbeschreibung angegeben wurde. Der Vermieter ist sehr nett und hilft sofort, wenn er gebraucht wird. Wir haben uns dort sehr wohlgefühlt und kommen bestimmt wieder.
Any question? Special wishes? We are here for you!
Casa Vista Mar


La Palma

from 138,00 Euros/night
Maximum occupancy: 6 People
3 Bedrooms
2 Bathrooms
Private pool