Villa La Quinta in Tenerife - Las Casas Canarias

Villa La Quinta
Luxury holiday villa with private pool and beautiful views to the Atlantic and the Teide on Tenerife
Villa La Quinta
(+34) 928 580 030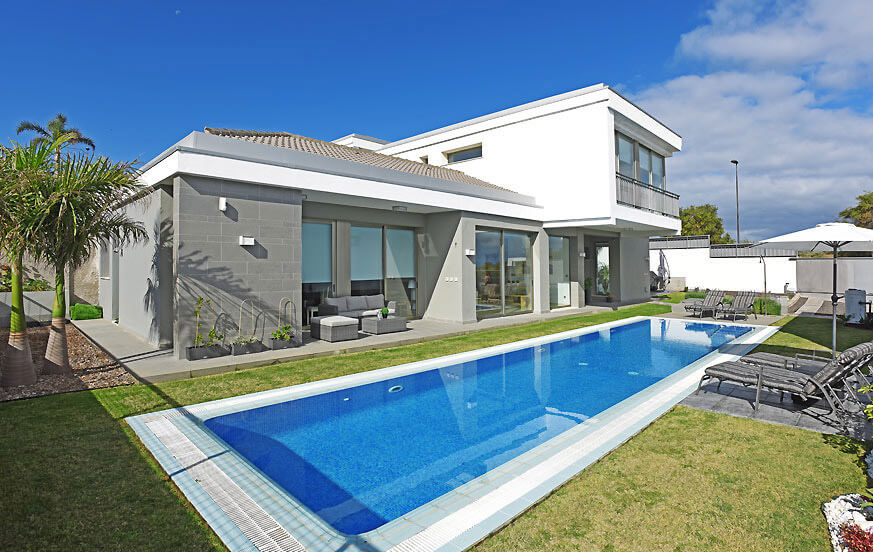 Luxury holiday villa with private pool and beautiful views to the Atlantic and the Teide on Tenerife
Luxury holiday villa with private pool and beautiful views to the Atlantic and the Teide on Tenerife
Description
Reference number: 02115
Villa with private swimming pool
Maximum occupancy: 6 Adults + 2 Children up to 2 years
Place: Santa Úrsula, Tenerife
Location: 100 meters above sea level. in a residential area with sea view.
House / Terrain: 244 m2 / 499 m2
License: A-38/4.914
First floor
1 Bedroom with double bed
En-suite bathroom with shower
1 Living room
Access to the terrace
Ground floor
1 Bedroom with double bed
En-suite bathroom with shower
1 Bedroom with double bed
1 Bathroom with bathtub
1 Living room
Access to the terrace
1 Dining room
1 Kitchen with dining table
---
Equipment
Ceramic hob
Fridge with freezer
Oven
Microwave
Dishwasher
Toaster
Coffee machine
Nespresso coffee machine
Washing machine
Clothes dryer
Clothes iron
Ironing board
Hair dryer
Cot
High chair
Safe
Heater
Internet (WIFI)
Smart TV
Netflix
Sound system
Alarm system
---
Outside
Terrace
Dining area
Sun loungers
Gas barbecue
Garden
Parking
Private pool (3 m/13 m)
Electric pool heating (extra cost)
Saltwater system (electrolytic process for natural chlorination of water)
For a fee
Electric heating 24 - 26°C 40.00 €/day
---
Service
Inclusive
Towels and sheets
Intermediate cleaning with linen change for stays longer than 10 nights
Final cleaning
Pool cleaning 1 time per week
Welcome gift
---
House rules
Children up to 2 years in cot: free
Pets not allowed
Smoking not allowed except in outdoor areas
Minimum stay of 7 nights
Check-in from 15:00
Check-out until 10:00
Surroundings
Restaurant: 500 m
Supermarket: 600 m
Beach: 3 km
Airport Tenerife North: 23 km
Airport Tenerife South: 85 km
---
Activities
Play golf
Horse riding
Paragliding
Cycling
Mountain climbing
Deep sea fishing
Fishing
Boat trips
Water skiing
Sailing
Kitesurfing
Windsurfing
Surfing
Diving
Snorkeling
Swimming
Hiking
1
2
3
4
5
6
7
8
9
10
11
12
13
14
15
16
17
18
19
20
21
22
23
24
25
26
27
28
29
30

1
2
3
4
5
6
7
8
9
10
11
12
13
14
15
16
17
18
19
20
21
22
23
24
25
26
27
28
29
30
31

1
2
3
4
5
6
7
8
9
10
11
12
13
14
15
16
17
18
19
20
21
22
23
24
25
26
27
28
29
30
31

1
2
3
4
5
6
7
8
9
10
11
12
13
14
15
16
17
18
19
20
21
22
23
24
25
26
27
28

1
2
3
4
5
6
7
8
9
10
11
12
13
14
15
16
17
18
19
20
21
22
23
24
25
26
27
28
29
30
31

1
2
3
4
5
6
7
8
9
10
11
12
13
14
15
16
17
18
19
20
21
22
23
24
25
26
27
28
29
30

1
2
3
4
5
6
7
8
9
10
11
12
13
14
15
16
17
18
19
20
21
22
23
24
25
26
27
28
29
30
31

1
2
3
4
5
6
7
8
9
10
11
12
13
14
15
16
17
18
19
20
21
22
23
24
25
26
27
28
29
30

1
2
3
4
5
6
7
8
9
10
11
12
13
14
15
16
17
18
19
20
21
22
23
24
25
26
27
28
29
30
31

1
2
3
4
5
6
7
8
9
10
11
12
13
14
15
16
17
18
19
20
21
22
23
24
25
26
27
28
29
30
31

1
2
3
4
5
6
7
8
9
10
11
12
13
14
15
16
17
18
19
20
21
22
23
24
25
26
27
28
29
30

1
2
3
4
5
6
7
8
9
10
11
12
13
14
15
16
17
18
19
20
21
22
23
24
25
26
27
28
29
30
31

1
2
3
4
5
6
7
8
9
10
11
12
13
14
15
16
17
18
19
20
21
22
23
24
25
26
27
28
29
30

1
2
3
4
5
6
7
8
9
10
11
12
13
14
15
16
17
18
19
20
21
22
23
24
25
26
27
28
29
30
31

1
2
3
4
5
6
7
8
9
10
11
12
13
14
15
16
17
18
19
20
21
22
23
24
25
26
27
28
29
30
31

1
2
3
4
5
6
7
8
9
10
11
12
13
14
15
16
17
18
19
20
21
22
23
24
25
26
27
28
29

1
2
3
4
5
6
7
8
9
10
11
12
13
14
15
16
17
18
19
20
21
22
23
24
25
26
27
28
29
30
31

1
2
3
4
5
6
7
8
9
10
11
12
13
14
15
16
17
18
19
20
21
22
23
24
25
26
27
28
29
30

1
2
3
4
5
6
7
8
9
10
11
12
13
14
15
16
17
18
19
20
21
22
23
24
25
26
27
28
29
30
31

1
2
3
4
5
6
7
8
9
10
11
12
13
14
15
16
17
18
19
20
21
22
23
24
25
26
27
28
29
30

1
2
3
4
5
6
7
8
9
10
11
12
13
14
15
16
17
18
19
20
21
22
23
24
25
26
27
28
29
30
31

1
2
3
4
5
6
7
8
9
10
11
12
13
14
15
16
17
18
19
20
21
22
23
24
25
26
27
28
29
30
31

1
2
3
4
5
6
7
8
9
10
11
12
13
14
15
16
17
18
19
20
21
22
23
24
25
26
27
28
29
30

1
2
3
4
5
6
7
8
9
10
11
12
13
14
15
16
17
18
19
20
21
22
23
24
25
26
27
28
29
30
31
1
2
3
4
5
6
7
8
9
10
11
12
13
14
15
16
17
18
19
20
21
22
23
24
25
26
27
28
29
30

1
2
3
4
5
6
7
8
9
10
11
12
13
14
15
16
17
18
19
20
21
22
23
24
25
26
27
28
29
30
31

1
2
3
4
5
6
7
8
9
10
11
12
13
14
15
16
17
18
19
20
21
22
23
24
25
26
27
28
29
30
31

1
2
3
4
5
6
7
8
9
10
11
12
13
14
15
16
17
18
19
20
21
22
23
24
25
26
27
28

1
2
3
4
5
6
7
8
9
10
11
12
13
14
15
16
17
18
19
20
21
22
23
24
25
26
27
28
29
30
31

1
2
3
4
5
6
7
8
9
10
11
12
13
14
15
16
17
18
19
20
21
22
23
24
25
26
27
28
29
30

1
2
3
4
5
6
7
8
9
10
11
12
13
14
15
16
17
18
19
20
21
22
23
24
25
26
27
28
29
30
31

1
2
3
4
5
6
7
8
9
10
11
12
13
14
15
16
17
18
19
20
21
22
23
24
25
26
27
28
29
30

1
2
3
4
5
6
7
8
9
10
11
12
13
14
15
16
17
18
19
20
21
22
23
24
25
26
27
28
29
30
31

1
2
3
4
5
6
7
8
9
10
11
12
13
14
15
16
17
18
19
20
21
22
23
24
25
26
27
28
29
30
31

1
2
3
4
5
6
7
8
9
10
11
12
13
14
15
16
17
18
19
20
21
22
23
24
25
26
27
28
29
30

1
2
3
4
5
6
7
8
9
10
11
12
13
14
15
16
17
18
19
20
21
22
23
24
25
26
27
28
29
30
31

1
2
3
4
5
6
7
8
9
10
11
12
13
14
15
16
17
18
19
20
21
22
23
24
25
26
27
28
29
30

1
2
3
4
5
6
7
8
9
10
11
12
13
14
15
16
17
18
19
20
21
22
23
24
25
26
27
28
29
30
31

1
2
3
4
5
6
7
8
9
10
11
12
13
14
15
16
17
18
19
20
21
22
23
24
25
26
27
28
29
30
31

1
2
3
4
5
6
7
8
9
10
11
12
13
14
15
16
17
18
19
20
21
22
23
24
25
26
27
28
29

1
2
3
4
5
6
7
8
9
10
11
12
13
14
15
16
17
18
19
20
21
22
23
24
25
26
27
28
29
30
31

1
2
3
4
5
6
7
8
9
10
11
12
13
14
15
16
17
18
19
20
21
22
23
24
25
26
27
28
29
30

1
2
3
4
5
6
7
8
9
10
11
12
13
14
15
16
17
18
19
20
21
22
23
24
25
26
27
28
29
30
31

1
2
3
4
5
6
7
8
9
10
11
12
13
14
15
16
17
18
19
20
21
22
23
24
25
26
27
28
29
30

1
2
3
4
5
6
7
8
9
10
11
12
13
14
15
16
17
18
19
20
21
22
23
24
25
26
27
28
29
30
31

1
2
3
4
5
6
7
8
9
10
11
12
13
14
15
16
17
18
19
20
21
22
23
24
25
26
27
28
29
30
31

1
2
3
4
5
6
7
8
9
10
11
12
13
14
15
16
17
18
19
20
21
22
23
24
25
26
27
28
29
30

1
2
3
4
5
6
7
8
9
10
11
12
13
14
15
16
17
18
19
20
21
22
23
24
25
26
27
28
29
30
31
Reviews
(8)
maurice roch
top haus, top service von lourdes, absolut weiter zu empfehlen. danke Lourdes
JK
Ein wunderschönes Hause mit allem was man sich wünscht. Die Bilder sind genauso wie der echte Eiindruck. Vor Ort Betreuung perfekt. Wir würden definitiv wieder buchen.
Aline H.
Die Villa war sehr schön und ist mit Allem ausgestattet, was man benötigt. Wir können die Villa sehr empfehlen.
Ralf A.
Tolle Villa, leider in einer nicht zu Ende gebauten Urbanización gelegen, d.h. das nächste Restaurant ist gut einen Kilometer entfernt, der nächste Supermarkt 3 Kilometer in St. Ursula. Ohne Auto also eher nicht zu empfehlen. Service vor Ort super, Buchungsservice wie gewohnt erstklassig. Herzlichen Dank.
Agnis
Booking and all provided service as well villa was almost perfect and as expected from description. Many thanks for good service.
Any question? Special wishes? We are here for you!
Villa La Quinta


Tenerife

from 269,00 Euros/night
Maximum occupancy: 6 People
3 Bedrooms
3 Bathrooms
Private pool