Villa Los Valles in Lanzarote - Las Casas Canarias

Villa Los Valles
Spacious six bedroom mansion with private pool and sauna surrounded by the beautiful volcanic landscape of Los Valles
Villa Los Valles
(+34) 928 580 030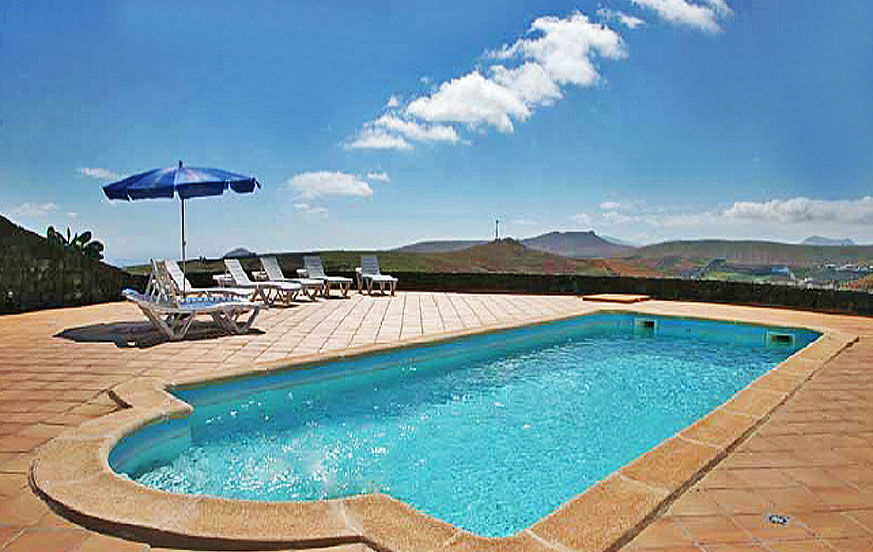 Spacious six bedroom mansion with private pool and sauna surrounded by the beautiful volcanic landscape of Los Valles
Spacious six bedroom mansion with private pool and sauna surrounded by the beautiful volcanic landscape of Los Valles
Description
Reference number: 29321
Cottages with private swimming pool
Maximum occupancy: 12 Adults + 2 Children up to 2 years
Place: Los Valles, Lanzarote
Location: 373 meters above sea level. In a rural area.
House / Terrain: 600 m2 / 5.500 m2
First floor
1 Bedroom with double bed
1 Bedroom with 2 single beds
2 Bathrooms with shower
1 Living room with dining area
Ground floor
2 Bedrooms with 1 double bed each
2 Bedrooms with 2 single beds each
1 Bathroom with shower
2 Bathrooms with bathtub
1 Dining room
1 Living room
Fireplace
1 Living room with dining area
1 Inner courtyard
Basement
---
Equipment
Electric hob
Fridge
Oven
Microwave
Dishwasher
Toaster
Electric kettle
Coffee machine
Nespresso coffee machine
Washing machine
Fireplace
Internet (WIFI)
Satellite TV
DVD Player
Sound system
Sauna
Billiard table
Football table
---
Outside
Terrace
Covered terrace
Dining area
Sun loungers
Barbecue area
Garage
Parking
Ping pong table
Private pool
---
Service
Inclusive
Towels and sheets
Final cleaning
---
House rules
Deposit of 300 €
Children up to 2 years in cot: free
Pets not allowed
Minimum stay of 7 nights
Check-in from 15:00
Check-out until 10:00
Surroundings
Restaurant: 900 m
Supermarket: 6 km
Town: 6 km
Golf course: 16 km
Beach: 17 km
City: 18 km
Airport: 23 km
---
Activities
Play golf
Horse riding
Paragliding
Cycling
Mountain climbing
Deep sea fishing
Fishing
Boat trips
Water skiing
Sailing
Kitesurfing
Windsurfing
Surfing
Diving
Snorkeling
Swimming
Hiking
1
2
3
4
5
6
7
8
9
10
11
12
13
14
15
16
17
18
19
20
21
22
23
24
25
26
27
28
29
30
31

1
2
3
4
5
6
7
8
9
10
11
12
13
14
15
16
17
18
19
20
21
22
23
24
25
26
27
28

1
2
3
4
5
6
7
8
9
10
11
12
13
14
15
16
17
18
19
20
21
22
23
24
25
26
27
28
29
30
31

1
2
3
4
5
6
7
8
9
10
11
12
13
14
15
16
17
18
19
20
21
22
23
24
25
26
27
28
29
30

1
2
3
4
5
6
7
8
9
10
11
12
13
14
15
16
17
18
19
20
21
22
23
24
25
26
27
28
29
30
31

1
2
3
4
5
6
7
8
9
10
11
12
13
14
15
16
17
18
19
20
21
22
23
24
25
26
27
28
29
30

1
2
3
4
5
6
7
8
9
10
11
12
13
14
15
16
17
18
19
20
21
22
23
24
25
26
27
28
29
30
31

1
2
3
4
5
6
7
8
9
10
11
12
13
14
15
16
17
18
19
20
21
22
23
24
25
26
27
28
29
30
31

1
2
3
4
5
6
7
8
9
10
11
12
13
14
15
16
17
18
19
20
21
22
23
24
25
26
27
28
29
30

1
2
3
4
5
6
7
8
9
10
11
12
13
14
15
16
17
18
19
20
21
22
23
24
25
26
27
28
29
30
31

1
2
3
4
5
6
7
8
9
10
11
12
13
14
15
16
17
18
19
20
21
22
23
24
25
26
27
28
29
30

1
2
3
4
5
6
7
8
9
10
11
12
13
14
15
16
17
18
19
20
21
22
23
24
25
26
27
28
29
30
31

1
2
3
4
5
6
7
8
9
10
11
12
13
14
15
16
17
18
19
20
21
22
23
24
25
26
27
28
29
30
31

1
2
3
4
5
6
7
8
9
10
11
12
13
14
15
16
17
18
19
20
21
22
23
24
25
26
27
28

1
2
3
4
5
6
7
8
9
10
11
12
13
14
15
16
17
18
19
20
21
22
23
24
25
26
27
28
29
30
31

1
2
3
4
5
6
7
8
9
10
11
12
13
14
15
16
17
18
19
20
21
22
23
24
25
26
27
28
29
30

1
2
3
4
5
6
7
8
9
10
11
12
13
14
15
16
17
18
19
20
21
22
23
24
25
26
27
28
29
30
31

1
2
3
4
5
6
7
8
9
10
11
12
13
14
15
16
17
18
19
20
21
22
23
24
25
26
27
28
29
30

1
2
3
4
5
6
7
8
9
10
11
12
13
14
15
16
17
18
19
20
21
22
23
24
25
26
27
28
29
30
31

1
2
3
4
5
6
7
8
9
10
11
12
13
14
15
16
17
18
19
20
21
22
23
24
25
26
27
28
29
30
31

1
2
3
4
5
6
7
8
9
10
11
12
13
14
15
16
17
18
19
20
21
22
23
24
25
26
27
28
29
30

1
2
3
4
5
6
7
8
9
10
11
12
13
14
15
16
17
18
19
20
21
22
23
24
25
26
27
28
29
30
31

1
2
3
4
5
6
7
8
9
10
11
12
13
14
15
16
17
18
19
20
21
22
23
24
25
26
27
28
29
30

1
2
3
4
5
6
7
8
9
10
11
12
13
14
15
16
17
18
19
20
21
22
23
24
25
26
27
28
29
30
31
1
2
3
4
5
6
7
8
9
10
11
12
13
14
15
16
17
18
19
20
21
22
23
24
25
26
27
28
29
30
31

1
2
3
4
5
6
7
8
9
10
11
12
13
14
15
16
17
18
19
20
21
22
23
24
25
26
27
28

1
2
3
4
5
6
7
8
9
10
11
12
13
14
15
16
17
18
19
20
21
22
23
24
25
26
27
28
29
30
31

1
2
3
4
5
6
7
8
9
10
11
12
13
14
15
16
17
18
19
20
21
22
23
24
25
26
27
28
29
30

1
2
3
4
5
6
7
8
9
10
11
12
13
14
15
16
17
18
19
20
21
22
23
24
25
26
27
28
29
30
31

1
2
3
4
5
6
7
8
9
10
11
12
13
14
15
16
17
18
19
20
21
22
23
24
25
26
27
28
29
30

1
2
3
4
5
6
7
8
9
10
11
12
13
14
15
16
17
18
19
20
21
22
23
24
25
26
27
28
29
30
31

1
2
3
4
5
6
7
8
9
10
11
12
13
14
15
16
17
18
19
20
21
22
23
24
25
26
27
28
29
30
31

1
2
3
4
5
6
7
8
9
10
11
12
13
14
15
16
17
18
19
20
21
22
23
24
25
26
27
28
29
30

1
2
3
4
5
6
7
8
9
10
11
12
13
14
15
16
17
18
19
20
21
22
23
24
25
26
27
28
29
30
31

1
2
3
4
5
6
7
8
9
10
11
12
13
14
15
16
17
18
19
20
21
22
23
24
25
26
27
28
29
30

1
2
3
4
5
6
7
8
9
10
11
12
13
14
15
16
17
18
19
20
21
22
23
24
25
26
27
28
29
30
31

1
2
3
4
5
6
7
8
9
10
11
12
13
14
15
16
17
18
19
20
21
22
23
24
25
26
27
28
29
30
31

1
2
3
4
5
6
7
8
9
10
11
12
13
14
15
16
17
18
19
20
21
22
23
24
25
26
27
28

1
2
3
4
5
6
7
8
9
10
11
12
13
14
15
16
17
18
19
20
21
22
23
24
25
26
27
28
29
30
31

1
2
3
4
5
6
7
8
9
10
11
12
13
14
15
16
17
18
19
20
21
22
23
24
25
26
27
28
29
30

1
2
3
4
5
6
7
8
9
10
11
12
13
14
15
16
17
18
19
20
21
22
23
24
25
26
27
28
29
30
31

1
2
3
4
5
6
7
8
9
10
11
12
13
14
15
16
17
18
19
20
21
22
23
24
25
26
27
28
29
30

1
2
3
4
5
6
7
8
9
10
11
12
13
14
15
16
17
18
19
20
21
22
23
24
25
26
27
28
29
30
31

1
2
3
4
5
6
7
8
9
10
11
12
13
14
15
16
17
18
19
20
21
22
23
24
25
26
27
28
29
30
31

1
2
3
4
5
6
7
8
9
10
11
12
13
14
15
16
17
18
19
20
21
22
23
24
25
26
27
28
29
30

1
2
3
4
5
6
7
8
9
10
11
12
13
14
15
16
17
18
19
20
21
22
23
24
25
26
27
28
29
30
31

1
2
3
4
5
6
7
8
9
10
11
12
13
14
15
16
17
18
19
20
21
22
23
24
25
26
27
28
29
30

1
2
3
4
5
6
7
8
9
10
11
12
13
14
15
16
17
18
19
20
21
22
23
24
25
26
27
28
29
30
31
Reviews
(4)
M.
War bereits der 3. Aufenthalt in der "Villa Los Valles". Sehr empfehlenswert für größere Familien.
Marleen & Ferdinand van Yogaleen
Beautiful stylish villa in Spanish finca style, with nice pool, plenty of terrace to enjoy sun and beautiful views. Good for a relaxed holiday, away from tourist crowds. Perfect for yoga-holiday with a group, like we did.
Hermann R.
Luxuriöse Villa mit reichlich Platz für Grossfamilie.Durch Wärmetauscher geheizter Pool auf geschützter Terrasse!! Schöne Umgebung.Nahe Teguise und damit gute Lokale(Akatife) und Bäcker(Jonny bakes). Zentral für Ausflüge. All in all: great!!
Stefan W.
Waren jetzt das zweite Mal dort und waren wieder sehr zufrieden. Die Wünschen bzw. Anregungen nach dem ersten Aufenthalt wurden beim zweiten Besuch umgesetzt. Die Betreuung über LasCasasCanarias war effizient und unkompliziert.
Any question? Special wishes? We are here for you!
Villa Los Valles


Lanzarote

from 135,00 Euros/night
Maximum occupancy: 12 People
6 Bedrooms
5 Bathrooms
Private pool