Villa La Hilera in La Palma - Las Casas Canarias

Villa La Hilera
Beautiful villa with wellness area including heated indoor pool and sauna in the area of El Paso
Villa La Hilera
(+34) 928 580 030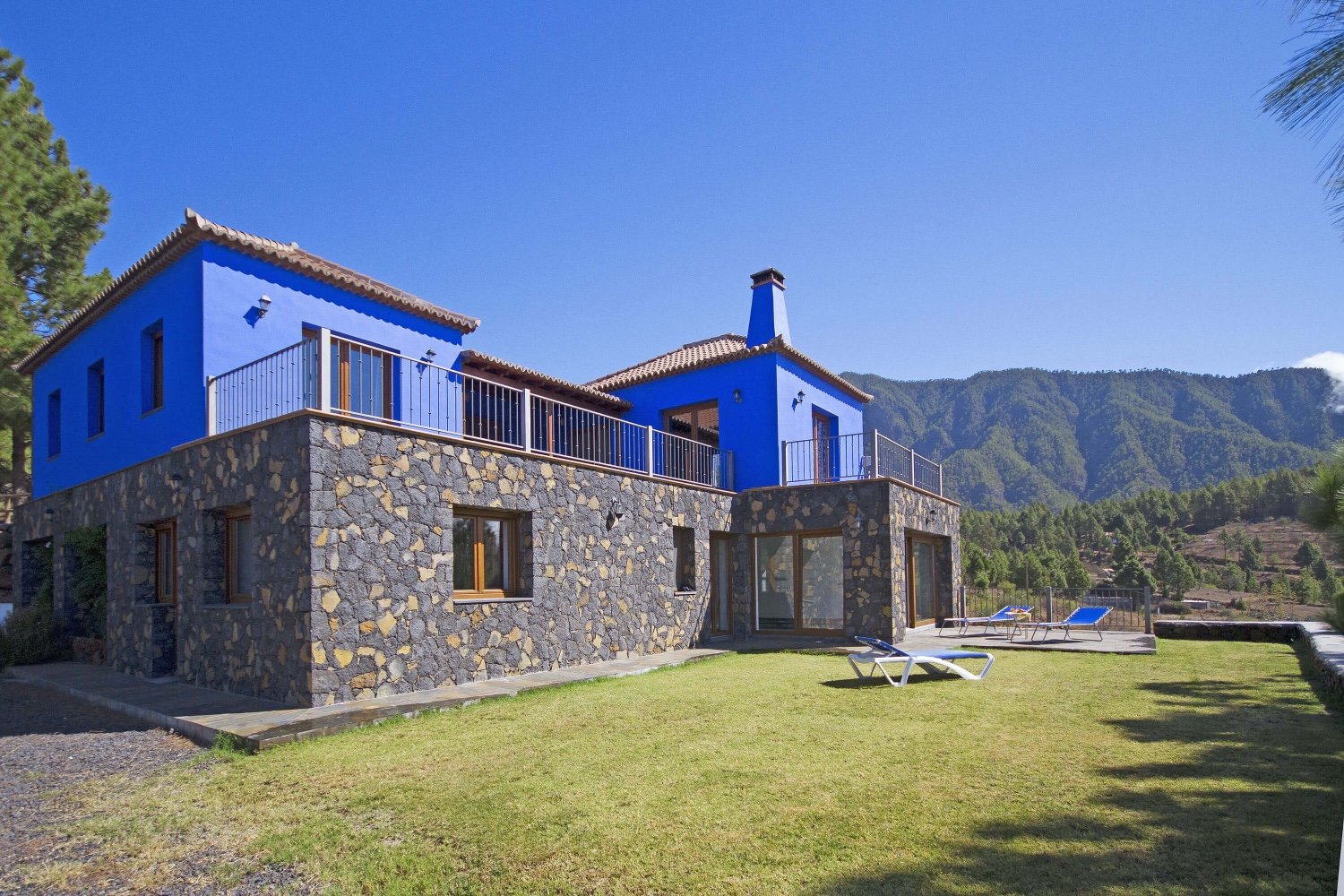 Beautiful villa with wellness area including heated indoor pool and sauna in the area of El Paso
Beautiful villa with wellness area including heated indoor pool and sauna in the area of El Paso
Description
Reference number: 14511
Cottages
Maximum occupancy: 8 Adults + 1 Child up to 2 years
Place: El Paso, La Palma
Location: 800 meters above sea level. In a rural area overlooking the sea and mountains.
House / Terrain: 300 m2 / 5000 m2
First floor
1 Bedroom with double bed
2 Bedrooms with 2 single beds each
2 Bathrooms with shower
1 Living room
Fireplace
1 Kitchen with dining table
Ground floor
1 Bedroom with double bed
1 Bathroom with shower
1 Sauna
1 additional bathroom with shower (cold) for the sauna area
---
Equipment
Ceramic hob
Fridge with freezer
Oven
Microwave
Dishwasher
Toaster
Coffee machine
Squeezer
Mixer
Washing machine
Clothes iron
Ironing board
Hair dryer
Cot
High chair
Safe
Heating
Internet (WIFI)
Spanish TV
Sound system
Sauna
---
Outside
Terrace
Dining area
Sun loungers
Barbecue
Parking
For a fee
Electric heating 10.00 €/day
---
Service
Inclusive
Towels and sheets
Final cleaning
Change of sheets and towels after 7 nights
---
House rules
1 Child up to two years in cot: free
Pets not allowed
Minimum stay of 7 nights
Check-in from 15:00
Check-out until 10:00
Surroundings
Supermarket: 1 km
Restaurant: 1, 5 km
Doctor: 4 km
Beach: 12 km
Airport: 30 km
---
Activities
Horse riding
Paragliding
Cycling
Mountain climbing
Deep sea fishing
Fishing
Boat trips
Sailing
Kitesurfing
Windsurfing
Surfing
Diving
Snorkeling
Swimming
Hiking
1
2
3
4
5
6
7
8
9
10
11
12
13
14
15
16
17
18
19
20
21
22
23
24
25
26
27
28
29
30
31

1
2
3
4
5
6
7
8
9
10
11
12
13
14
15
16
17
18
19
20
21
22
23
24
25
26
27
28
29
30

1
2
3
4
5
6
7
8
9
10
11
12
13
14
15
16
17
18
19
20
21
22
23
24
25
26
27
28
29
30
31

1
2
3
4
5
6
7
8
9
10
11
12
13
14
15
16
17
18
19
20
21
22
23
24
25
26
27
28
29
30

1
2
3
4
5
6
7
8
9
10
11
12
13
14
15
16
17
18
19
20
21
22
23
24
25
26
27
28
29
30
31

1
2
3
4
5
6
7
8
9
10
11
12
13
14
15
16
17
18
19
20
21
22
23
24
25
26
27
28
29
30
31

1
2
3
4
5
6
7
8
9
10
11
12
13
14
15
16
17
18
19
20
21
22
23
24
25
26
27
28
29

1
2
3
4
5
6
7
8
9
10
11
12
13
14
15
16
17
18
19
20
21
22
23
24
25
26
27
28
29
30
31

1
2
3
4
5
6
7
8
9
10
11
12
13
14
15
16
17
18
19
20
21
22
23
24
25
26
27
28
29
30

1
2
3
4
5
6
7
8
9
10
11
12
13
14
15
16
17
18
19
20
21
22
23
24
25
26
27
28
29
30
31

1
2
3
4
5
6
7
8
9
10
11
12
13
14
15
16
17
18
19
20
21
22
23
24
25
26
27
28
29
30

1
2
3
4
5
6
7
8
9
10
11
12
13
14
15
16
17
18
19
20
21
22
23
24
25
26
27
28
29
30
31

1
2
3
4
5
6
7
8
9
10
11
12
13
14
15
16
17
18
19
20
21
22
23
24
25
26
27
28
29
30
31

1
2
3
4
5
6
7
8
9
10
11
12
13
14
15
16
17
18
19
20
21
22
23
24
25
26
27
28
29
30

1
2
3
4
5
6
7
8
9
10
11
12
13
14
15
16
17
18
19
20
21
22
23
24
25
26
27
28
29
30
31

1
2
3
4
5
6
7
8
9
10
11
12
13
14
15
16
17
18
19
20
21
22
23
24
25
26
27
28
29
30

1
2
3
4
5
6
7
8
9
10
11
12
13
14
15
16
17
18
19
20
21
22
23
24
25
26
27
28
29
30
31

1
2
3
4
5
6
7
8
9
10
11
12
13
14
15
16
17
18
19
20
21
22
23
24
25
26
27
28
29
30
31

1
2
3
4
5
6
7
8
9
10
11
12
13
14
15
16
17
18
19
20
21
22
23
24
25
26
27
28

1
2
3
4
5
6
7
8
9
10
11
12
13
14
15
16
17
18
19
20
21
22
23
24
25
26
27
28
29
30
31

1
2
3
4
5
6
7
8
9
10
11
12
13
14
15
16
17
18
19
20
21
22
23
24
25
26
27
28
29
30

1
2
3
4
5
6
7
8
9
10
11
12
13
14
15
16
17
18
19
20
21
22
23
24
25
26
27
28
29
30
31

1
2
3
4
5
6
7
8
9
10
11
12
13
14
15
16
17
18
19
20
21
22
23
24
25
26
27
28
29
30

1
2
3
4
5
6
7
8
9
10
11
12
13
14
15
16
17
18
19
20
21
22
23
24
25
26
27
28
29
30
31
1
2
3
4
5
6
7
8
9
10
11
12
13
14
15
16
17
18
19
20
21
22
23
24
25
26
27
28
29
30
31

1
2
3
4
5
6
7
8
9
10
11
12
13
14
15
16
17
18
19
20
21
22
23
24
25
26
27
28
29
30

1
2
3
4
5
6
7
8
9
10
11
12
13
14
15
16
17
18
19
20
21
22
23
24
25
26
27
28
29
30
31

1
2
3
4
5
6
7
8
9
10
11
12
13
14
15
16
17
18
19
20
21
22
23
24
25
26
27
28
29
30

1
2
3
4
5
6
7
8
9
10
11
12
13
14
15
16
17
18
19
20
21
22
23
24
25
26
27
28
29
30
31

1
2
3
4
5
6
7
8
9
10
11
12
13
14
15
16
17
18
19
20
21
22
23
24
25
26
27
28
29
30
31

1
2
3
4
5
6
7
8
9
10
11
12
13
14
15
16
17
18
19
20
21
22
23
24
25
26
27
28
29

1
2
3
4
5
6
7
8
9
10
11
12
13
14
15
16
17
18
19
20
21
22
23
24
25
26
27
28
29
30
31

1
2
3
4
5
6
7
8
9
10
11
12
13
14
15
16
17
18
19
20
21
22
23
24
25
26
27
28
29
30

1
2
3
4
5
6
7
8
9
10
11
12
13
14
15
16
17
18
19
20
21
22
23
24
25
26
27
28
29
30
31

1
2
3
4
5
6
7
8
9
10
11
12
13
14
15
16
17
18
19
20
21
22
23
24
25
26
27
28
29
30

1
2
3
4
5
6
7
8
9
10
11
12
13
14
15
16
17
18
19
20
21
22
23
24
25
26
27
28
29
30
31

1
2
3
4
5
6
7
8
9
10
11
12
13
14
15
16
17
18
19
20
21
22
23
24
25
26
27
28
29
30
31

1
2
3
4
5
6
7
8
9
10
11
12
13
14
15
16
17
18
19
20
21
22
23
24
25
26
27
28
29
30

1
2
3
4
5
6
7
8
9
10
11
12
13
14
15
16
17
18
19
20
21
22
23
24
25
26
27
28
29
30
31

1
2
3
4
5
6
7
8
9
10
11
12
13
14
15
16
17
18
19
20
21
22
23
24
25
26
27
28
29
30

1
2
3
4
5
6
7
8
9
10
11
12
13
14
15
16
17
18
19
20
21
22
23
24
25
26
27
28
29
30
31

1
2
3
4
5
6
7
8
9
10
11
12
13
14
15
16
17
18
19
20
21
22
23
24
25
26
27
28
29
30
31

1
2
3
4
5
6
7
8
9
10
11
12
13
14
15
16
17
18
19
20
21
22
23
24
25
26
27
28

1
2
3
4
5
6
7
8
9
10
11
12
13
14
15
16
17
18
19
20
21
22
23
24
25
26
27
28
29
30
31

1
2
3
4
5
6
7
8
9
10
11
12
13
14
15
16
17
18
19
20
21
22
23
24
25
26
27
28
29
30

1
2
3
4
5
6
7
8
9
10
11
12
13
14
15
16
17
18
19
20
21
22
23
24
25
26
27
28
29
30
31

1
2
3
4
5
6
7
8
9
10
11
12
13
14
15
16
17
18
19
20
21
22
23
24
25
26
27
28
29
30

1
2
3
4
5
6
7
8
9
10
11
12
13
14
15
16
17
18
19
20
21
22
23
24
25
26
27
28
29
30
31
Reviews
(7)
Folkert
Great spacious house with magnificent vieuws. Caretaker very helpfull and always avalaible. Swimmingpool and sauna very Nice. Water for shower is sometimes not very warm. Overall very good place and we would love to come back sometime. Finding the house was not easy. Tip: you can see the house from the main road when you look up the Hill and search for the blue house.
Jörg Kühnapfel
Da bleiben keine Wünsche offen. Und als wir einmal Hilfe brauchten, war umgehend jemand da! Klasse.
Simone Mulawa
Traumhaftes Haus in wunderbarer ruhiger Umgebung. Wir haben tiefenentspannte 4 Wochen in der Villa Hilera verbracht. Uns hat nichts gefehlt. Die Liegestuhlbespannung istschwereren Personen nicht gewachsen- Holz oder Kunststoffliegen wären super, Sonnenschirme für beide Terassen empfehlenswert.
Noppe Krista
We had a very nice holiday. The house was very clean when we arrived and the pool was heated as we had asked. The conciërge was very friendly and helpfull. But there is one thing that can be improved: The owners should place more garden beds because there were only 2 and we were with 7 persons .
Peter S.
Wenn es 6 Sterne gäbe, würden wir auch diese vergeben. Das Haus und die Lage einfach großartig! Abwicklung und der Service, wie auch im letzten Jahr einfach hervorragend. Herzlichen Dank und wir werden bei unserem nächsten Urlaub auf den Kanaren, sicher wieder über Sie buchen.
Frederik vdP
Now we know why the swimming pool is inside: the weather was fine but the outside temperature is not so high that you would like to have the swimming pool outside. The house was fine and with enough room for all (5) of us, everything was ok, the views are magnificent.
Any question? Special wishes? We are here for you!
Villa La Hilera


La Palma

from 135,00 Euros/night
Maximum occupancy: 8 People