Villa Gamonal in La Palma - Las Casas Canarias

Vivienda Vacacional Gamonal
Modern house for 4 people in the beautiful area of Tijarafe with fantastic views to the sea and the landscape
Vivienda Vacacional Gamonal
(+34) 928 580 030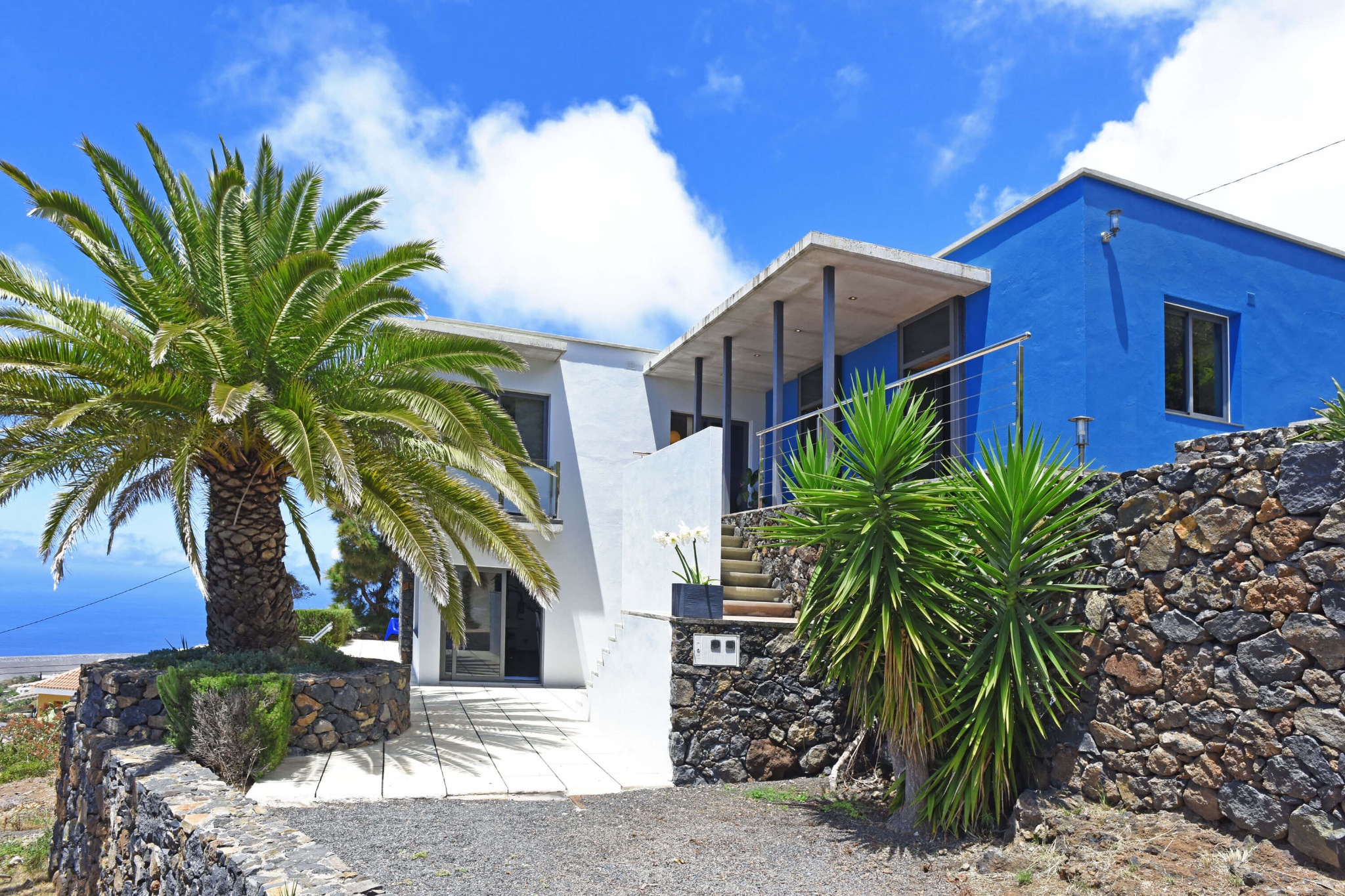 Modern house for 4 people in the beautiful area of Tijarafe with fantastic views to the sea and the landscape
Modern house for 4 people in the beautiful area of Tijarafe with fantastic views to the sea and the landscape
Description
Reference number: 47261
Cottages
Maximum occupancy: 4 Adults + 1 Child up to 2 years
Place: Tijarafe, La Palma
Location: 564 m meters above sea level. In a rural area overlooking the sea and mountains.
House / Terrain: 150 m2
License: VV-38-5-0000229
First floor
1 Bedroom with French bed (135 cm x 200 cm)
Air conditioning (hot and cold)
1 Bedroom with 2 single beds
1 Bathroom with hydromassage shower
1 Living room with dining area and kitchen
Ground floor
1 Laundry room
1 Fitness room
---
Equipment
Induction hob
Fridge
Freezer
Oven
Microwave
Dishwasher
Toaster
Electric kettle
Coffee machine
Squeezer
Juice extractor
Mixer
Washing machine
Clothes dryer
Clothes iron
Ironing board
Hair dryer
Cot
High chair
Air conditioning (hot and cold)
Heater
Internet (WIFI)
Satellite TV
Smart TV
DVD Player
Sound system
Fitness equipment
---
Outside
Terrace
Covered terrace
Balcony
Dining area
Sun loungers
Sun umbrella
Garden
Fruit orchard
Parking
---
Service
Inclusive
Towels and sheets
Intermediate cleaning with linen change after 7 nights
Welcome pack with food and drinks
---
Additional information
There is air conditioning in the master bedroom and a portable one for the rest of the house.
Gym: fitness machine, elliptical bike, pilates ball, exercise bike and treadmill.
2 mountain bikes
---
House rules
1 Child up to two years in cot: free
Pets not allowed
Smoking not allowed except in outdoor areas
Minimum stay of 7 nights
Check-in from 15:00
Check-out until 10:00
Surroundings
Supermarket: 450 m
Restaurant: 4,5 km
Town: 6,8 km
Doctor: 6,8 km
Beach: 8,9 km
City: 17,4 km
Airport: 48,8 km
---
Activities
Horse riding
Paragliding
Cycling
Mountain climbing
Deep sea fishing
Fishing
Boat trips
Sailing
Kitesurfing
Windsurfing
Surfing
Diving
Snorkeling
Swimming
Hiking
Offers
Last minute from 14 days before the arrival: 10% Discount
---
1
2
3
4
5
6
7
8
9
10
11
12
13
14
15
16
17
18
19
20
21
22
23
24
25
26
27
28
29
30

1
2
3
4
5
6
7
8
9
10
11
12
13
14
15
16
17
18
19
20
21
22
23
24
25
26
27
28
29
30
31

1
2
3
4
5
6
7
8
9
10
11
12
13
14
15
16
17
18
19
20
21
22
23
24
25
26
27
28
29
30
31

1
2
3
4
5
6
7
8
9
10
11
12
13
14
15
16
17
18
19
20
21
22
23
24
25
26
27
28
29
30

1
2
3
4
5
6
7
8
9
10
11
12
13
14
15
16
17
18
19
20
21
22
23
24
25
26
27
28
29
30
31

1
2
3
4
5
6
7
8
9
10
11
12
13
14
15
16
17
18
19
20
21
22
23
24
25
26
27
28
29
30

1
2
3
4
5
6
7
8
9
10
11
12
13
14
15
16
17
18
19
20
21
22
23
24
25
26
27
28
29
30
31

1
2
3
4
5
6
7
8
9
10
11
12
13
14
15
16
17
18
19
20
21
22
23
24
25
26
27
28
29
30
31

1
2
3
4
5
6
7
8
9
10
11
12
13
14
15
16
17
18
19
20
21
22
23
24
25
26
27
28
29

1
2
3
4
5
6
7
8
9
10
11
12
13
14
15
16
17
18
19
20
21
22
23
24
25
26
27
28
29
30
31

1
2
3
4
5
6
7
8
9
10
11
12
13
14
15
16
17
18
19
20
21
22
23
24
25
26
27
28
29
30

1
2
3
4
5
6
7
8
9
10
11
12
13
14
15
16
17
18
19
20
21
22
23
24
25
26
27
28
29
30
31

1
2
3
4
5
6
7
8
9
10
11
12
13
14
15
16
17
18
19
20
21
22
23
24
25
26
27
28
29
30

1
2
3
4
5
6
7
8
9
10
11
12
13
14
15
16
17
18
19
20
21
22
23
24
25
26
27
28
29
30
31

1
2
3
4
5
6
7
8
9
10
11
12
13
14
15
16
17
18
19
20
21
22
23
24
25
26
27
28
29
30
31

1
2
3
4
5
6
7
8
9
10
11
12
13
14
15
16
17
18
19
20
21
22
23
24
25
26
27
28
29
30

1
2
3
4
5
6
7
8
9
10
11
12
13
14
15
16
17
18
19
20
21
22
23
24
25
26
27
28
29
30
31

1
2
3
4
5
6
7
8
9
10
11
12
13
14
15
16
17
18
19
20
21
22
23
24
25
26
27
28
29
30

1
2
3
4
5
6
7
8
9
10
11
12
13
14
15
16
17
18
19
20
21
22
23
24
25
26
27
28
29
30
31

1
2
3
4
5
6
7
8
9
10
11
12
13
14
15
16
17
18
19
20
21
22
23
24
25
26
27
28
29
30
31

1
2
3
4
5
6
7
8
9
10
11
12
13
14
15
16
17
18
19
20
21
22
23
24
25
26
27
28

1
2
3
4
5
6
7
8
9
10
11
12
13
14
15
16
17
18
19
20
21
22
23
24
25
26
27
28
29
30
31

1
2
3
4
5
6
7
8
9
10
11
12
13
14
15
16
17
18
19
20
21
22
23
24
25
26
27
28
29
30

1
2
3
4
5
6
7
8
9
10
11
12
13
14
15
16
17
18
19
20
21
22
23
24
25
26
27
28
29
30
31
1
2
3
4
5
6
7
8
9
10
11
12
13
14
15
16
17
18
19
20
21
22
23
24
25
26
27
28
29
30

1
2
3
4
5
6
7
8
9
10
11
12
13
14
15
16
17
18
19
20
21
22
23
24
25
26
27
28
29
30
31

1
2
3
4
5
6
7
8
9
10
11
12
13
14
15
16
17
18
19
20
21
22
23
24
25
26
27
28
29
30
31

1
2
3
4
5
6
7
8
9
10
11
12
13
14
15
16
17
18
19
20
21
22
23
24
25
26
27
28
29
30

1
2
3
4
5
6
7
8
9
10
11
12
13
14
15
16
17
18
19
20
21
22
23
24
25
26
27
28
29
30
31

1
2
3
4
5
6
7
8
9
10
11
12
13
14
15
16
17
18
19
20
21
22
23
24
25
26
27
28
29
30

1
2
3
4
5
6
7
8
9
10
11
12
13
14
15
16
17
18
19
20
21
22
23
24
25
26
27
28
29
30
31

1
2
3
4
5
6
7
8
9
10
11
12
13
14
15
16
17
18
19
20
21
22
23
24
25
26
27
28
29
30
31

1
2
3
4
5
6
7
8
9
10
11
12
13
14
15
16
17
18
19
20
21
22
23
24
25
26
27
28
29

1
2
3
4
5
6
7
8
9
10
11
12
13
14
15
16
17
18
19
20
21
22
23
24
25
26
27
28
29
30
31

1
2
3
4
5
6
7
8
9
10
11
12
13
14
15
16
17
18
19
20
21
22
23
24
25
26
27
28
29
30

1
2
3
4
5
6
7
8
9
10
11
12
13
14
15
16
17
18
19
20
21
22
23
24
25
26
27
28
29
30
31

1
2
3
4
5
6
7
8
9
10
11
12
13
14
15
16
17
18
19
20
21
22
23
24
25
26
27
28
29
30

1
2
3
4
5
6
7
8
9
10
11
12
13
14
15
16
17
18
19
20
21
22
23
24
25
26
27
28
29
30
31

1
2
3
4
5
6
7
8
9
10
11
12
13
14
15
16
17
18
19
20
21
22
23
24
25
26
27
28
29
30
31

1
2
3
4
5
6
7
8
9
10
11
12
13
14
15
16
17
18
19
20
21
22
23
24
25
26
27
28
29
30

1
2
3
4
5
6
7
8
9
10
11
12
13
14
15
16
17
18
19
20
21
22
23
24
25
26
27
28
29
30
31

1
2
3
4
5
6
7
8
9
10
11
12
13
14
15
16
17
18
19
20
21
22
23
24
25
26
27
28
29
30

1
2
3
4
5
6
7
8
9
10
11
12
13
14
15
16
17
18
19
20
21
22
23
24
25
26
27
28
29
30
31

1
2
3
4
5
6
7
8
9
10
11
12
13
14
15
16
17
18
19
20
21
22
23
24
25
26
27
28
29
30
31

1
2
3
4
5
6
7
8
9
10
11
12
13
14
15
16
17
18
19
20
21
22
23
24
25
26
27
28

1
2
3
4
5
6
7
8
9
10
11
12
13
14
15
16
17
18
19
20
21
22
23
24
25
26
27
28
29
30
31

1
2
3
4
5
6
7
8
9
10
11
12
13
14
15
16
17
18
19
20
21
22
23
24
25
26
27
28
29
30

1
2
3
4
5
6
7
8
9
10
11
12
13
14
15
16
17
18
19
20
21
22
23
24
25
26
27
28
29
30
31
Reviews
(5)
urkr
Wir können uns den Vormietern nur anschliesen: alles war perfekt. Das ganze Haus wertvoll und geschmackvoll eingerichtet. So schön haben wir es selten angetroffen.
Stephane
After a very well done booking by LasCasasCanarias and his team, we spent 15 days in the villa Gamonal, equipped to listen and reactive. Accustomed rentals for over 20 years, this rental has completely conquered me. It is very well positioned, quiet, the outside is well landscaped with many terraces and sun loungers and large umbrellas. The neighborhood is very quiet, and many hiking departures are available directly. It is a small paradise, with an extraordinary view. The interior is just as nice, a kitchen very well equipped, it lacks nothing (never seen before) and everything is new and impeccable. The living room is very nice and the 2 bedrooms. The bathroom is also perfect with a large shower with a view of the sea! Thank you to the owners (Doris and her husband), they welcomed us with a big smile and many present around !!! A perfect stay in the end, I highly recommend this agency and this villa.
GL
Man kam an und fühlte sich rundherum wohl.
NT
Jeder der bei dieser Agentur bucht, wird schon vor der Abreise sehr gut betreut! Während dem Aufenthalt war immer jemand sofort erreichbar, um sich sofort über persönliche Anliegen zu kümmern. Die Hauseigentümer Doris und ihr Mann sind sehr freundlich! Das Haus ist sehr gepflegt und extrem modern. Einfach Top! Ich würde jederzeit wieder über diese Agentur buchen und ein Haus von Doris mieten! Durch die tolle Betreuung von Lascasascanarias und Doris war es für uns ein toller Urlaub!
V.Clausen
Ganz klar eine Empfehlung für dieses Haus, Ich würde es wieder buchen. Sehr netter Vermieter, der einen guten Service bietet. Tolle Umgebung und atemberaubende Aussicht. Mietwagen ist Pflicht. Wir hatten einen sehr schönen Urlaub
Any question? Special wishes? We are here for you!
Vivienda Vacacional Gamonal


La Palma

from 79,00 Euros/night
Maximum occupancy: 4 People