Casa Lilia in La Gomera - Las Casas Canarias

Casa Lilia
Rustic holiday house for four people, with wooden interiors, nice garden and large terrace to enjoy the views to the landscape
Casa Lilia
(+34) 928 580 030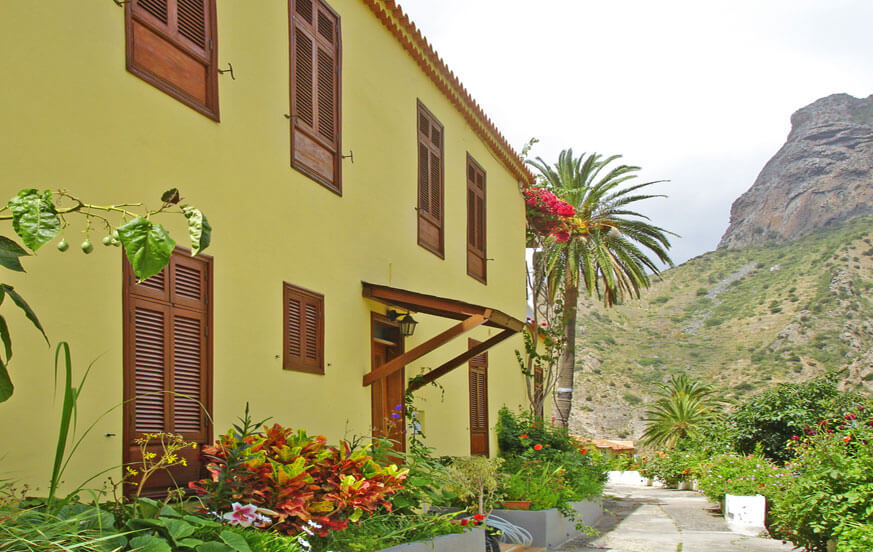 Rustic holiday house for four people, with wooden interiors, nice garden and large terrace to enjoy the views to the landscape
Rustic holiday house for four people, with wooden interiors, nice garden and large terrace to enjoy the views to the landscape
Description
Reference number: 07031
Apartments
Maximum occupancy: 5 Adults + 1 Child up to 2 years
Place: Vallehermoso, La Gomera
House / Terrain: 180 m2
First floor
1 Bedroom with double bed
En-suite bathroom with shower and bathtub
Dressing room
1 Bedroom with 2 single beds
1 Bathroom with shower
1 Dining room
1 Kitchen
1 Living room
Sofa bed
1 Laundry room
---
Equipment
Electric hob
Fridge with freezer
Oven
Toaster
Coffee machine
Washing machine
Clothes iron
Ironing board
Cot
Internet (WIFI)
Spanish TV
---
Outside
Terrace
Sun umbrella
Garden
---
Service
Inclusive
Towels and sheets
Final cleaning
Change of sheets and towels after 7 nights
For a fee
Final cleaning (obligatory) 30.00 €/per stay
---
Additional information
The fifth person sleeps on the sofa bed
---
House rules
1 Child up to two years in cot: free
Pets on request
Minimum stay of 7 nights
Check-in from 15:00
Check-out until 10:00
Surroundings
Restaurant: 150 m
Supermarket: 150 m
Airport: 40 km
---
Activities
Play golf
Horse riding
Paragliding
Cycling
Mountain climbing
Deep sea fishing
Fishing
Boat trips
Sailing
Kitesurfing
Windsurfing
Surfing
Diving
Snorkeling
Hiking
1
2
3
4
5
6
7
8
9
10
11
12
13
14
15
16
17
18
19
20
21
22
23
24
25
26
27
28

1
2
3
4
5
6
7
8
9
10
11
12
13
14
15
16
17
18
19
20
21
22
23
24
25
26
27
28
29
30
31

1
2
3
4
5
6
7
8
9
10
11
12
13
14
15
16
17
18
19
20
21
22
23
24
25
26
27
28
29
30

1
2
3
4
5
6
7
8
9
10
11
12
13
14
15
16
17
18
19
20
21
22
23
24
25
26
27
28
29
30
31

1
2
3
4
5
6
7
8
9
10
11
12
13
14
15
16
17
18
19
20
21
22
23
24
25
26
27
28
29
30

1
2
3
4
5
6
7
8
9
10
11
12
13
14
15
16
17
18
19
20
21
22
23
24
25
26
27
28
29
30
31

1
2
3
4
5
6
7
8
9
10
11
12
13
14
15
16
17
18
19
20
21
22
23
24
25
26
27
28
29
30
31

1
2
3
4
5
6
7
8
9
10
11
12
13
14
15
16
17
18
19
20
21
22
23
24
25
26
27
28
29
30

1
2
3
4
5
6
7
8
9
10
11
12
13
14
15
16
17
18
19
20
21
22
23
24
25
26
27
28
29
30
31

1
2
3
4
5
6
7
8
9
10
11
12
13
14
15
16
17
18
19
20
21
22
23
24
25
26
27
28
29
30

1
2
3
4
5
6
7
8
9
10
11
12
13
14
15
16
17
18
19
20
21
22
23
24
25
26
27
28
29
30
31

1
2
3
4
5
6
7
8
9
10
11
12
13
14
15
16
17
18
19
20
21
22
23
24
25
26
27
28
29
30
31

1
2
3
4
5
6
7
8
9
10
11
12
13
14
15
16
17
18
19
20
21
22
23
24
25
26
27
28
29

1
2
3
4
5
6
7
8
9
10
11
12
13
14
15
16
17
18
19
20
21
22
23
24
25
26
27
28
29
30
31

1
2
3
4
5
6
7
8
9
10
11
12
13
14
15
16
17
18
19
20
21
22
23
24
25
26
27
28
29
30

1
2
3
4
5
6
7
8
9
10
11
12
13
14
15
16
17
18
19
20
21
22
23
24
25
26
27
28
29
30
31

1
2
3
4
5
6
7
8
9
10
11
12
13
14
15
16
17
18
19
20
21
22
23
24
25
26
27
28
29
30

1
2
3
4
5
6
7
8
9
10
11
12
13
14
15
16
17
18
19
20
21
22
23
24
25
26
27
28
29
30
31

1
2
3
4
5
6
7
8
9
10
11
12
13
14
15
16
17
18
19
20
21
22
23
24
25
26
27
28
29
30
31

1
2
3
4
5
6
7
8
9
10
11
12
13
14
15
16
17
18
19
20
21
22
23
24
25
26
27
28
29
30

1
2
3
4
5
6
7
8
9
10
11
12
13
14
15
16
17
18
19
20
21
22
23
24
25
26
27
28
29
30
31

1
2
3
4
5
6
7
8
9
10
11
12
13
14
15
16
17
18
19
20
21
22
23
24
25
26
27
28
29
30

1
2
3
4
5
6
7
8
9
10
11
12
13
14
15
16
17
18
19
20
21
22
23
24
25
26
27
28
29
30
31

1
2
3
4
5
6
7
8
9
10
11
12
13
14
15
16
17
18
19
20
21
22
23
24
25
26
27
28
29
30
31
1
2
3
4
5
6
7
8
9
10
11
12
13
14
15
16
17
18
19
20
21
22
23
24
25
26
27
28

1
2
3
4
5
6
7
8
9
10
11
12
13
14
15
16
17
18
19
20
21
22
23
24
25
26
27
28
29
30
31

1
2
3
4
5
6
7
8
9
10
11
12
13
14
15
16
17
18
19
20
21
22
23
24
25
26
27
28
29
30

1
2
3
4
5
6
7
8
9
10
11
12
13
14
15
16
17
18
19
20
21
22
23
24
25
26
27
28
29
30
31

1
2
3
4
5
6
7
8
9
10
11
12
13
14
15
16
17
18
19
20
21
22
23
24
25
26
27
28
29
30

1
2
3
4
5
6
7
8
9
10
11
12
13
14
15
16
17
18
19
20
21
22
23
24
25
26
27
28
29
30
31

1
2
3
4
5
6
7
8
9
10
11
12
13
14
15
16
17
18
19
20
21
22
23
24
25
26
27
28
29
30
31

1
2
3
4
5
6
7
8
9
10
11
12
13
14
15
16
17
18
19
20
21
22
23
24
25
26
27
28
29
30

1
2
3
4
5
6
7
8
9
10
11
12
13
14
15
16
17
18
19
20
21
22
23
24
25
26
27
28
29
30
31

1
2
3
4
5
6
7
8
9
10
11
12
13
14
15
16
17
18
19
20
21
22
23
24
25
26
27
28
29
30

1
2
3
4
5
6
7
8
9
10
11
12
13
14
15
16
17
18
19
20
21
22
23
24
25
26
27
28
29
30
31

1
2
3
4
5
6
7
8
9
10
11
12
13
14
15
16
17
18
19
20
21
22
23
24
25
26
27
28
29
30
31

1
2
3
4
5
6
7
8
9
10
11
12
13
14
15
16
17
18
19
20
21
22
23
24
25
26
27
28
29

1
2
3
4
5
6
7
8
9
10
11
12
13
14
15
16
17
18
19
20
21
22
23
24
25
26
27
28
29
30
31

1
2
3
4
5
6
7
8
9
10
11
12
13
14
15
16
17
18
19
20
21
22
23
24
25
26
27
28
29
30

1
2
3
4
5
6
7
8
9
10
11
12
13
14
15
16
17
18
19
20
21
22
23
24
25
26
27
28
29
30
31

1
2
3
4
5
6
7
8
9
10
11
12
13
14
15
16
17
18
19
20
21
22
23
24
25
26
27
28
29
30

1
2
3
4
5
6
7
8
9
10
11
12
13
14
15
16
17
18
19
20
21
22
23
24
25
26
27
28
29
30
31

1
2
3
4
5
6
7
8
9
10
11
12
13
14
15
16
17
18
19
20
21
22
23
24
25
26
27
28
29
30
31

1
2
3
4
5
6
7
8
9
10
11
12
13
14
15
16
17
18
19
20
21
22
23
24
25
26
27
28
29
30

1
2
3
4
5
6
7
8
9
10
11
12
13
14
15
16
17
18
19
20
21
22
23
24
25
26
27
28
29
30
31

1
2
3
4
5
6
7
8
9
10
11
12
13
14
15
16
17
18
19
20
21
22
23
24
25
26
27
28
29
30

1
2
3
4
5
6
7
8
9
10
11
12
13
14
15
16
17
18
19
20
21
22
23
24
25
26
27
28
29
30
31

1
2
3
4
5
6
7
8
9
10
11
12
13
14
15
16
17
18
19
20
21
22
23
24
25
26
27
28
29
30
31
Reviews
(2)
Petra R.
Das Haus entspricht voll der Beschreibung und den Fotos im Internet. Die Räume sind sehr schön mit qualitativ guten Möbeln ausgestattet. Sehr schöne Bäder. Traumhafter Blick von der Terrasse auf den schönen Ort, der alles bietet was der Urlauber braucht. Von hier aus sind auch sehr viele schöne Wanderungen möglich. Man könnte auch gut ca. eine Woche ohne Auto sein. Hinweis für die Beschreibung: Man sollte unbedingt die Beschreibung der Anfahrt korrigieren!!! Denn der gemailte Hinweis ist völlig unzureichend! Er liest sich so, als könnte man mit dem Auto zum Haus fahren. Die Calle Palmar ist jedoch nur ein Fußweg, der nur treppauf oder treppab (unbequem mit Gepäck) zu erreichen ist!!! Bitte zukünftig dem Hinweis, dass der Wagen auf dem Großparkplatz geparkt werden muss und die Plaza überquert werden muss. Die Straße zwischen Bank und Bar Iballa ca. 60 m hinauf und dann links den Treppenweg hoch. Nach ca. 150 m hat man dann Casa Lilia erreicht.
Chris E
There was no mention that the house was a 300 metre walk and up a steep stepped lane from where the car had to be parked. I had booked with the expectation that I would still be recovering from an operation. As it was I was back to normal fitness so it was not a problem. If anyone with health problems had rented it, they may have had real problems with access. However, Vallehermosa was the best of the villages to stay in that we found on the island, and the house was in a great position and very private, which was perfect for us. The owner of the house emailed us a very good map of how to find the house, which was needed before arrival, perhaps her email address and advice to contact her would be a good idea.
Any question? Special wishes? We are here for you!
Casa Lilia


La Gomera

from 70,00 Euros/night
Maximum occupancy: 5 People