Finca Tres Chimeneas in Gran Canaria - Las Casas Canarias

Finca Tres Chimeneas
Spacious and well equipped villa with private swimming pool and a large garden in the beautiful area of Santa María de Guía
Finca Tres Chimeneas
(+34) 928 580 030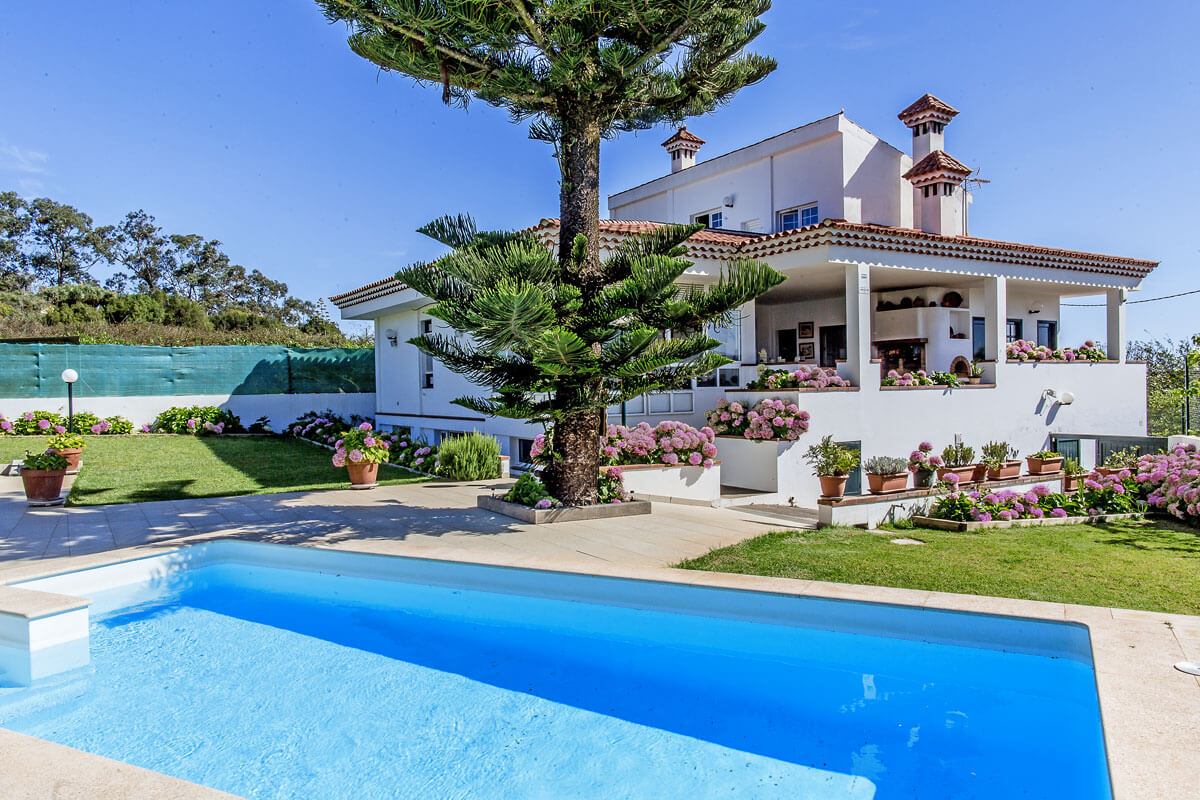 Spacious and well equipped villa with private swimming pool and a large garden in the beautiful area of Santa María de Guía
Spacious and well equipped villa with private swimming pool and a large garden in the beautiful area of Santa María de Guía
Description
Reference number: 57843
Villa with private swimming pool
Maximum occupancy: 8 Adults + 2 Children up to 2 years
Place: Santa María de Guía, Gran Canaria
Location: 633 meters above sea level. In a rural area.
House / Terrain: 500 m2 / 1000 m2
License: VV-35/1/0715
Attic
1 Bedroom with double bed (150 cm x 200 cm)
En-suite bathroom with shower
Fireplace
Desk
Access to the terrace
First floor
1 Living room
1 Living room with dining area
Fireplace
1 Kitchen
1 Laundry room
1 Bedroom with double bed (150 cm x 200 cm)
En suite bathroom with bathtub
2 Bedrooms with 2 single beds each
1 Bathroom with shower
1 WC
Basement
1 Games room
1 toilet with access from the pool terrace
---
Equipment
Ceramic hob
Fridge with freezer
Oven
Microwave
Dishwasher
Toaster
Sandwich maker
Electric kettle
Nespresso coffee machine
Squeezer
Washing machine
Clothes dryer
Clothes iron
Ironing board
Hair dryer
Cot
High chair
Heater
Fireplace
Unlimited Internet (WiFi)
Satellite TV
DVD Player
Alarm system
Ping pong table
Billiard table
Football table
---
Outside
Terrace
Covered terrace
Sun loungers
Sun umbrella
Outside shower
Barbecue area
Garden
Fruit orchard
Parking
Private pool 8 m x 3,9 m
---
Service
Inclusive
Towels and sheets
Intermediate cleaning with change of towels and sheets for stays longer than 7 nights
Final cleaning
Pool cleaning 1 time per week
Welcome gift
---
House rules
Deposit of 300 €
Children up to 2 years in cot: free
Pets on request
Smoking not allowed except in outdoor areas
Minimum stay of 5 nights, in high season 7 nights
Check-in from 15:00
Check-out until 10:00
Surroundings
Restaurant: 200 m
Doctor: 5,7 km
Town: 5,7 km
Supermarket: 5,7 km
Beach: 14,8 km
City: 30,6 km
Airport: 54 km
---
Activities
Play golf
Horse riding
Paragliding
Cycling
Mountain climbing
Deep sea fishing
Fishing
Boat trips
Water skiing
Sailing
Kitesurfing
Windsurfing
Surfing
Diving
Snorkeling
Swimming
Hiking
Offers
Special offer Children (3-11) 15 Euros/night
---
1
2
3
4
5
6
7
8
9
10
11
12
13
14
15
16
17
18
19
20
21
22
23
24
25
26
27
28
29
30
31

1
2
3
4
5
6
7
8
9
10
11
12
13
14
15
16
17
18
19
20
21
22
23
24
25
26
27
28

1
2
3
4
5
6
7
8
9
10
11
12
13
14
15
16
17
18
19
20
21
22
23
24
25
26
27
28
29
30
31

1
2
3
4
5
6
7
8
9
10
11
12
13
14
15
16
17
18
19
20
21
22
23
24
25
26
27
28
29
30

1
2
3
4
5
6
7
8
9
10
11
12
13
14
15
16
17
18
19
20
21
22
23
24
25
26
27
28
29
30
31

1
2
3
4
5
6
7
8
9
10
11
12
13
14
15
16
17
18
19
20
21
22
23
24
25
26
27
28
29
30

1
2
3
4
5
6
7
8
9
10
11
12
13
14
15
16
17
18
19
20
21
22
23
24
25
26
27
28
29
30
31

1
2
3
4
5
6
7
8
9
10
11
12
13
14
15
16
17
18
19
20
21
22
23
24
25
26
27
28
29
30
31

1
2
3
4
5
6
7
8
9
10
11
12
13
14
15
16
17
18
19
20
21
22
23
24
25
26
27
28
29
30

1
2
3
4
5
6
7
8
9
10
11
12
13
14
15
16
17
18
19
20
21
22
23
24
25
26
27
28
29
30
31

1
2
3
4
5
6
7
8
9
10
11
12
13
14
15
16
17
18
19
20
21
22
23
24
25
26
27
28
29
30

1
2
3
4
5
6
7
8
9
10
11
12
13
14
15
16
17
18
19
20
21
22
23
24
25
26
27
28
29
30
31

1
2
3
4
5
6
7
8
9
10
11
12
13
14
15
16
17
18
19
20
21
22
23
24
25
26
27
28
29
30
31

1
2
3
4
5
6
7
8
9
10
11
12
13
14
15
16
17
18
19
20
21
22
23
24
25
26
27
28

1
2
3
4
5
6
7
8
9
10
11
12
13
14
15
16
17
18
19
20
21
22
23
24
25
26
27
28
29
30
31

1
2
3
4
5
6
7
8
9
10
11
12
13
14
15
16
17
18
19
20
21
22
23
24
25
26
27
28
29
30

1
2
3
4
5
6
7
8
9
10
11
12
13
14
15
16
17
18
19
20
21
22
23
24
25
26
27
28
29
30
31

1
2
3
4
5
6
7
8
9
10
11
12
13
14
15
16
17
18
19
20
21
22
23
24
25
26
27
28
29
30

1
2
3
4
5
6
7
8
9
10
11
12
13
14
15
16
17
18
19
20
21
22
23
24
25
26
27
28
29
30
31

1
2
3
4
5
6
7
8
9
10
11
12
13
14
15
16
17
18
19
20
21
22
23
24
25
26
27
28
29
30
31

1
2
3
4
5
6
7
8
9
10
11
12
13
14
15
16
17
18
19
20
21
22
23
24
25
26
27
28
29
30

1
2
3
4
5
6
7
8
9
10
11
12
13
14
15
16
17
18
19
20
21
22
23
24
25
26
27
28
29
30
31

1
2
3
4
5
6
7
8
9
10
11
12
13
14
15
16
17
18
19
20
21
22
23
24
25
26
27
28
29
30

1
2
3
4
5
6
7
8
9
10
11
12
13
14
15
16
17
18
19
20
21
22
23
24
25
26
27
28
29
30
31
1
2
3
4
5
6
7
8
9
10
11
12
13
14
15
16
17
18
19
20
21
22
23
24
25
26
27
28
29
30
31

1
2
3
4
5
6
7
8
9
10
11
12
13
14
15
16
17
18
19
20
21
22
23
24
25
26
27
28

1
2
3
4
5
6
7
8
9
10
11
12
13
14
15
16
17
18
19
20
21
22
23
24
25
26
27
28
29
30
31

1
2
3
4
5
6
7
8
9
10
11
12
13
14
15
16
17
18
19
20
21
22
23
24
25
26
27
28
29
30

1
2
3
4
5
6
7
8
9
10
11
12
13
14
15
16
17
18
19
20
21
22
23
24
25
26
27
28
29
30
31

1
2
3
4
5
6
7
8
9
10
11
12
13
14
15
16
17
18
19
20
21
22
23
24
25
26
27
28
29
30

1
2
3
4
5
6
7
8
9
10
11
12
13
14
15
16
17
18
19
20
21
22
23
24
25
26
27
28
29
30
31

1
2
3
4
5
6
7
8
9
10
11
12
13
14
15
16
17
18
19
20
21
22
23
24
25
26
27
28
29
30
31

1
2
3
4
5
6
7
8
9
10
11
12
13
14
15
16
17
18
19
20
21
22
23
24
25
26
27
28
29
30

1
2
3
4
5
6
7
8
9
10
11
12
13
14
15
16
17
18
19
20
21
22
23
24
25
26
27
28
29
30
31

1
2
3
4
5
6
7
8
9
10
11
12
13
14
15
16
17
18
19
20
21
22
23
24
25
26
27
28
29
30

1
2
3
4
5
6
7
8
9
10
11
12
13
14
15
16
17
18
19
20
21
22
23
24
25
26
27
28
29
30
31

1
2
3
4
5
6
7
8
9
10
11
12
13
14
15
16
17
18
19
20
21
22
23
24
25
26
27
28
29
30
31

1
2
3
4
5
6
7
8
9
10
11
12
13
14
15
16
17
18
19
20
21
22
23
24
25
26
27
28

1
2
3
4
5
6
7
8
9
10
11
12
13
14
15
16
17
18
19
20
21
22
23
24
25
26
27
28
29
30
31

1
2
3
4
5
6
7
8
9
10
11
12
13
14
15
16
17
18
19
20
21
22
23
24
25
26
27
28
29
30

1
2
3
4
5
6
7
8
9
10
11
12
13
14
15
16
17
18
19
20
21
22
23
24
25
26
27
28
29
30
31

1
2
3
4
5
6
7
8
9
10
11
12
13
14
15
16
17
18
19
20
21
22
23
24
25
26
27
28
29
30

1
2
3
4
5
6
7
8
9
10
11
12
13
14
15
16
17
18
19
20
21
22
23
24
25
26
27
28
29
30
31

1
2
3
4
5
6
7
8
9
10
11
12
13
14
15
16
17
18
19
20
21
22
23
24
25
26
27
28
29
30
31

1
2
3
4
5
6
7
8
9
10
11
12
13
14
15
16
17
18
19
20
21
22
23
24
25
26
27
28
29
30

1
2
3
4
5
6
7
8
9
10
11
12
13
14
15
16
17
18
19
20
21
22
23
24
25
26
27
28
29
30
31

1
2
3
4
5
6
7
8
9
10
11
12
13
14
15
16
17
18
19
20
21
22
23
24
25
26
27
28
29
30

1
2
3
4
5
6
7
8
9
10
11
12
13
14
15
16
17
18
19
20
21
22
23
24
25
26
27
28
29
30
31
Reviews
(5)
Familia Rodríguez Moreno
Casa espectacular muy bien equipada. Entorno precioso y tranquilo. La exquisita atención de Samuel mejoró con creces la estancia.
Ricky
Pasamos tres semanas muy agradables, La casa es grande y muy bien entretenida. Samuel que entretiene la casa, es una persona amable y muy atenta a nuestras necesidades. Recomiendo este alojamiento para toda familia que desea pasar unos días en una casa con mucha tranquilidad.
Familia Díaz Sánchez
Desde el inicio de la reserva, toda nuestra experiencia ha sido muy buena. Una comunicación excelente ofreciendo servicios previos a la entrada de la casa para tener todo listo. La casa es espectacular, incluso mejor que en las fotos. Los alrededores son preciosos con las vistas más verdes de la isla. El servicio durante la estancia ha sido lo mejor de la experiencia. La persona encargada de la casa ha estado atento en todo momento a nosotros. Un encanto de persona. Repetiremos seguro!
Jakob
Nice place to visit!
Family H-K
We had a great time in Finca Tres Chimineas. Beautiful house with lots of space, indoors and outside, while still also offering intimate places to sit and relax. The house is very well equipped and there was a lot of attention to detail that made for an extremely pleasant stay. Combined with the very friendly and helpful Samuel, who went out of his way to make us feel welcome and comfortable during our stay, we can wholeheartedly recommend this accommodation.
Any question? Special wishes? We are here for you!
Finca Tres Chimeneas


Gran Canaria

from 230,00 Euros/night
Maximum occupancy: 8 People
4 Bedrooms
3,5 Bathrooms
Private pool