Villa Asomadita in Gran Canaria - Las Casas Canarias

Villa Asomadita
Elegant country house with private swimming pool and pool room located in Agaete in the green northwest of Gran Canaria
Villa Asomadita
(+34) 928 580 030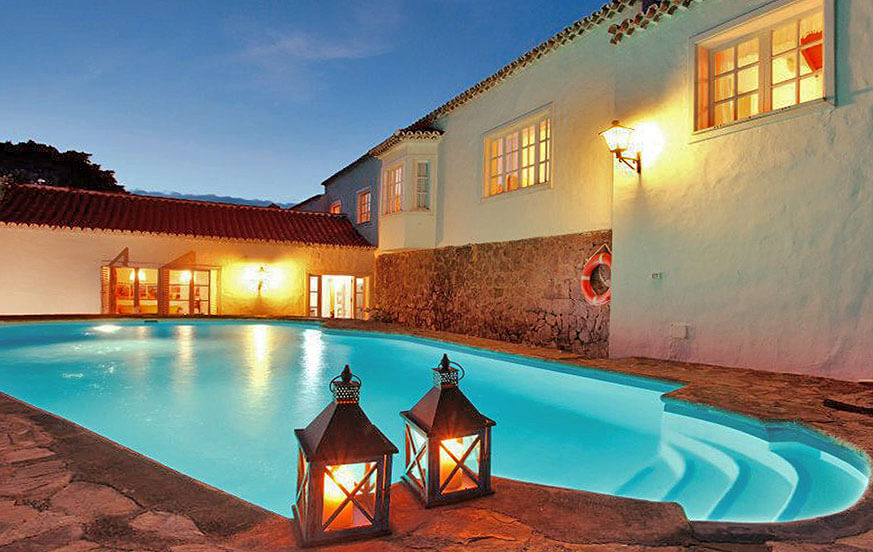 Elegant country house with private swimming pool and pool room located in Agaete in the green northwest of Gran Canaria
Elegant country house with private swimming pool and pool room located in Agaete in the green northwest of Gran Canaria
Description
Reference number: 20632
Cottages with private swimming pool
Maximum occupancy: 8 Adults + 2 Children up to 12 years + 2 Children up to 2 years
Place: Agaete, Gran Canaria
Location: 100 meters above sea level. In a rural area overlooking the sea and mountains.
House / Terrain: 600 m2 / 1.100 m2
First floor
2 Bedrooms with 1 double bed each
2 Bedrooms with 2 single beds each
2 Bathrooms with bathtub
1 Bathroom with bathtub and shower
1 Living room
Sofa bed
1 Library
Ground floor
1 Living room
Fireplace
1 Dining room
1 Kitchen with dining table
1 Storage room
1 Laundry room
1 Games room
1 WC
---
Equipment
Ceramic hob
Fridge
Oven
Microwave
Dishwasher
Toaster
Electric kettle
Nespresso coffee machine
Wine cabinet
Washing machine
Clothes dryer
Cot
High chair
Safe
Internet (WIFI)
Satellite TV
DVD Player
Sound system
Connection for iPod
---
Outside
Terrace
Covered terrace
Dining area
Sun loungers
Sun umbrella
Barbecue
Garden
Parking
Private pool 9 m x 3 m / 1,20 - 1,85 m
Electric pool heating (extra cost)
Solar pool heating (ideal bathing temperatures cannot be guaranteed)
For a fee
Electric pool heating 24° - 26°C 20.00 €/day
---
Service
Inclusive
Towels and sheets
Intermediate cleaning with change of towels and sheets for stays longer than 7 nights
Final cleaning
---
Additional information
The 2 children under 12 will sleep on the sofa bed
---
House rules
Children up to 2 years in cot: free
Pets not allowed
Smoking not allowed except in outdoor areas
Minimum stay of 6 nights
Check-in from 15:00
Check-out until 10:00
Surroundings
Supermarket: 3 km
Restaurant: 3 km
Town: 3 km
Marina: 3 km
Beach: 3 km
Natural park: 20 km
City: 35 km
Shopping mall: 35 km
Airport: 58 km
---
Activities
Play golf
Horse riding
Paragliding
Cycling
Mountain climbing
Deep sea fishing
Fishing
Boat trips
Water skiing
Sailing
Kitesurfing
Windsurfing
Surfing
Diving
Snorkeling
Swimming
Hiking
Offers
Long stay offer from 14 nights: 5% Discount
---
1
2
3
4
5
6
7
8
9
10
11
12
13
14
15
16
17
18
19
20
21
22
23
24
25
26
27
28
29
30
31

1
2
3
4
5
6
7
8
9
10
11
12
13
14
15
16
17
18
19
20
21
22
23
24
25
26
27
28

1
2
3
4
5
6
7
8
9
10
11
12
13
14
15
16
17
18
19
20
21
22
23
24
25
26
27
28
29
30
31

1
2
3
4
5
6
7
8
9
10
11
12
13
14
15
16
17
18
19
20
21
22
23
24
25
26
27
28
29
30

1
2
3
4
5
6
7
8
9
10
11
12
13
14
15
16
17
18
19
20
21
22
23
24
25
26
27
28
29
30
31

1
2
3
4
5
6
7
8
9
10
11
12
13
14
15
16
17
18
19
20
21
22
23
24
25
26
27
28
29
30

1
2
3
4
5
6
7
8
9
10
11
12
13
14
15
16
17
18
19
20
21
22
23
24
25
26
27
28
29
30
31

1
2
3
4
5
6
7
8
9
10
11
12
13
14
15
16
17
18
19
20
21
22
23
24
25
26
27
28
29
30
31

1
2
3
4
5
6
7
8
9
10
11
12
13
14
15
16
17
18
19
20
21
22
23
24
25
26
27
28
29
30

1
2
3
4
5
6
7
8
9
10
11
12
13
14
15
16
17
18
19
20
21
22
23
24
25
26
27
28
29
30
31

1
2
3
4
5
6
7
8
9
10
11
12
13
14
15
16
17
18
19
20
21
22
23
24
25
26
27
28
29
30

1
2
3
4
5
6
7
8
9
10
11
12
13
14
15
16
17
18
19
20
21
22
23
24
25
26
27
28
29
30
31

1
2
3
4
5
6
7
8
9
10
11
12
13
14
15
16
17
18
19
20
21
22
23
24
25
26
27
28
29
30
31

1
2
3
4
5
6
7
8
9
10
11
12
13
14
15
16
17
18
19
20
21
22
23
24
25
26
27
28

1
2
3
4
5
6
7
8
9
10
11
12
13
14
15
16
17
18
19
20
21
22
23
24
25
26
27
28
29
30
31

1
2
3
4
5
6
7
8
9
10
11
12
13
14
15
16
17
18
19
20
21
22
23
24
25
26
27
28
29
30

1
2
3
4
5
6
7
8
9
10
11
12
13
14
15
16
17
18
19
20
21
22
23
24
25
26
27
28
29
30
31

1
2
3
4
5
6
7
8
9
10
11
12
13
14
15
16
17
18
19
20
21
22
23
24
25
26
27
28
29
30

1
2
3
4
5
6
7
8
9
10
11
12
13
14
15
16
17
18
19
20
21
22
23
24
25
26
27
28
29
30
31

1
2
3
4
5
6
7
8
9
10
11
12
13
14
15
16
17
18
19
20
21
22
23
24
25
26
27
28
29
30
31

1
2
3
4
5
6
7
8
9
10
11
12
13
14
15
16
17
18
19
20
21
22
23
24
25
26
27
28
29
30

1
2
3
4
5
6
7
8
9
10
11
12
13
14
15
16
17
18
19
20
21
22
23
24
25
26
27
28
29
30
31

1
2
3
4
5
6
7
8
9
10
11
12
13
14
15
16
17
18
19
20
21
22
23
24
25
26
27
28
29
30

1
2
3
4
5
6
7
8
9
10
11
12
13
14
15
16
17
18
19
20
21
22
23
24
25
26
27
28
29
30
31
1
2
3
4
5
6
7
8
9
10
11
12
13
14
15
16
17
18
19
20
21
22
23
24
25
26
27
28
29
30
31

1
2
3
4
5
6
7
8
9
10
11
12
13
14
15
16
17
18
19
20
21
22
23
24
25
26
27
28

1
2
3
4
5
6
7
8
9
10
11
12
13
14
15
16
17
18
19
20
21
22
23
24
25
26
27
28
29
30
31

1
2
3
4
5
6
7
8
9
10
11
12
13
14
15
16
17
18
19
20
21
22
23
24
25
26
27
28
29
30

1
2
3
4
5
6
7
8
9
10
11
12
13
14
15
16
17
18
19
20
21
22
23
24
25
26
27
28
29
30
31

1
2
3
4
5
6
7
8
9
10
11
12
13
14
15
16
17
18
19
20
21
22
23
24
25
26
27
28
29
30

1
2
3
4
5
6
7
8
9
10
11
12
13
14
15
16
17
18
19
20
21
22
23
24
25
26
27
28
29
30
31

1
2
3
4
5
6
7
8
9
10
11
12
13
14
15
16
17
18
19
20
21
22
23
24
25
26
27
28
29
30
31

1
2
3
4
5
6
7
8
9
10
11
12
13
14
15
16
17
18
19
20
21
22
23
24
25
26
27
28
29
30

1
2
3
4
5
6
7
8
9
10
11
12
13
14
15
16
17
18
19
20
21
22
23
24
25
26
27
28
29
30
31

1
2
3
4
5
6
7
8
9
10
11
12
13
14
15
16
17
18
19
20
21
22
23
24
25
26
27
28
29
30

1
2
3
4
5
6
7
8
9
10
11
12
13
14
15
16
17
18
19
20
21
22
23
24
25
26
27
28
29
30
31

1
2
3
4
5
6
7
8
9
10
11
12
13
14
15
16
17
18
19
20
21
22
23
24
25
26
27
28
29
30
31

1
2
3
4
5
6
7
8
9
10
11
12
13
14
15
16
17
18
19
20
21
22
23
24
25
26
27
28

1
2
3
4
5
6
7
8
9
10
11
12
13
14
15
16
17
18
19
20
21
22
23
24
25
26
27
28
29
30
31

1
2
3
4
5
6
7
8
9
10
11
12
13
14
15
16
17
18
19
20
21
22
23
24
25
26
27
28
29
30

1
2
3
4
5
6
7
8
9
10
11
12
13
14
15
16
17
18
19
20
21
22
23
24
25
26
27
28
29
30
31

1
2
3
4
5
6
7
8
9
10
11
12
13
14
15
16
17
18
19
20
21
22
23
24
25
26
27
28
29
30

1
2
3
4
5
6
7
8
9
10
11
12
13
14
15
16
17
18
19
20
21
22
23
24
25
26
27
28
29
30
31

1
2
3
4
5
6
7
8
9
10
11
12
13
14
15
16
17
18
19
20
21
22
23
24
25
26
27
28
29
30
31

1
2
3
4
5
6
7
8
9
10
11
12
13
14
15
16
17
18
19
20
21
22
23
24
25
26
27
28
29
30

1
2
3
4
5
6
7
8
9
10
11
12
13
14
15
16
17
18
19
20
21
22
23
24
25
26
27
28
29
30
31

1
2
3
4
5
6
7
8
9
10
11
12
13
14
15
16
17
18
19
20
21
22
23
24
25
26
27
28
29
30

1
2
3
4
5
6
7
8
9
10
11
12
13
14
15
16
17
18
19
20
21
22
23
24
25
26
27
28
29
30
31
Reviews
(3)
F.O.
Very nice Villa in a beatiful areas of Gran Canaria. Enjoyed it a lot! Very well equipped, everything we needed - and much more - was there.
John Baylis
Super large and very spacious villa, very well equipped, standing in its own grounds in a pretty valley. We had bad luck with three days wet weather, so did not make so much use of the nice pool.Indoors the pool table provided a lot of fun. Web connection was good in parts of the villa. Dishwasher broke down but was quickly repaired. On arrival there was no soap in the bathrooms, but in the kitchen there were two bottles of wine and some food, much appreciated. We did not use the bykes: a very generous provision. An outdoor tennis table would have been welcome. Very friendly welcome on second evening by owner's son. On arrival an older man who spoke no english showed us round and gave us the keys. Very quick response from owner when I emailed her about the dishwasher. Our main interest was hiking: we did two excellent hikes up the valley starting from the house or San Pedro, and one from Artenara. We also went to the south of the island to find the sun and sand, and on a wet day visited Teror and other old towns.
Stephen
Wir waren zwei Familien mit 5 Kindern im Alter zwischen 6 und 17 Jahren. Die Villa Asomadita haben wir sehr sauber angetroffen, die Küche war super ausgestattet und alles insgesamt geschmackvoll eingerichtet. Die größeren Kinder waren von dem Billiardzimmer schwer begeistert. Die Villa ist sehr groß und weitläufig. Täglich wurde der Pool gereinigt und die Außenanlage gefegt. Die Villa ist in einem Tal gelegen und man hat sowohl einen schönen Blick auf das Meer, als auch einen atemberaubenden Ausblick auf die Berge. Die Villla liegt abseits des Trubels und war anfangs etwas schwer für uns zu finden. Aber mit dem Auto alles in kurzer Zeit gut erreichen, für einen größeren Sandstrand muss man allerdings in den Süden, ca.1 Stunde, fahren. Bei Fragen war unsere Kontaktperson per What's App jederzeit erreichbar. Wir haben einen wunderbaren Urlaub erlebt und können sowohl Haus, als auch Anbieter guten Gewissens weiter empfehlen.
Any question? Special wishes? We are here for you!
Villa Asomadita


Gran Canaria

from 200,00 Euros/night
Maximum occupancy: 10 People
4 Bedrooms
4 Bathrooms
Private pool