Casa Tagoro in Tenerife - Las Casas Canarias

Casa Tagoro
Holiday home near the coast of Tenerife with wonderful views to the Atlantic Ocean
Casa Tagoro
(+34) 928 580 030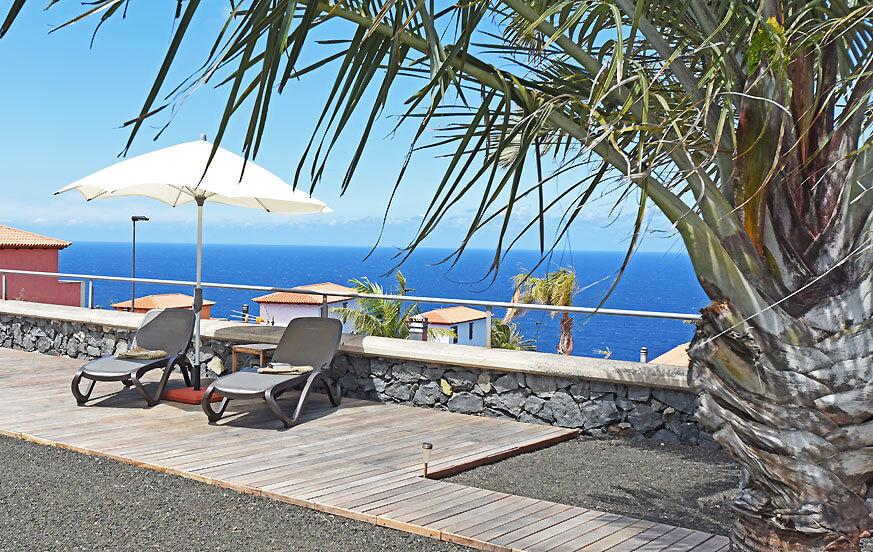 Holiday home near the coast of Tenerife with wonderful views to the Atlantic Ocean
Holiday home near the coast of Tenerife with wonderful views to the Atlantic Ocean
Description
Reference number: 22248
Cottages
Maximum occupancy: 4 Adults + 1 Child up to 12 years + 1 Child up to 2 years
Place: Tacoronte, Tenerife
House / Terrain: 150 m2 / 550 m2
License: A-38-4-000-1178
Ground floor
2 Bedrooms with 1 double bed each
2 Bathrooms with shower
1 Living room with dining area and kitchen
Attic
1 Living room with sofa bed
---
Equipment
Electric hob
Fridge
Oven
Microwave
Dishwasher
Toaster
Coffee machine
Washing machine
Cot
High chair
Heater
Internet (WIFI)
Satellite TV
Smart TV
Sound system
Alarm system
---
Outside
Terrace
Sun loungers
Sun umbrella
Barbecue
Garden
Parking
---
Service
Inclusive
Towels and sheets
Intermediate cleaning with change of towels and sheets for stays longer than 7 nights
Final cleaning
---
House rules
1 Child up to two years in cot: free
Minimum stay of 7 nights, in high season Christmas / New Year 14 nights
Check-in from 15:00
Check-out until 10:00
Surroundings
Supermarket: 5,6 km
Restaurant: 5,6 km
Beach: 5, 1 km
Airport Tenerife North: 15, 8 km
---
Activities
Play golf
Horse riding
Paragliding
Cycling
Mountain climbing
Deep sea fishing
Fishing
Boat trips
Water skiing
Sailing
Kitesurfing
Windsurfing
Surfing
Diving
Snorkeling
Swimming
Hiking
Offers
Long stay offer from 21 nights: 10% Discount
Special offer Children (3-12) 11 Euros/night
Offers are not combinable
---
1
2
3
4
5
6
7
8
9
10
11
12
13
14
15
16
17
18
19
20
21
22
23
24
25
26
27
28

1
2
3
4
5
6
7
8
9
10
11
12
13
14
15
16
17
18
19
20
21
22
23
24
25
26
27
28
29
30
31

1
2
3
4
5
6
7
8
9
10
11
12
13
14
15
16
17
18
19
20
21
22
23
24
25
26
27
28
29
30

1
2
3
4
5
6
7
8
9
10
11
12
13
14
15
16
17
18
19
20
21
22
23
24
25
26
27
28
29
30
31

1
2
3
4
5
6
7
8
9
10
11
12
13
14
15
16
17
18
19
20
21
22
23
24
25
26
27
28
29
30

1
2
3
4
5
6
7
8
9
10
11
12
13
14
15
16
17
18
19
20
21
22
23
24
25
26
27
28
29
30
31

1
2
3
4
5
6
7
8
9
10
11
12
13
14
15
16
17
18
19
20
21
22
23
24
25
26
27
28
29
30
31

1
2
3
4
5
6
7
8
9
10
11
12
13
14
15
16
17
18
19
20
21
22
23
24
25
26
27
28
29
30

1
2
3
4
5
6
7
8
9
10
11
12
13
14
15
16
17
18
19
20
21
22
23
24
25
26
27
28
29
30
31

1
2
3
4
5
6
7
8
9
10
11
12
13
14
15
16
17
18
19
20
21
22
23
24
25
26
27
28
29
30

1
2
3
4
5
6
7
8
9
10
11
12
13
14
15
16
17
18
19
20
21
22
23
24
25
26
27
28
29
30
31

1
2
3
4
5
6
7
8
9
10
11
12
13
14
15
16
17
18
19
20
21
22
23
24
25
26
27
28
29
30
31

1
2
3
4
5
6
7
8
9
10
11
12
13
14
15
16
17
18
19
20
21
22
23
24
25
26
27
28
29

1
2
3
4
5
6
7
8
9
10
11
12
13
14
15
16
17
18
19
20
21
22
23
24
25
26
27
28
29
30
31

1
2
3
4
5
6
7
8
9
10
11
12
13
14
15
16
17
18
19
20
21
22
23
24
25
26
27
28
29
30

1
2
3
4
5
6
7
8
9
10
11
12
13
14
15
16
17
18
19
20
21
22
23
24
25
26
27
28
29
30
31

1
2
3
4
5
6
7
8
9
10
11
12
13
14
15
16
17
18
19
20
21
22
23
24
25
26
27
28
29
30

1
2
3
4
5
6
7
8
9
10
11
12
13
14
15
16
17
18
19
20
21
22
23
24
25
26
27
28
29
30
31

1
2
3
4
5
6
7
8
9
10
11
12
13
14
15
16
17
18
19
20
21
22
23
24
25
26
27
28
29
30
31

1
2
3
4
5
6
7
8
9
10
11
12
13
14
15
16
17
18
19
20
21
22
23
24
25
26
27
28
29
30

1
2
3
4
5
6
7
8
9
10
11
12
13
14
15
16
17
18
19
20
21
22
23
24
25
26
27
28
29
30
31

1
2
3
4
5
6
7
8
9
10
11
12
13
14
15
16
17
18
19
20
21
22
23
24
25
26
27
28
29
30

1
2
3
4
5
6
7
8
9
10
11
12
13
14
15
16
17
18
19
20
21
22
23
24
25
26
27
28
29
30
31

1
2
3
4
5
6
7
8
9
10
11
12
13
14
15
16
17
18
19
20
21
22
23
24
25
26
27
28
29
30
31
1
2
3
4
5
6
7
8
9
10
11
12
13
14
15
16
17
18
19
20
21
22
23
24
25
26
27
28

1
2
3
4
5
6
7
8
9
10
11
12
13
14
15
16
17
18
19
20
21
22
23
24
25
26
27
28
29
30
31

1
2
3
4
5
6
7
8
9
10
11
12
13
14
15
16
17
18
19
20
21
22
23
24
25
26
27
28
29
30

1
2
3
4
5
6
7
8
9
10
11
12
13
14
15
16
17
18
19
20
21
22
23
24
25
26
27
28
29
30
31

1
2
3
4
5
6
7
8
9
10
11
12
13
14
15
16
17
18
19
20
21
22
23
24
25
26
27
28
29
30

1
2
3
4
5
6
7
8
9
10
11
12
13
14
15
16
17
18
19
20
21
22
23
24
25
26
27
28
29
30
31

1
2
3
4
5
6
7
8
9
10
11
12
13
14
15
16
17
18
19
20
21
22
23
24
25
26
27
28
29
30
31

1
2
3
4
5
6
7
8
9
10
11
12
13
14
15
16
17
18
19
20
21
22
23
24
25
26
27
28
29
30

1
2
3
4
5
6
7
8
9
10
11
12
13
14
15
16
17
18
19
20
21
22
23
24
25
26
27
28
29
30
31

1
2
3
4
5
6
7
8
9
10
11
12
13
14
15
16
17
18
19
20
21
22
23
24
25
26
27
28
29
30

1
2
3
4
5
6
7
8
9
10
11
12
13
14
15
16
17
18
19
20
21
22
23
24
25
26
27
28
29
30
31

1
2
3
4
5
6
7
8
9
10
11
12
13
14
15
16
17
18
19
20
21
22
23
24
25
26
27
28
29
30
31

1
2
3
4
5
6
7
8
9
10
11
12
13
14
15
16
17
18
19
20
21
22
23
24
25
26
27
28
29

1
2
3
4
5
6
7
8
9
10
11
12
13
14
15
16
17
18
19
20
21
22
23
24
25
26
27
28
29
30
31

1
2
3
4
5
6
7
8
9
10
11
12
13
14
15
16
17
18
19
20
21
22
23
24
25
26
27
28
29
30

1
2
3
4
5
6
7
8
9
10
11
12
13
14
15
16
17
18
19
20
21
22
23
24
25
26
27
28
29
30
31

1
2
3
4
5
6
7
8
9
10
11
12
13
14
15
16
17
18
19
20
21
22
23
24
25
26
27
28
29
30

1
2
3
4
5
6
7
8
9
10
11
12
13
14
15
16
17
18
19
20
21
22
23
24
25
26
27
28
29
30
31

1
2
3
4
5
6
7
8
9
10
11
12
13
14
15
16
17
18
19
20
21
22
23
24
25
26
27
28
29
30
31

1
2
3
4
5
6
7
8
9
10
11
12
13
14
15
16
17
18
19
20
21
22
23
24
25
26
27
28
29
30

1
2
3
4
5
6
7
8
9
10
11
12
13
14
15
16
17
18
19
20
21
22
23
24
25
26
27
28
29
30
31

1
2
3
4
5
6
7
8
9
10
11
12
13
14
15
16
17
18
19
20
21
22
23
24
25
26
27
28
29
30

1
2
3
4
5
6
7
8
9
10
11
12
13
14
15
16
17
18
19
20
21
22
23
24
25
26
27
28
29
30
31

1
2
3
4
5
6
7
8
9
10
11
12
13
14
15
16
17
18
19
20
21
22
23
24
25
26
27
28
29
30
31
Reviews
(3)
Struppi 59
Sehr zu empfehlen. Super netter Vermieter. Wir hatten einen erholsamen Urlaub, fühlten uns sehr wohl in dem gemütlichen Haus mit fantastischem Meerblick.
Margaret M.
Wir haben 6 sehr angenehme Wochen im Casa Tagoro verbracht. Das Haus war sauber, alle Einrichtungen haben tadellos funktioniert. Nico, der Hausbesitzer war sehr freundlich und hilfsbereit. Ich kann das Haus ohne Einschränkung weiter empfehlen.
Philipp B.
Wir haben uns schwer getan dieses Haus zu bewerten. Jedoch einzig und allein aus dem Grunde das nicht allzuviel auf dieses Haus aufmerksam werden ;) Wir waren dieses Jahr zum zweiten Mal zu Gast in diesem 2006 erbauten sehr modernen Ferienhaus. Hier stimmt wirklich alles, von der schönen Umgebung im Norden der Insel, über die nahegelegenen Einkaufsmöglichkeiten bishin zum atemberaubenden Ausblick auf Meer und Teide während des Frühstücks auf der großen Terrasse! Im Haus selber fehlt es an Nichts. Besonders hervorzuheben ist jedoch das einheimische Vermieterpaar. Bei Fragen jeglicher Art stand und Herr Delgado immer zur Verfügung! Casa tagoro is well worth to spend your holiday. This House is equipped with everything you need. Located in The north of the Island you can enjoy a breathtaking landscape with the sea on the one and the Teide in the other hand. Best regards to the lovely houseowner Mr. And Mrs. Delgado Gracias por el tiempo bonito. Los queremos mucho!
Any question? Special wishes? We are here for you!
Casa Tagoro


Tenerife

from 129,00 Euros/night
Maximum occupancy: 5 People