Villa Picassa in Lanzarote - Las Casas Canarias

Villa Picassa
Modern holiday home with private pool for a relaxing holiday in Costa Teguise on Lanzarote
Villa Picassa
(+34) 928 580 030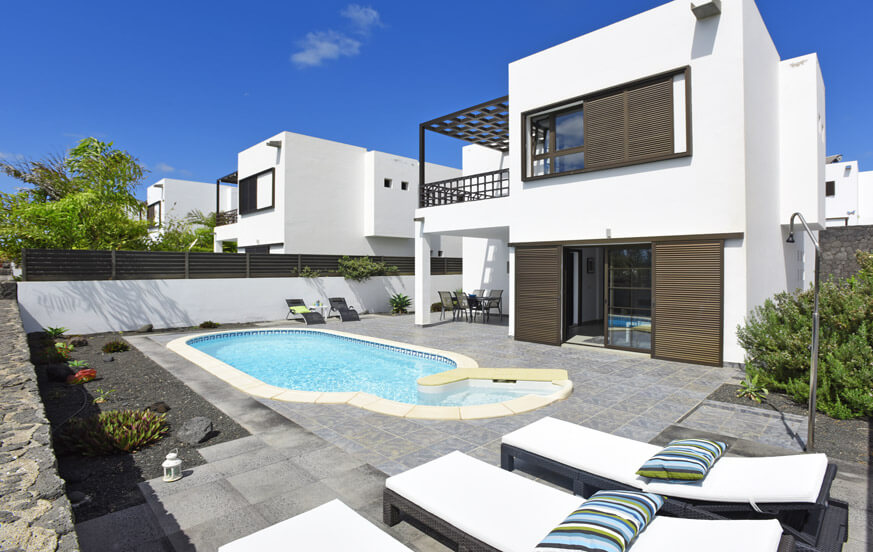 Modern holiday home with private pool for a relaxing holiday in Costa Teguise on Lanzarote
Modern holiday home with private pool for a relaxing holiday in Costa Teguise on Lanzarote
Description
Reference number: 42364
Villa with private swimming pool
Maximum occupancy: 5 Adults + 1 Child up to 2 years
Place: Costa Teguise, Lanzarote
Location: 15 meters above sea level. in a residential area with sea view.
House / Terrain: 157 m2 / 350 m2
First floor
1 Bedroom with double bed
2 Bedrooms with 2 single beds each
1 Bathroom with shower
1 Bathroom with bathtub
Ground floor
1 Kitchen
1 Living room with dining area
---
Equipment
Ceramic hob
Fridge with freezer
Oven
Dishwasher
Toaster
Coffee machine
Mixer
Washing machine
Clothes dryer
Clothes iron
Ironing board
Hair dryer
Cot
High chair
Air conditioning (hot and cold)
Internet
Unlimited Internet (WiFi)
Spanish TV
Satellite TV
---
Outside
Terrace
Covered terrace
Balcony
Dining area
Sun loungers
Outside shower
Barbecue
Garden
Parking
Private pool
Solar pool heating (ideal bathing temperatures cannot be guaranteed)
Jacuzzi
---
Service
Inclusive
Towels and sheets
Intermediate cleaning with change of towels and sheets for stays longer than 7 nights
Pool cleaning 2 times per week
---
House rules
Deposit of 300 €
1 Child up to two years in cot: free
Smoking not allowed except in outdoor areas
Minimum stay of 7 nights
Check-in from 15:00
Check-out until 10:00
Surroundings
Supermarket: 700 m
Beach: 1,3 km
Restaurant: 1,5 km
Golf course: 5 km
Water park: 5 km
Airport: 13 km
---
Activities
Play golf
Horse riding
Paragliding
Cycling
Mountain climbing
Deep sea fishing
Fishing
Boat trips
Water skiing
Sailing
Kitesurfing
Windsurfing
Surfing
Diving
Snorkeling
Swimming
Hiking
1
2
3
4
5
6
7
8
9
10
11
12
13
14
15
16
17
18
19
20
21
22
23
24
25
26
27
28
29
30
31

1
2
3
4
5
6
7
8
9
10
11
12
13
14
15
16
17
18
19
20
21
22
23
24
25
26
27
28

1
2
3
4
5
6
7
8
9
10
11
12
13
14
15
16
17
18
19
20
21
22
23
24
25
26
27
28
29
30
31

1
2
3
4
5
6
7
8
9
10
11
12
13
14
15
16
17
18
19
20
21
22
23
24
25
26
27
28
29
30

1
2
3
4
5
6
7
8
9
10
11
12
13
14
15
16
17
18
19
20
21
22
23
24
25
26
27
28
29
30
31

1
2
3
4
5
6
7
8
9
10
11
12
13
14
15
16
17
18
19
20
21
22
23
24
25
26
27
28
29
30

1
2
3
4
5
6
7
8
9
10
11
12
13
14
15
16
17
18
19
20
21
22
23
24
25
26
27
28
29
30
31

1
2
3
4
5
6
7
8
9
10
11
12
13
14
15
16
17
18
19
20
21
22
23
24
25
26
27
28
29
30
31

1
2
3
4
5
6
7
8
9
10
11
12
13
14
15
16
17
18
19
20
21
22
23
24
25
26
27
28
29
30

1
2
3
4
5
6
7
8
9
10
11
12
13
14
15
16
17
18
19
20
21
22
23
24
25
26
27
28
29
30
31

1
2
3
4
5
6
7
8
9
10
11
12
13
14
15
16
17
18
19
20
21
22
23
24
25
26
27
28
29
30

1
2
3
4
5
6
7
8
9
10
11
12
13
14
15
16
17
18
19
20
21
22
23
24
25
26
27
28
29
30
31

1
2
3
4
5
6
7
8
9
10
11
12
13
14
15
16
17
18
19
20
21
22
23
24
25
26
27
28
29
30
31

1
2
3
4
5
6
7
8
9
10
11
12
13
14
15
16
17
18
19
20
21
22
23
24
25
26
27
28

1
2
3
4
5
6
7
8
9
10
11
12
13
14
15
16
17
18
19
20
21
22
23
24
25
26
27
28
29
30
31

1
2
3
4
5
6
7
8
9
10
11
12
13
14
15
16
17
18
19
20
21
22
23
24
25
26
27
28
29
30

1
2
3
4
5
6
7
8
9
10
11
12
13
14
15
16
17
18
19
20
21
22
23
24
25
26
27
28
29
30
31

1
2
3
4
5
6
7
8
9
10
11
12
13
14
15
16
17
18
19
20
21
22
23
24
25
26
27
28
29
30

1
2
3
4
5
6
7
8
9
10
11
12
13
14
15
16
17
18
19
20
21
22
23
24
25
26
27
28
29
30
31

1
2
3
4
5
6
7
8
9
10
11
12
13
14
15
16
17
18
19
20
21
22
23
24
25
26
27
28
29
30
31

1
2
3
4
5
6
7
8
9
10
11
12
13
14
15
16
17
18
19
20
21
22
23
24
25
26
27
28
29
30

1
2
3
4
5
6
7
8
9
10
11
12
13
14
15
16
17
18
19
20
21
22
23
24
25
26
27
28
29
30
31

1
2
3
4
5
6
7
8
9
10
11
12
13
14
15
16
17
18
19
20
21
22
23
24
25
26
27
28
29
30

1
2
3
4
5
6
7
8
9
10
11
12
13
14
15
16
17
18
19
20
21
22
23
24
25
26
27
28
29
30
31
1
2
3
4
5
6
7
8
9
10
11
12
13
14
15
16
17
18
19
20
21
22
23
24
25
26
27
28
29
30
31

1
2
3
4
5
6
7
8
9
10
11
12
13
14
15
16
17
18
19
20
21
22
23
24
25
26
27
28

1
2
3
4
5
6
7
8
9
10
11
12
13
14
15
16
17
18
19
20
21
22
23
24
25
26
27
28
29
30
31

1
2
3
4
5
6
7
8
9
10
11
12
13
14
15
16
17
18
19
20
21
22
23
24
25
26
27
28
29
30

1
2
3
4
5
6
7
8
9
10
11
12
13
14
15
16
17
18
19
20
21
22
23
24
25
26
27
28
29
30
31

1
2
3
4
5
6
7
8
9
10
11
12
13
14
15
16
17
18
19
20
21
22
23
24
25
26
27
28
29
30

1
2
3
4
5
6
7
8
9
10
11
12
13
14
15
16
17
18
19
20
21
22
23
24
25
26
27
28
29
30
31

1
2
3
4
5
6
7
8
9
10
11
12
13
14
15
16
17
18
19
20
21
22
23
24
25
26
27
28
29
30
31

1
2
3
4
5
6
7
8
9
10
11
12
13
14
15
16
17
18
19
20
21
22
23
24
25
26
27
28
29
30

1
2
3
4
5
6
7
8
9
10
11
12
13
14
15
16
17
18
19
20
21
22
23
24
25
26
27
28
29
30
31

1
2
3
4
5
6
7
8
9
10
11
12
13
14
15
16
17
18
19
20
21
22
23
24
25
26
27
28
29
30

1
2
3
4
5
6
7
8
9
10
11
12
13
14
15
16
17
18
19
20
21
22
23
24
25
26
27
28
29
30
31

1
2
3
4
5
6
7
8
9
10
11
12
13
14
15
16
17
18
19
20
21
22
23
24
25
26
27
28
29
30
31

1
2
3
4
5
6
7
8
9
10
11
12
13
14
15
16
17
18
19
20
21
22
23
24
25
26
27
28

1
2
3
4
5
6
7
8
9
10
11
12
13
14
15
16
17
18
19
20
21
22
23
24
25
26
27
28
29
30
31

1
2
3
4
5
6
7
8
9
10
11
12
13
14
15
16
17
18
19
20
21
22
23
24
25
26
27
28
29
30

1
2
3
4
5
6
7
8
9
10
11
12
13
14
15
16
17
18
19
20
21
22
23
24
25
26
27
28
29
30
31

1
2
3
4
5
6
7
8
9
10
11
12
13
14
15
16
17
18
19
20
21
22
23
24
25
26
27
28
29
30

1
2
3
4
5
6
7
8
9
10
11
12
13
14
15
16
17
18
19
20
21
22
23
24
25
26
27
28
29
30
31

1
2
3
4
5
6
7
8
9
10
11
12
13
14
15
16
17
18
19
20
21
22
23
24
25
26
27
28
29
30
31

1
2
3
4
5
6
7
8
9
10
11
12
13
14
15
16
17
18
19
20
21
22
23
24
25
26
27
28
29
30

1
2
3
4
5
6
7
8
9
10
11
12
13
14
15
16
17
18
19
20
21
22
23
24
25
26
27
28
29
30
31

1
2
3
4
5
6
7
8
9
10
11
12
13
14
15
16
17
18
19
20
21
22
23
24
25
26
27
28
29
30

1
2
3
4
5
6
7
8
9
10
11
12
13
14
15
16
17
18
19
20
21
22
23
24
25
26
27
28
29
30
31
Reviews
(3)
Inga S.
Sehr komfortables Haus, toll ausgestattet. Sehr gute Betreuung während des gesamten Aufenthaltes. Schnelle Rückmeldung bei Fragen, extrem schnelle Lösung der Probleme. Kann man nur empfehlen. Besonderen Dank an Malika und Ramiras.
MM
Beautiful villa, spotlessly clean, with a good outside area for dining and sun bathing. The pool was lovely and clean when we arrived and cleaned again midway through our week's stay. The villa is in a quiet area around a 20/30 minute walk away from the edge of town along the lovely coastal path- we found this perfect for us as we enjoy a walk but we did need the hire car for trips to the supermarket. Pleasant and friendly contact when first arriving. A small problem with one of the air conditioning units, but this was towards the end of our stay in a room we were not using, so we were happy for this to be remedied after our stay. We hope to stay here again!
CARL DOBSON
this villa is beautifully clean and everything you could want for a perfect holiday,lovely pool and well equipped,we even had milk and bottled water in the fridge on arrival which was very handy,beautiful spacious bedrooms too and lovely clean and comfy beds,our only suggestion would be a welcome pack and maybe some leaflets with things to do on the island,especially for people new to Lanzarote like ourselves.
Any question? Special wishes? We are here for you!
Villa Picassa


Lanzarote

from 180,00 Euros/night
Maximum occupancy: 5 People
3 Bedrooms
2 Bathrooms
Private pool