Rincón Los Geranios in La Palma - Las Casas Canarias

Rincón Los Geranios
Well equipped holiday home with nice outdoor area with terrace, sunbeds and barbecue, located in Amagar with beautiful sea views
Rincón Los Geranios
(+34) 928 580 030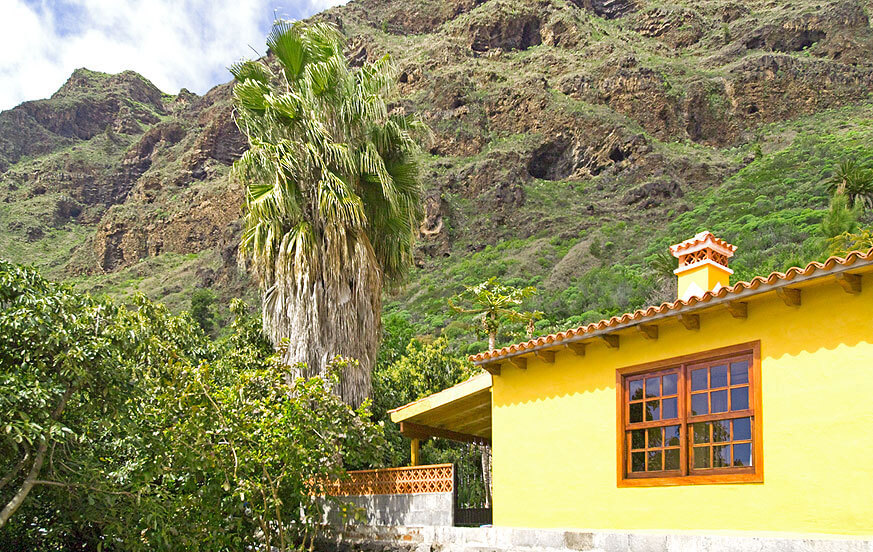 Well equipped holiday home with nice outdoor area with terrace, sunbeds and barbecue, located in Amagar with beautiful sea views
Well equipped holiday home with nice outdoor area with terrace, sunbeds and barbecue, located in Amagar with beautiful sea views
Description
Reference number: 08516
Cottages
Maximum occupancy: 4 Adults + 1 Child up to 2 years
Place: Tijarafe, La Palma
Location: 350 meters above sea level. In a rural area overlooking the sea and mountains.
House / Terrain: 55 m2 / 1.100 m2
Ground floor
1 Bedroom with 2 single beds
1 Bathroom with shower
1 Living room with dining area and kitchen
Sofa bed
---
Equipment
Gas stove
Fridge
Microwave
Toaster
Coffee machine
Washing machine
Cot
High chair
Heating
Internet
Spanish TV
---
Outside
Terrace
Covered terrace
Sun loungers
Sun umbrella
Barbecue area
Parking
---
Service
Inclusive
Towels and sheets
Intermediate cleaning with change of towels and sheets for stays longer than 7 nights
---
House rules
1 Child up to two years in cot: free
Minimum stay of 7 nights
Check-in from 15:00
Check-out until 10:00
Surroundings
Restaurant: 6,4 km
Beach: 6, 4 km
Supermarket: 6, 4 km
City: 9, 9 km
Airport: 41, 5 km
---
Activities
Horse riding
Paragliding
Cycling
Mountain climbing
Deep sea fishing
Fishing
Boat trips
Sailing
Kitesurfing
Windsurfing
Surfing
Diving
Snorkeling
Swimming
Hiking
Offers
Special offer Children (3-12) 10 Euros/night
---
1
2
3
4
5
6
7
8
9
10
11
12
13
14
15
16
17
18
19
20
21
22
23
24
25
26
27
28
29
30
31

1
2
3
4
5
6
7
8
9
10
11
12
13
14
15
16
17
18
19
20
21
22
23
24
25
26
27
28

1
2
3
4
5
6
7
8
9
10
11
12
13
14
15
16
17
18
19
20
21
22
23
24
25
26
27
28
29
30
31

1
2
3
4
5
6
7
8
9
10
11
12
13
14
15
16
17
18
19
20
21
22
23
24
25
26
27
28
29
30

1
2
3
4
5
6
7
8
9
10
11
12
13
14
15
16
17
18
19
20
21
22
23
24
25
26
27
28
29
30
31

1
2
3
4
5
6
7
8
9
10
11
12
13
14
15
16
17
18
19
20
21
22
23
24
25
26
27
28
29
30

1
2
3
4
5
6
7
8
9
10
11
12
13
14
15
16
17
18
19
20
21
22
23
24
25
26
27
28
29
30
31

1
2
3
4
5
6
7
8
9
10
11
12
13
14
15
16
17
18
19
20
21
22
23
24
25
26
27
28
29
30
31

1
2
3
4
5
6
7
8
9
10
11
12
13
14
15
16
17
18
19
20
21
22
23
24
25
26
27
28
29
30

1
2
3
4
5
6
7
8
9
10
11
12
13
14
15
16
17
18
19
20
21
22
23
24
25
26
27
28
29
30
31

1
2
3
4
5
6
7
8
9
10
11
12
13
14
15
16
17
18
19
20
21
22
23
24
25
26
27
28
29
30

1
2
3
4
5
6
7
8
9
10
11
12
13
14
15
16
17
18
19
20
21
22
23
24
25
26
27
28
29
30
31

1
2
3
4
5
6
7
8
9
10
11
12
13
14
15
16
17
18
19
20
21
22
23
24
25
26
27
28
29
30
31

1
2
3
4
5
6
7
8
9
10
11
12
13
14
15
16
17
18
19
20
21
22
23
24
25
26
27
28

1
2
3
4
5
6
7
8
9
10
11
12
13
14
15
16
17
18
19
20
21
22
23
24
25
26
27
28
29
30
31

1
2
3
4
5
6
7
8
9
10
11
12
13
14
15
16
17
18
19
20
21
22
23
24
25
26
27
28
29
30

1
2
3
4
5
6
7
8
9
10
11
12
13
14
15
16
17
18
19
20
21
22
23
24
25
26
27
28
29
30
31

1
2
3
4
5
6
7
8
9
10
11
12
13
14
15
16
17
18
19
20
21
22
23
24
25
26
27
28
29
30

1
2
3
4
5
6
7
8
9
10
11
12
13
14
15
16
17
18
19
20
21
22
23
24
25
26
27
28
29
30
31

1
2
3
4
5
6
7
8
9
10
11
12
13
14
15
16
17
18
19
20
21
22
23
24
25
26
27
28
29
30
31

1
2
3
4
5
6
7
8
9
10
11
12
13
14
15
16
17
18
19
20
21
22
23
24
25
26
27
28
29
30

1
2
3
4
5
6
7
8
9
10
11
12
13
14
15
16
17
18
19
20
21
22
23
24
25
26
27
28
29
30
31

1
2
3
4
5
6
7
8
9
10
11
12
13
14
15
16
17
18
19
20
21
22
23
24
25
26
27
28
29
30

1
2
3
4
5
6
7
8
9
10
11
12
13
14
15
16
17
18
19
20
21
22
23
24
25
26
27
28
29
30
31
1
2
3
4
5
6
7
8
9
10
11
12
13
14
15
16
17
18
19
20
21
22
23
24
25
26
27
28
29
30
31

1
2
3
4
5
6
7
8
9
10
11
12
13
14
15
16
17
18
19
20
21
22
23
24
25
26
27
28

1
2
3
4
5
6
7
8
9
10
11
12
13
14
15
16
17
18
19
20
21
22
23
24
25
26
27
28
29
30
31

1
2
3
4
5
6
7
8
9
10
11
12
13
14
15
16
17
18
19
20
21
22
23
24
25
26
27
28
29
30

1
2
3
4
5
6
7
8
9
10
11
12
13
14
15
16
17
18
19
20
21
22
23
24
25
26
27
28
29
30
31

1
2
3
4
5
6
7
8
9
10
11
12
13
14
15
16
17
18
19
20
21
22
23
24
25
26
27
28
29
30

1
2
3
4
5
6
7
8
9
10
11
12
13
14
15
16
17
18
19
20
21
22
23
24
25
26
27
28
29
30
31

1
2
3
4
5
6
7
8
9
10
11
12
13
14
15
16
17
18
19
20
21
22
23
24
25
26
27
28
29
30
31

1
2
3
4
5
6
7
8
9
10
11
12
13
14
15
16
17
18
19
20
21
22
23
24
25
26
27
28
29
30

1
2
3
4
5
6
7
8
9
10
11
12
13
14
15
16
17
18
19
20
21
22
23
24
25
26
27
28
29
30
31

1
2
3
4
5
6
7
8
9
10
11
12
13
14
15
16
17
18
19
20
21
22
23
24
25
26
27
28
29
30

1
2
3
4
5
6
7
8
9
10
11
12
13
14
15
16
17
18
19
20
21
22
23
24
25
26
27
28
29
30
31

1
2
3
4
5
6
7
8
9
10
11
12
13
14
15
16
17
18
19
20
21
22
23
24
25
26
27
28
29
30
31

1
2
3
4
5
6
7
8
9
10
11
12
13
14
15
16
17
18
19
20
21
22
23
24
25
26
27
28

1
2
3
4
5
6
7
8
9
10
11
12
13
14
15
16
17
18
19
20
21
22
23
24
25
26
27
28
29
30
31

1
2
3
4
5
6
7
8
9
10
11
12
13
14
15
16
17
18
19
20
21
22
23
24
25
26
27
28
29
30

1
2
3
4
5
6
7
8
9
10
11
12
13
14
15
16
17
18
19
20
21
22
23
24
25
26
27
28
29
30
31

1
2
3
4
5
6
7
8
9
10
11
12
13
14
15
16
17
18
19
20
21
22
23
24
25
26
27
28
29
30

1
2
3
4
5
6
7
8
9
10
11
12
13
14
15
16
17
18
19
20
21
22
23
24
25
26
27
28
29
30
31

1
2
3
4
5
6
7
8
9
10
11
12
13
14
15
16
17
18
19
20
21
22
23
24
25
26
27
28
29
30
31

1
2
3
4
5
6
7
8
9
10
11
12
13
14
15
16
17
18
19
20
21
22
23
24
25
26
27
28
29
30

1
2
3
4
5
6
7
8
9
10
11
12
13
14
15
16
17
18
19
20
21
22
23
24
25
26
27
28
29
30
31

1
2
3
4
5
6
7
8
9
10
11
12
13
14
15
16
17
18
19
20
21
22
23
24
25
26
27
28
29
30

1
2
3
4
5
6
7
8
9
10
11
12
13
14
15
16
17
18
19
20
21
22
23
24
25
26
27
28
29
30
31
Reviews
(8)
K&G
The house is wonderfull, so much privacy and the owner is very nice!
F. GRANDMONT
Nice place and garden, with plenty of guavas, and the site and view are excellents. The house is very comfortable.
David G.
We wish to thank Anna and Maria expressly for their help and care during our stay despite our language difficulties.
Carola K.
Das Haus ist sehr gut ausgestattet, sogar Steckdosenadapter sind bereits vorhanden.Es ist ruhig gelegen inmitten einer schönen Pflanzenwelt am Rande der Schlucht "Barranco de las Angustias". Den Service vor Ort haben wir nicht in Anspruch genommen. Jubina kam nach einer Woche zum vereinbarten Zeitpunkt zum Wäschewechsel und gab uns für den Problemfall ihre Telefonnummer.
Angela M.
Mit der Unterkunft waren wir sehr zufrieden.
MR
beautiful terrace with nice flowers, lots of sun and shade and a great view
Holger S.
Sehr schöne Finca mit sehr guter Ausstattung und hohem Komfort. Die Sonne verschwindet gegen 17.30 Uhr hinter dem Berg,was etwas schade ist. Die große Terrasse und zusätzliche Dachterrasse sind dafür wünderschön.
Cornelius C.
kein Kommentar
Any question? Special wishes? We are here for you!
Rincón Los Geranios


La Palma

from 45,00 Euros/night
Maximum occupancy: 4 People