Casa Eliseo in La Gomera - Las Casas Canarias

Casa Eliseo
Holiday home for four people, well equipped and with a nice garden area with barbecue area, dining table and sea views
Casa Eliseo
(+34) 928 580 030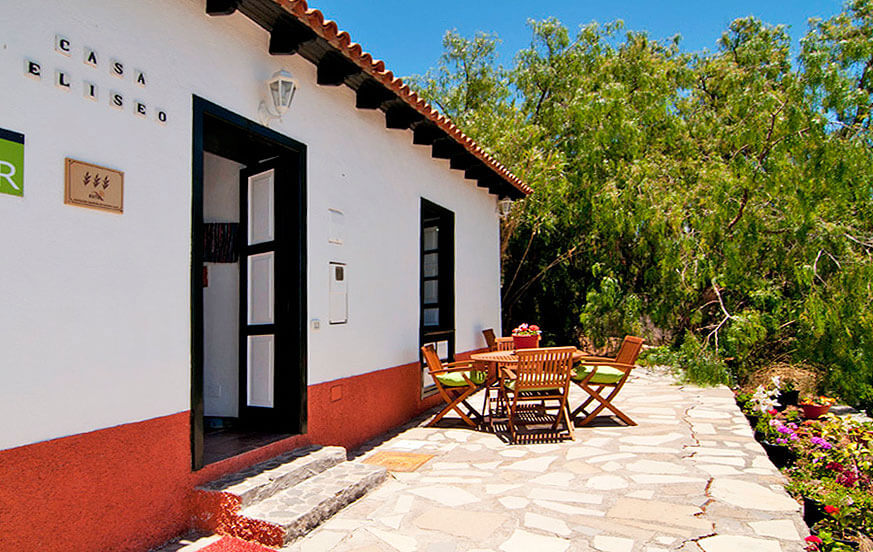 Holiday home for four people, well equipped and with a nice garden area with barbecue area, dining table and sea views
Holiday home for four people, well equipped and with a nice garden area with barbecue area, dining table and sea views
Description
Reference number: 07158
Cottages
Maximum occupancy: 4 Adults + 1 Child up to 2 years
Place: Alajeró, La Gomera
Location: 700 meters above sea level. In a rural area overlooking the sea and mountains.
House / Terrain: 100 m2 / 1000 m2
License: VT-GO0106
Ground floor
2 Bedrooms with 2 single beds each
1 Living room
1 Kitchen with dining table
2 Bathrooms with shower
---
Equipment
Ceramic hob
Fridge
Oven
Microwave
Toaster
Coffee machine
Squeezer
Washing machine
Clothes iron
Ironing board
Cot
High chair
Air conditioning (hot and cold)
Heating
Internet (WIFI)
Satellite TV
---
Outside
Terrace
Dining area
Sun umbrella
Barbecue
Fruit orchard
Parking
---
Service
Inclusive
Towels and sheets
Welcome pack with food and drinks
For a fee
Final cleaning (obligatory) 60.00 €/per stay
---
House rules
Children up to 2 years in cot: free
Pets not allowed
Minimum stay of 7 nights
Check-in from 15:00
Check-out until 10:00
Surroundings
Supermarket: 0, 2 km
Restaurant: 0, 5 km
Beach: 9 km
Airport: 9 km
Marina: 43 km
---
Activities
Play golf
Horse riding
Paragliding
Cycling
Mountain climbing
Deep sea fishing
Fishing
Boat trips
Sailing
Kitesurfing
Windsurfing
Surfing
Diving
Snorkeling
Hiking
1
2
3
4
5
6
7
8
9
10
11
12
13
14
15
16
17
18
19
20
21
22
23
24
25
26
27
28

1
2
3
4
5
6
7
8
9
10
11
12
13
14
15
16
17
18
19
20
21
22
23
24
25
26
27
28
29
30
31

1
2
3
4
5
6
7
8
9
10
11
12
13
14
15
16
17
18
19
20
21
22
23
24
25
26
27
28
29
30

1
2
3
4
5
6
7
8
9
10
11
12
13
14
15
16
17
18
19
20
21
22
23
24
25
26
27
28
29
30
31

1
2
3
4
5
6
7
8
9
10
11
12
13
14
15
16
17
18
19
20
21
22
23
24
25
26
27
28
29
30

1
2
3
4
5
6
7
8
9
10
11
12
13
14
15
16
17
18
19
20
21
22
23
24
25
26
27
28
29
30
31

1
2
3
4
5
6
7
8
9
10
11
12
13
14
15
16
17
18
19
20
21
22
23
24
25
26
27
28
29
30
31

1
2
3
4
5
6
7
8
9
10
11
12
13
14
15
16
17
18
19
20
21
22
23
24
25
26
27
28
29
30

1
2
3
4
5
6
7
8
9
10
11
12
13
14
15
16
17
18
19
20
21
22
23
24
25
26
27
28
29
30
31

1
2
3
4
5
6
7
8
9
10
11
12
13
14
15
16
17
18
19
20
21
22
23
24
25
26
27
28
29
30

1
2
3
4
5
6
7
8
9
10
11
12
13
14
15
16
17
18
19
20
21
22
23
24
25
26
27
28
29
30
31

1
2
3
4
5
6
7
8
9
10
11
12
13
14
15
16
17
18
19
20
21
22
23
24
25
26
27
28
29
30
31

1
2
3
4
5
6
7
8
9
10
11
12
13
14
15
16
17
18
19
20
21
22
23
24
25
26
27
28
29

1
2
3
4
5
6
7
8
9
10
11
12
13
14
15
16
17
18
19
20
21
22
23
24
25
26
27
28
29
30
31

1
2
3
4
5
6
7
8
9
10
11
12
13
14
15
16
17
18
19
20
21
22
23
24
25
26
27
28
29
30

1
2
3
4
5
6
7
8
9
10
11
12
13
14
15
16
17
18
19
20
21
22
23
24
25
26
27
28
29
30
31

1
2
3
4
5
6
7
8
9
10
11
12
13
14
15
16
17
18
19
20
21
22
23
24
25
26
27
28
29
30

1
2
3
4
5
6
7
8
9
10
11
12
13
14
15
16
17
18
19
20
21
22
23
24
25
26
27
28
29
30
31

1
2
3
4
5
6
7
8
9
10
11
12
13
14
15
16
17
18
19
20
21
22
23
24
25
26
27
28
29
30
31

1
2
3
4
5
6
7
8
9
10
11
12
13
14
15
16
17
18
19
20
21
22
23
24
25
26
27
28
29
30

1
2
3
4
5
6
7
8
9
10
11
12
13
14
15
16
17
18
19
20
21
22
23
24
25
26
27
28
29
30
31

1
2
3
4
5
6
7
8
9
10
11
12
13
14
15
16
17
18
19
20
21
22
23
24
25
26
27
28
29
30

1
2
3
4
5
6
7
8
9
10
11
12
13
14
15
16
17
18
19
20
21
22
23
24
25
26
27
28
29
30
31

1
2
3
4
5
6
7
8
9
10
11
12
13
14
15
16
17
18
19
20
21
22
23
24
25
26
27
28
29
30
31
1
2
3
4
5
6
7
8
9
10
11
12
13
14
15
16
17
18
19
20
21
22
23
24
25
26
27
28

1
2
3
4
5
6
7
8
9
10
11
12
13
14
15
16
17
18
19
20
21
22
23
24
25
26
27
28
29
30
31

1
2
3
4
5
6
7
8
9
10
11
12
13
14
15
16
17
18
19
20
21
22
23
24
25
26
27
28
29
30

1
2
3
4
5
6
7
8
9
10
11
12
13
14
15
16
17
18
19
20
21
22
23
24
25
26
27
28
29
30
31

1
2
3
4
5
6
7
8
9
10
11
12
13
14
15
16
17
18
19
20
21
22
23
24
25
26
27
28
29
30

1
2
3
4
5
6
7
8
9
10
11
12
13
14
15
16
17
18
19
20
21
22
23
24
25
26
27
28
29
30
31

1
2
3
4
5
6
7
8
9
10
11
12
13
14
15
16
17
18
19
20
21
22
23
24
25
26
27
28
29
30
31

1
2
3
4
5
6
7
8
9
10
11
12
13
14
15
16
17
18
19
20
21
22
23
24
25
26
27
28
29
30

1
2
3
4
5
6
7
8
9
10
11
12
13
14
15
16
17
18
19
20
21
22
23
24
25
26
27
28
29
30
31

1
2
3
4
5
6
7
8
9
10
11
12
13
14
15
16
17
18
19
20
21
22
23
24
25
26
27
28
29
30

1
2
3
4
5
6
7
8
9
10
11
12
13
14
15
16
17
18
19
20
21
22
23
24
25
26
27
28
29
30
31

1
2
3
4
5
6
7
8
9
10
11
12
13
14
15
16
17
18
19
20
21
22
23
24
25
26
27
28
29
30
31

1
2
3
4
5
6
7
8
9
10
11
12
13
14
15
16
17
18
19
20
21
22
23
24
25
26
27
28
29

1
2
3
4
5
6
7
8
9
10
11
12
13
14
15
16
17
18
19
20
21
22
23
24
25
26
27
28
29
30
31

1
2
3
4
5
6
7
8
9
10
11
12
13
14
15
16
17
18
19
20
21
22
23
24
25
26
27
28
29
30

1
2
3
4
5
6
7
8
9
10
11
12
13
14
15
16
17
18
19
20
21
22
23
24
25
26
27
28
29
30
31

1
2
3
4
5
6
7
8
9
10
11
12
13
14
15
16
17
18
19
20
21
22
23
24
25
26
27
28
29
30

1
2
3
4
5
6
7
8
9
10
11
12
13
14
15
16
17
18
19
20
21
22
23
24
25
26
27
28
29
30
31

1
2
3
4
5
6
7
8
9
10
11
12
13
14
15
16
17
18
19
20
21
22
23
24
25
26
27
28
29
30
31

1
2
3
4
5
6
7
8
9
10
11
12
13
14
15
16
17
18
19
20
21
22
23
24
25
26
27
28
29
30

1
2
3
4
5
6
7
8
9
10
11
12
13
14
15
16
17
18
19
20
21
22
23
24
25
26
27
28
29
30
31

1
2
3
4
5
6
7
8
9
10
11
12
13
14
15
16
17
18
19
20
21
22
23
24
25
26
27
28
29
30

1
2
3
4
5
6
7
8
9
10
11
12
13
14
15
16
17
18
19
20
21
22
23
24
25
26
27
28
29
30
31

1
2
3
4
5
6
7
8
9
10
11
12
13
14
15
16
17
18
19
20
21
22
23
24
25
26
27
28
29
30
31
Reviews
(5)
Elspeth Drew
The cottage was lovely, beautiful views and very peaceful. We would have we!comed more information in English eg how to work the induction hob and directions to the village supermarket. Also the cottage was cold at night, possibly because it had been unoccupied for a while. However, we would certainly come back here again, it was so spacious with a lovely garden and we did appreciate being able to do lots of walks from the cottage. We also appreciated the welcome pack of wine etc..
SoMa
Unser zweiter Urlaub im Eliseo - und wir kommen wieder!
Reiner M
Wer Ruhe sucht, wird sich hier wohl fühlen. Casa Eliseo ist ein älteres Bauernhaus, aber natürlich top in Schuß. Es fehlt hier an nichts. Alajero ist ein ruhiger und schöner Ort sowie ein guter Ausgangspunkt für Wanderungen mal abseits der üblichen "Valle Gran Rey"-Touren. Die Einkaufsmöglichkeiten in Alajero sind allerdings eher übersichtlich. Schlüsselübergabe klappt übrigens reibungslos, mehr Service ist dann gar nicht nötig. Das Haus hat einen schönen Garten vor der Terrasse mit Weinstöcken, Mandel-, Apfel- und Zitronenbäumen. Wir hatten Glück: Im August waren Mandeln, Zitronen und Weintrauben reif - wir durften uns bedienen. Wir haben uns sehr wohl gefühlt und kommen vielleicht wieder.
Annika P.
Herziges Haus. Ruhig. Gut ausgestattet. Frucht und Mandelbäume im Garten. Morgen und Abendsonne. Das einzige war es hat etwas von Ablauf gestunken. LCC Antwort: Vielen Dank für Ihr Feedback! Gerne geben wir den Hinweis mit dem Ablauf an die Verwaltung weiter damit Verbesserungen vorgenommen werden.
Petra R.
Unsere Erwartungen an Casa Eliseo sind voll erfüllt worden. Die Beschreibung im Internet samt der veröffentlichten Bilder sind vollkommen zutreffend. Das Haus ist sehr gut ausgestattet (vor allem die Küche) und sehr gepflegt - einfach zum wohlfühlen. Es wurde im Detail an viel gedacht (löblich die vielen Beleuchtungsmöglichkeiten der Räume). Ein Mietwagen ist unbedingt zu empfehlen, da die Infrastruktur von Alajero mittlerweile mäßig ist.
Any question? Special wishes? We are here for you!
Casa Eliseo


La Gomera

from 70,00 Euros/night
Maximum occupancy: 4 People