Villa Royal 5 in Gran Canaria - Las Casas Canarias

Villa Royal 5
Stylishly 3 bedroom luxury villa with saltwater pool and nice terrace with outdoor seating
Villa Royal 5
(+34) 928 580 030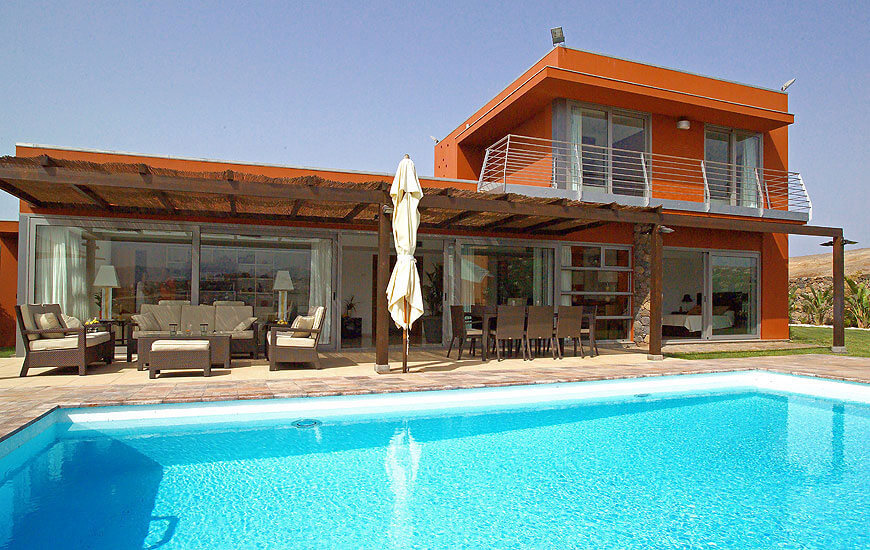 Stylishly 3 bedroom luxury villa with saltwater pool and nice terrace with outdoor seating
Stylishly 3 bedroom luxury villa with saltwater pool and nice terrace with outdoor seating
Description
Link to the video: http://www.youtube.com/embed/kqi8ek0y0WM
Reference number: 38614
Villa with private swimming pool
Maximum occupancy: 6 Adults + 1 Child up to 2 years
Place: Maspalomas, Gran Canaria
Location: 300 meters above sea level. in a complex next to the golf course overlooking the golf course and mountains.
House / Terrain: 250 m2 / 780 m2
First floor
2 Bedrooms with 2 single beds each
1 Bathroom with bathtub
Ground floor
1 Bedroom with double bed
1 Bathroom with bathtub
1 WC
1 Living room with dining area and kitchen
Satellite TV
---
Equipment
Electric hob
Fridge
Oven
Microwave
Dishwasher
Toaster
Electric kettle
Coffee machine
Nespresso coffee machine
Washing machine
Clothes dryer
Clothes iron
Air conditioning (cold only)
Heating
Unlimited Internet (WiFi)
Satellite TV
Smart TV
DVD Player
Sound system
---
Outside
Covered terrace
Dining area
Sun loungers
Sun umbrella
Gas barbecue
Garden
Garage
Private pool 7 m x 3 m / 1,4 m
Electric pool heating (extra cost)
Saltwater system (electrolytic process for natural chlorination of water)
For a fee
Electric pool heating 24° - 26°C 20.00 €/day
---
Service
Inclusive
Towels and sheets
Intermediate cleaning with change of towels and sheets for stays longer than 7 nights
Final cleaning
For a fee
Bread service (per person) 1.50 €/day
---
House rules
Children up to 2 years in cot: free
Pets on request
Smoking not allowed except in outdoor areas
Minimum stay of 6 nights
Check-in from 15:00
Check-out until 10:00
Salobre Golf Resort
Restaurants: a buffet and a la carte restaurant in the Hotel Sheraton Salobre Golf & Spa
Golf course: 18 hole golf course Salobre Golf South, 18 hole golf course Salobre Golf North, putting green, driving range, golf school
Other facilities: Spar supermarket
---
Surroundings
Golf course: 100 m
Supermarket: 200 m
Restaurant: 200 m
Shopping mall: 7 km
Marina: 7 km
Hospital: 7 km
Beach: 10 km
Water park: 10 km
Airport: 37 km
---
Activities
Play golf
Horse riding
Paragliding
Cycling
Mountain climbing
Deep sea fishing
Fishing
Boat trips
Water skiing
Sailing
Kitesurfing
Windsurfing
Surfing
Diving
Snorkeling
Swimming
Hiking
Offers
Long stay offer from 14 nights: 7% Discount
Long stay offer from 21 nights: 10% Discount
Long stay offer from 28 nights: 15% Discount
Offers are not combinable
---
1
2
3
4
5
6
7
8
9
10
11
12
13
14
15
16
17
18
19
20
21
22
23
24
25
26
27
28
29
30

1
2
3
4
5
6
7
8
9
10
11
12
13
14
15
16
17
18
19
20
21
22
23
24
25
26
27
28
29
30
31

1
2
3
4
5
6
7
8
9
10
11
12
13
14
15
16
17
18
19
20
21
22
23
24
25
26
27
28
29
30
31

1
2
3
4
5
6
7
8
9
10
11
12
13
14
15
16
17
18
19
20
21
22
23
24
25
26
27
28
29

1
2
3
4
5
6
7
8
9
10
11
12
13
14
15
16
17
18
19
20
21
22
23
24
25
26
27
28
29
30
31

1
2
3
4
5
6
7
8
9
10
11
12
13
14
15
16
17
18
19
20
21
22
23
24
25
26
27
28
29
30

1
2
3
4
5
6
7
8
9
10
11
12
13
14
15
16
17
18
19
20
21
22
23
24
25
26
27
28
29
30
31

1
2
3
4
5
6
7
8
9
10
11
12
13
14
15
16
17
18
19
20
21
22
23
24
25
26
27
28
29
30

1
2
3
4
5
6
7
8
9
10
11
12
13
14
15
16
17
18
19
20
21
22
23
24
25
26
27
28
29
30
31

1
2
3
4
5
6
7
8
9
10
11
12
13
14
15
16
17
18
19
20
21
22
23
24
25
26
27
28
29
30
31

1
2
3
4
5
6
7
8
9
10
11
12
13
14
15
16
17
18
19
20
21
22
23
24
25
26
27
28
29
30

1
2
3
4
5
6
7
8
9
10
11
12
13
14
15
16
17
18
19
20
21
22
23
24
25
26
27
28
29
30
31

1
2
3
4
5
6
7
8
9
10
11
12
13
14
15
16
17
18
19
20
21
22
23
24
25
26
27
28
29
30

1
2
3
4
5
6
7
8
9
10
11
12
13
14
15
16
17
18
19
20
21
22
23
24
25
26
27
28
29
30
31

1
2
3
4
5
6
7
8
9
10
11
12
13
14
15
16
17
18
19
20
21
22
23
24
25
26
27
28
29
30
31

1
2
3
4
5
6
7
8
9
10
11
12
13
14
15
16
17
18
19
20
21
22
23
24
25
26
27
28

1
2
3
4
5
6
7
8
9
10
11
12
13
14
15
16
17
18
19
20
21
22
23
24
25
26
27
28
29
30
31

1
2
3
4
5
6
7
8
9
10
11
12
13
14
15
16
17
18
19
20
21
22
23
24
25
26
27
28
29
30

1
2
3
4
5
6
7
8
9
10
11
12
13
14
15
16
17
18
19
20
21
22
23
24
25
26
27
28
29
30
31

1
2
3
4
5
6
7
8
9
10
11
12
13
14
15
16
17
18
19
20
21
22
23
24
25
26
27
28
29
30

1
2
3
4
5
6
7
8
9
10
11
12
13
14
15
16
17
18
19
20
21
22
23
24
25
26
27
28
29
30
31

1
2
3
4
5
6
7
8
9
10
11
12
13
14
15
16
17
18
19
20
21
22
23
24
25
26
27
28
29
30
31

1
2
3
4
5
6
7
8
9
10
11
12
13
14
15
16
17
18
19
20
21
22
23
24
25
26
27
28
29
30

1
2
3
4
5
6
7
8
9
10
11
12
13
14
15
16
17
18
19
20
21
22
23
24
25
26
27
28
29
30
31
1
2
3
4
5
6
7
8
9
10
11
12
13
14
15
16
17
18
19
20
21
22
23
24
25
26
27
28
29
30

1
2
3
4
5
6
7
8
9
10
11
12
13
14
15
16
17
18
19
20
21
22
23
24
25
26
27
28
29
30
31

1
2
3
4
5
6
7
8
9
10
11
12
13
14
15
16
17
18
19
20
21
22
23
24
25
26
27
28
29
30
31

1
2
3
4
5
6
7
8
9
10
11
12
13
14
15
16
17
18
19
20
21
22
23
24
25
26
27
28
29

1
2
3
4
5
6
7
8
9
10
11
12
13
14
15
16
17
18
19
20
21
22
23
24
25
26
27
28
29
30
31

1
2
3
4
5
6
7
8
9
10
11
12
13
14
15
16
17
18
19
20
21
22
23
24
25
26
27
28
29
30

1
2
3
4
5
6
7
8
9
10
11
12
13
14
15
16
17
18
19
20
21
22
23
24
25
26
27
28
29
30
31

1
2
3
4
5
6
7
8
9
10
11
12
13
14
15
16
17
18
19
20
21
22
23
24
25
26
27
28
29
30

1
2
3
4
5
6
7
8
9
10
11
12
13
14
15
16
17
18
19
20
21
22
23
24
25
26
27
28
29
30
31

1
2
3
4
5
6
7
8
9
10
11
12
13
14
15
16
17
18
19
20
21
22
23
24
25
26
27
28
29
30
31

1
2
3
4
5
6
7
8
9
10
11
12
13
14
15
16
17
18
19
20
21
22
23
24
25
26
27
28
29
30

1
2
3
4
5
6
7
8
9
10
11
12
13
14
15
16
17
18
19
20
21
22
23
24
25
26
27
28
29
30
31

1
2
3
4
5
6
7
8
9
10
11
12
13
14
15
16
17
18
19
20
21
22
23
24
25
26
27
28
29
30

1
2
3
4
5
6
7
8
9
10
11
12
13
14
15
16
17
18
19
20
21
22
23
24
25
26
27
28
29
30
31

1
2
3
4
5
6
7
8
9
10
11
12
13
14
15
16
17
18
19
20
21
22
23
24
25
26
27
28
29
30
31

1
2
3
4
5
6
7
8
9
10
11
12
13
14
15
16
17
18
19
20
21
22
23
24
25
26
27
28

1
2
3
4
5
6
7
8
9
10
11
12
13
14
15
16
17
18
19
20
21
22
23
24
25
26
27
28
29
30
31

1
2
3
4
5
6
7
8
9
10
11
12
13
14
15
16
17
18
19
20
21
22
23
24
25
26
27
28
29
30

1
2
3
4
5
6
7
8
9
10
11
12
13
14
15
16
17
18
19
20
21
22
23
24
25
26
27
28
29
30
31

1
2
3
4
5
6
7
8
9
10
11
12
13
14
15
16
17
18
19
20
21
22
23
24
25
26
27
28
29
30

1
2
3
4
5
6
7
8
9
10
11
12
13
14
15
16
17
18
19
20
21
22
23
24
25
26
27
28
29
30
31

1
2
3
4
5
6
7
8
9
10
11
12
13
14
15
16
17
18
19
20
21
22
23
24
25
26
27
28
29
30
31

1
2
3
4
5
6
7
8
9
10
11
12
13
14
15
16
17
18
19
20
21
22
23
24
25
26
27
28
29
30

1
2
3
4
5
6
7
8
9
10
11
12
13
14
15
16
17
18
19
20
21
22
23
24
25
26
27
28
29
30
31
Reviews
(6)
Patrick De Groote
Everything as represented in the ads!!
Kamenz
es hat uns wirklich an nichts gefehlt. So stellt man sich Ferienhausbuchung vor. Service wie in einem Hotel. Probleme, die wir mit dem Internat hatten, wurden sofort behoben. Super auch, dass bei Ankunft Lebensmittel im Kühlschrank sind.
Jaco
Everything was very nice and we had a perfect holiday. Unfortunately the pool heating was broken the first week. This was finally repaired and we will be compensated for the costs of the heating.
Marcel R.
Wir waren sehr zufrieden mit dem Aufenthalt und können die Liegenschaft weiter empfehlen.
Pedro Martín Peraza
Excelente trato y disposición!!!!
Juan Alberto Marrero Díaz
Muchas gracias por todo, ha sido una semana fantástica. La próxima vez vuelvo a reservar con usyedes. Espero conseguir un descuento ;) jajajaj. Saludos Alberto Marrero
Any question? Special wishes? We are here for you!
Villa Royal 5


Gran Canaria

from 250,00 Euros/night
Maximum occupancy: 6 People
3 Bedrooms
2 Bathrooms
Private pool