Salobre Par 4 N° 22 in Gran Canaria - Las Casas Canarias

Salobre Par 4 N° 22
Nice bungalow decorated with maritime style, with a nice outside area with terrace and private pool
Salobre Par 4 N° 22
(+34) 928 580 030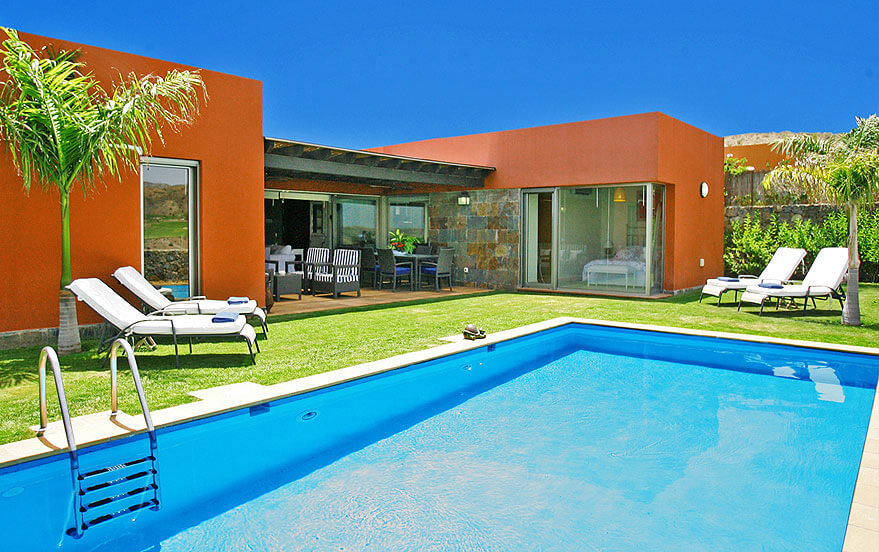 Nice bungalow decorated with maritime style, with a nice outside area with terrace and private pool
Nice bungalow decorated with maritime style, with a nice outside area with terrace and private pool
Description
Link to the video: http://www.youtube.com/embed/kqi8ek0y0WM
Reference number: 37116
Cottages with private swimming pool
Maximum occupancy: 6 Adults + 1 Child up to 2 years
Place: Maspalomas, Gran Canaria
Location: 300 meters above sea level. in a complex next to the golf course overlooking the golf course and mountains.
House / Terrain: 120 m2 / 350 m2
License: VV-2015/2307
Ground floor
1 Bedroom with double bed
2 Bedrooms with 2 single beds each
2 Bathrooms with shower
1 Living room with dining area and kitchen
---
Equipment
Electric hob
Fridge
Oven
Microwave
Dishwasher
Toaster
Sandwich maker
Electric kettle
Coffee machine
Squeezer
Mixer
Washing machine
Clothes dryer
Clothes iron
Ironing board
Hair dryer
High chair
Safe
Air conditioning (cold only)
Heating
Internet (WIFI)
Satellite TV
DVD Player
---
Outside
Covered terrace
Dining area
Sun loungers
Sun umbrella
Barbecue (extra charge)
Garden
Parking
Private pool 8 m x 4 m
Electric pool heating (extra cost)
Saltwater system (electrolytic process for natural chlorination of water)
For a fee
Electric pool heating 24-26 °C 30.00 €/day
---
Service
Inclusive
Towels and sheets
Intermediate cleaning with change of towels and sheets for stays longer than 7 nights
Final cleaning
Pool cleaning 2 times per week
Welcome pack with food and drinks
For a fee
Charcoal barbecue 53.50 €/per stay
Bring a dog on request (extra charge per dog) 55.00 €/per stay
Bread service (per person) 1.50 €/day
---
House rules
The house is not rented to groups of young people
Deposit of 300 €
Children up to 2 years in cot: free
Pets on request
Smoking not allowed except in outdoor areas
Minimum stay of 6 nights
Check-in from 15:00
Check-out until 10:00
Salobre Golf Resort
Restaurants: a buffet and a la carte restaurant in the Hotel Sheraton Salobre Golf & Spa
Golf course: 18 hole golf course Salobre Golf South, 9 hole golf course Salobre Golf North, putting green, driving range, golf school
Other facilities: Spar supermarket
---
Surroundings
Restaurant: 500 m
Supermarket: 2 km
Marina: 7 km
Hospital: 7 km
Shopping mall: 7 km
Beach: 10 km
Water park: 10 km
Airport: 37 km
---
Activities
Play golf
Horse riding
Paragliding
Cycling
Mountain climbing
Deep sea fishing
Fishing
Boat trips
Water skiing
Sailing
Kitesurfing
Windsurfing
Surfing
Diving
Snorkeling
Swimming
Hiking
Offers
Last minute from 14 days before the arrival: 5% Discount
Long stay offer from 15 nights: 5% Discount
Long stay offer from 22 nights: 10% Discount
Long stay offer from 29 nights: 15% Discount
Offers are not combinable
---
1
2
3
4
5
6
7
8
9
10
11
12
13
14
15
16
17
18
19
20
21
22
23
24
25
26
27
28

1
2
3
4
5
6
7
8
9
10
11
12
13
14
15
16
17
18
19
20
21
22
23
24
25
26
27
28
29
30
31

1
2
3
4
5
6
7
8
9
10
11
12
13
14
15
16
17
18
19
20
21
22
23
24
25
26
27
28
29
30

1
2
3
4
5
6
7
8
9
10
11
12
13
14
15
16
17
18
19
20
21
22
23
24
25
26
27
28
29
30
31

1
2
3
4
5
6
7
8
9
10
11
12
13
14
15
16
17
18
19
20
21
22
23
24
25
26
27
28
29
30

1
2
3
4
5
6
7
8
9
10
11
12
13
14
15
16
17
18
19
20
21
22
23
24
25
26
27
28
29
30
31

1
2
3
4
5
6
7
8
9
10
11
12
13
14
15
16
17
18
19
20
21
22
23
24
25
26
27
28
29
30
31

1
2
3
4
5
6
7
8
9
10
11
12
13
14
15
16
17
18
19
20
21
22
23
24
25
26
27
28
29
30

1
2
3
4
5
6
7
8
9
10
11
12
13
14
15
16
17
18
19
20
21
22
23
24
25
26
27
28
29
30
31

1
2
3
4
5
6
7
8
9
10
11
12
13
14
15
16
17
18
19
20
21
22
23
24
25
26
27
28
29
30

1
2
3
4
5
6
7
8
9
10
11
12
13
14
15
16
17
18
19
20
21
22
23
24
25
26
27
28
29
30
31

1
2
3
4
5
6
7
8
9
10
11
12
13
14
15
16
17
18
19
20
21
22
23
24
25
26
27
28
29
30
31

1
2
3
4
5
6
7
8
9
10
11
12
13
14
15
16
17
18
19
20
21
22
23
24
25
26
27
28
29

1
2
3
4
5
6
7
8
9
10
11
12
13
14
15
16
17
18
19
20
21
22
23
24
25
26
27
28
29
30
31

1
2
3
4
5
6
7
8
9
10
11
12
13
14
15
16
17
18
19
20
21
22
23
24
25
26
27
28
29
30

1
2
3
4
5
6
7
8
9
10
11
12
13
14
15
16
17
18
19
20
21
22
23
24
25
26
27
28
29
30
31

1
2
3
4
5
6
7
8
9
10
11
12
13
14
15
16
17
18
19
20
21
22
23
24
25
26
27
28
29
30

1
2
3
4
5
6
7
8
9
10
11
12
13
14
15
16
17
18
19
20
21
22
23
24
25
26
27
28
29
30
31

1
2
3
4
5
6
7
8
9
10
11
12
13
14
15
16
17
18
19
20
21
22
23
24
25
26
27
28
29
30
31

1
2
3
4
5
6
7
8
9
10
11
12
13
14
15
16
17
18
19
20
21
22
23
24
25
26
27
28
29
30

1
2
3
4
5
6
7
8
9
10
11
12
13
14
15
16
17
18
19
20
21
22
23
24
25
26
27
28
29
30
31

1
2
3
4
5
6
7
8
9
10
11
12
13
14
15
16
17
18
19
20
21
22
23
24
25
26
27
28
29
30

1
2
3
4
5
6
7
8
9
10
11
12
13
14
15
16
17
18
19
20
21
22
23
24
25
26
27
28
29
30
31

1
2
3
4
5
6
7
8
9
10
11
12
13
14
15
16
17
18
19
20
21
22
23
24
25
26
27
28
29
30
31
1
2
3
4
5
6
7
8
9
10
11
12
13
14
15
16
17
18
19
20
21
22
23
24
25
26
27
28

1
2
3
4
5
6
7
8
9
10
11
12
13
14
15
16
17
18
19
20
21
22
23
24
25
26
27
28
29
30
31

1
2
3
4
5
6
7
8
9
10
11
12
13
14
15
16
17
18
19
20
21
22
23
24
25
26
27
28
29
30

1
2
3
4
5
6
7
8
9
10
11
12
13
14
15
16
17
18
19
20
21
22
23
24
25
26
27
28
29
30
31

1
2
3
4
5
6
7
8
9
10
11
12
13
14
15
16
17
18
19
20
21
22
23
24
25
26
27
28
29
30

1
2
3
4
5
6
7
8
9
10
11
12
13
14
15
16
17
18
19
20
21
22
23
24
25
26
27
28
29
30
31

1
2
3
4
5
6
7
8
9
10
11
12
13
14
15
16
17
18
19
20
21
22
23
24
25
26
27
28
29
30
31

1
2
3
4
5
6
7
8
9
10
11
12
13
14
15
16
17
18
19
20
21
22
23
24
25
26
27
28
29
30

1
2
3
4
5
6
7
8
9
10
11
12
13
14
15
16
17
18
19
20
21
22
23
24
25
26
27
28
29
30
31

1
2
3
4
5
6
7
8
9
10
11
12
13
14
15
16
17
18
19
20
21
22
23
24
25
26
27
28
29
30

1
2
3
4
5
6
7
8
9
10
11
12
13
14
15
16
17
18
19
20
21
22
23
24
25
26
27
28
29
30
31

1
2
3
4
5
6
7
8
9
10
11
12
13
14
15
16
17
18
19
20
21
22
23
24
25
26
27
28
29
30
31

1
2
3
4
5
6
7
8
9
10
11
12
13
14
15
16
17
18
19
20
21
22
23
24
25
26
27
28
29

1
2
3
4
5
6
7
8
9
10
11
12
13
14
15
16
17
18
19
20
21
22
23
24
25
26
27
28
29
30
31

1
2
3
4
5
6
7
8
9
10
11
12
13
14
15
16
17
18
19
20
21
22
23
24
25
26
27
28
29
30

1
2
3
4
5
6
7
8
9
10
11
12
13
14
15
16
17
18
19
20
21
22
23
24
25
26
27
28
29
30
31

1
2
3
4
5
6
7
8
9
10
11
12
13
14
15
16
17
18
19
20
21
22
23
24
25
26
27
28
29
30

1
2
3
4
5
6
7
8
9
10
11
12
13
14
15
16
17
18
19
20
21
22
23
24
25
26
27
28
29
30
31

1
2
3
4
5
6
7
8
9
10
11
12
13
14
15
16
17
18
19
20
21
22
23
24
25
26
27
28
29
30
31

1
2
3
4
5
6
7
8
9
10
11
12
13
14
15
16
17
18
19
20
21
22
23
24
25
26
27
28
29
30

1
2
3
4
5
6
7
8
9
10
11
12
13
14
15
16
17
18
19
20
21
22
23
24
25
26
27
28
29
30
31

1
2
3
4
5
6
7
8
9
10
11
12
13
14
15
16
17
18
19
20
21
22
23
24
25
26
27
28
29
30

1
2
3
4
5
6
7
8
9
10
11
12
13
14
15
16
17
18
19
20
21
22
23
24
25
26
27
28
29
30
31

1
2
3
4
5
6
7
8
9
10
11
12
13
14
15
16
17
18
19
20
21
22
23
24
25
26
27
28
29
30
31
Reviews
(5)
Fabian R.
Alles super, vielen Dank für die gute Unterstützung und Betreuung bei der Buchung sowie vor ort!
Raquel B
Ninguna queja a destacar aunque sería ideal si estuviera al lado de la playa. Muy recomendable
Fabian M.
Die Unterkunft war sehr schön eingerichtet und tiptop sauber.
Catherine D.
We have had an excellent holiday, the villa is beautiful. The team here were very helpful right from the time we booked to our departure. We will come again. Thank you
Any question? Special wishes? We are here for you!
Salobre Par 4 N° 22


Gran Canaria

from 207,00 Euros/night
Maximum occupancy: 6 People
3 Bedrooms
2 Bathrooms
Private pool