Accommodation with a pool in Villa Maspalomas Golf

Villa Maspalomas Golf
Modern holiday villa with private pool near to the golf course and the beach of Maspalomas
Villa Maspalomas Golf
(+34) 928 580 030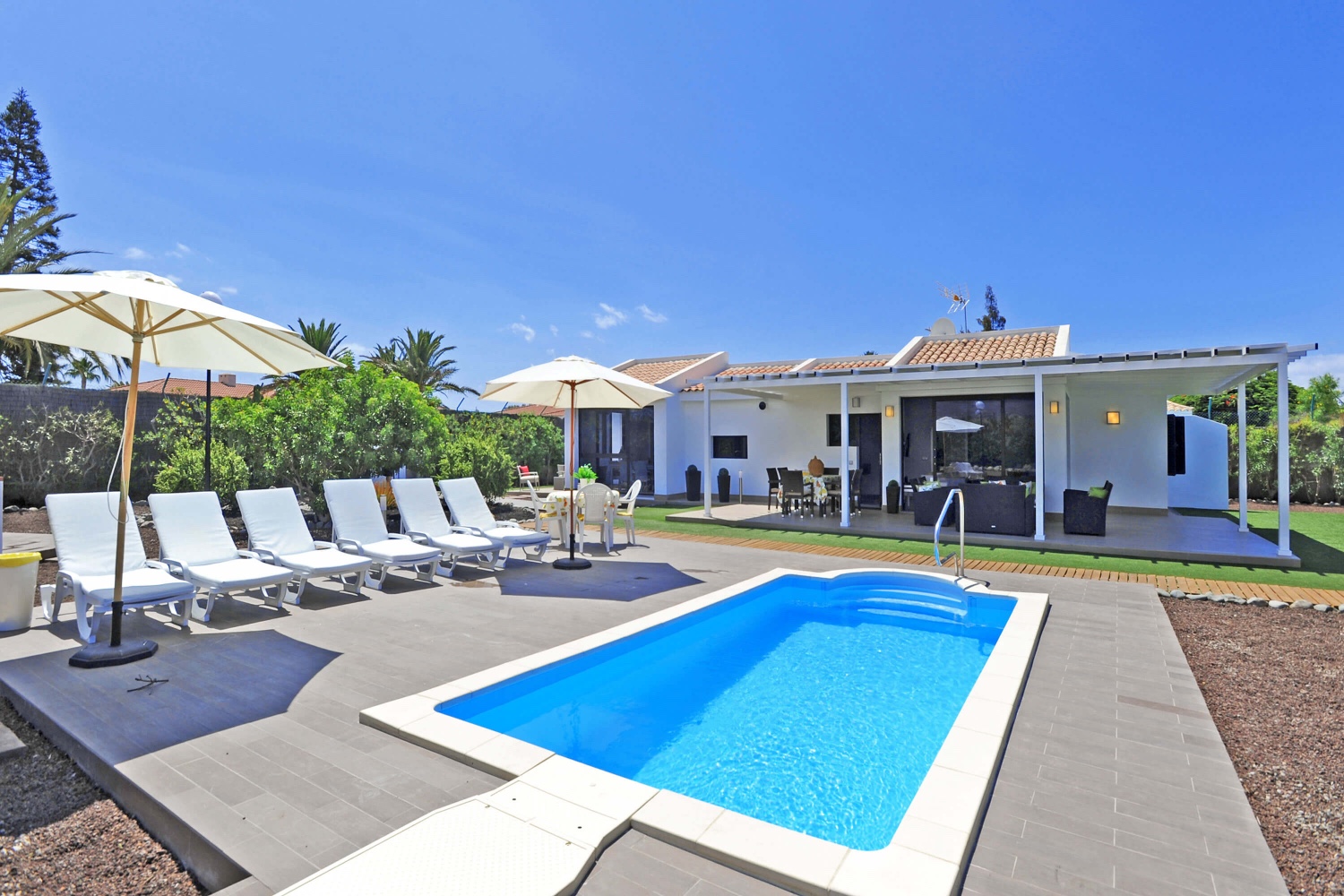 Modern holiday villa with private pool near to the golf course and the beach of Maspalomas
Modern holiday villa with private pool near to the golf course and the beach of Maspalomas
Description
Reference number: 00917
Villa with private swimming pool
Maximum occupancy: 6 Adults + 1 Child up to 2 years
Place: Maspalomas, Gran Canaria
Location: 18 meters above sea level. next to the golf course close to the beach.
House / Terrain: 102 m2 / 1.028 m2
Ground floor
1 Bedroom with double bed
2 Bedrooms with 2 single beds each
2 Bathrooms with shower
1 Living room with dining area and kitchen
---
Equipment
Ceramic hob
Fridge with freezer
Oven
Microwave
Dishwasher
Toaster
Coffee machine
Squeezer
Mixer
Washing machine
Clothes dryer
Clothes iron
Ironing board
Hair dryer
Cot
High chair
Safe
Air conditioning (hot and cold)
Heater
Internet (fibre optic connection)
Satellite TV
Smart TV
Netflix
DVD Player
Sound system
Alarm system
---
Outside
Terrace
Covered terrace
Dining area
Sun loungers
Sun umbrella
Outside shower
Barbecue area
Garden
Parking
Private pool 5 m x 3 m / 1,4 m
Electric pool heating (extra cost)
For a fee
Electric pool heating up to 23-25 °C 30.00 €/day
---
Service
Inclusive
Towels and sheets
Intermediate cleaning with linen change for stays longer than 9 nights
Final cleaning
Pool cleaning 1 time per week
---
House rules
Children up to 2 years in cot: free
Pets not allowed
Smoking not allowed except in outdoor areas
Minimum stay of 7 nights
Check-in from 15:00
Check-out until 10:00
Surroundings
Restaurant: 200 m
Doctor: 300 m
Supermarket: 500 m
Town: 2 km
Beach: 2,2 km
Airport: 25 km
---
Activities
Play golf
Horse riding
Paragliding
Cycling
Mountain climbing
Deep sea fishing
Fishing
Boat trips
Water skiing
Sailing
Kitesurfing
Windsurfing
Surfing
Diving
Snorkeling
Swimming
Hiking
Offers
Last minute from 14 days before the arrival: 10% Discount
Long stay offer from 14 nights: 10% Discount
Offers are not combinable
---
1
2
3
4
5
6
7
8
9
10
11
12
13
14
15
16
17
18
19
20
21
22
23
24
25
26
27
28

1
2
3
4
5
6
7
8
9
10
11
12
13
14
15
16
17
18
19
20
21
22
23
24
25
26
27
28
29
30
31

1
2
3
4
5
6
7
8
9
10
11
12
13
14
15
16
17
18
19
20
21
22
23
24
25
26
27
28
29
30

1
2
3
4
5
6
7
8
9
10
11
12
13
14
15
16
17
18
19
20
21
22
23
24
25
26
27
28
29
30
31

1
2
3
4
5
6
7
8
9
10
11
12
13
14
15
16
17
18
19
20
21
22
23
24
25
26
27
28
29
30

1
2
3
4
5
6
7
8
9
10
11
12
13
14
15
16
17
18
19
20
21
22
23
24
25
26
27
28
29
30
31

1
2
3
4
5
6
7
8
9
10
11
12
13
14
15
16
17
18
19
20
21
22
23
24
25
26
27
28
29
30
31

1
2
3
4
5
6
7
8
9
10
11
12
13
14
15
16
17
18
19
20
21
22
23
24
25
26
27
28
29
30

1
2
3
4
5
6
7
8
9
10
11
12
13
14
15
16
17
18
19
20
21
22
23
24
25
26
27
28
29
30
31

1
2
3
4
5
6
7
8
9
10
11
12
13
14
15
16
17
18
19
20
21
22
23
24
25
26
27
28
29
30

1
2
3
4
5
6
7
8
9
10
11
12
13
14
15
16
17
18
19
20
21
22
23
24
25
26
27
28
29
30
31

1
2
3
4
5
6
7
8
9
10
11
12
13
14
15
16
17
18
19
20
21
22
23
24
25
26
27
28
29
30
31

1
2
3
4
5
6
7
8
9
10
11
12
13
14
15
16
17
18
19
20
21
22
23
24
25
26
27
28
29

1
2
3
4
5
6
7
8
9
10
11
12
13
14
15
16
17
18
19
20
21
22
23
24
25
26
27
28
29
30
31

1
2
3
4
5
6
7
8
9
10
11
12
13
14
15
16
17
18
19
20
21
22
23
24
25
26
27
28
29
30

1
2
3
4
5
6
7
8
9
10
11
12
13
14
15
16
17
18
19
20
21
22
23
24
25
26
27
28
29
30
31

1
2
3
4
5
6
7
8
9
10
11
12
13
14
15
16
17
18
19
20
21
22
23
24
25
26
27
28
29
30

1
2
3
4
5
6
7
8
9
10
11
12
13
14
15
16
17
18
19
20
21
22
23
24
25
26
27
28
29
30
31

1
2
3
4
5
6
7
8
9
10
11
12
13
14
15
16
17
18
19
20
21
22
23
24
25
26
27
28
29
30
31

1
2
3
4
5
6
7
8
9
10
11
12
13
14
15
16
17
18
19
20
21
22
23
24
25
26
27
28
29
30

1
2
3
4
5
6
7
8
9
10
11
12
13
14
15
16
17
18
19
20
21
22
23
24
25
26
27
28
29
30
31

1
2
3
4
5
6
7
8
9
10
11
12
13
14
15
16
17
18
19
20
21
22
23
24
25
26
27
28
29
30

1
2
3
4
5
6
7
8
9
10
11
12
13
14
15
16
17
18
19
20
21
22
23
24
25
26
27
28
29
30
31

1
2
3
4
5
6
7
8
9
10
11
12
13
14
15
16
17
18
19
20
21
22
23
24
25
26
27
28
29
30
31
1
2
3
4
5
6
7
8
9
10
11
12
13
14
15
16
17
18
19
20
21
22
23
24
25
26
27
28

1
2
3
4
5
6
7
8
9
10
11
12
13
14
15
16
17
18
19
20
21
22
23
24
25
26
27
28
29
30
31

1
2
3
4
5
6
7
8
9
10
11
12
13
14
15
16
17
18
19
20
21
22
23
24
25
26
27
28
29
30

1
2
3
4
5
6
7
8
9
10
11
12
13
14
15
16
17
18
19
20
21
22
23
24
25
26
27
28
29
30
31

1
2
3
4
5
6
7
8
9
10
11
12
13
14
15
16
17
18
19
20
21
22
23
24
25
26
27
28
29
30

1
2
3
4
5
6
7
8
9
10
11
12
13
14
15
16
17
18
19
20
21
22
23
24
25
26
27
28
29
30
31

1
2
3
4
5
6
7
8
9
10
11
12
13
14
15
16
17
18
19
20
21
22
23
24
25
26
27
28
29
30
31

1
2
3
4
5
6
7
8
9
10
11
12
13
14
15
16
17
18
19
20
21
22
23
24
25
26
27
28
29
30

1
2
3
4
5
6
7
8
9
10
11
12
13
14
15
16
17
18
19
20
21
22
23
24
25
26
27
28
29
30
31

1
2
3
4
5
6
7
8
9
10
11
12
13
14
15
16
17
18
19
20
21
22
23
24
25
26
27
28
29
30

1
2
3
4
5
6
7
8
9
10
11
12
13
14
15
16
17
18
19
20
21
22
23
24
25
26
27
28
29
30
31

1
2
3
4
5
6
7
8
9
10
11
12
13
14
15
16
17
18
19
20
21
22
23
24
25
26
27
28
29
30
31

1
2
3
4
5
6
7
8
9
10
11
12
13
14
15
16
17
18
19
20
21
22
23
24
25
26
27
28
29

1
2
3
4
5
6
7
8
9
10
11
12
13
14
15
16
17
18
19
20
21
22
23
24
25
26
27
28
29
30
31

1
2
3
4
5
6
7
8
9
10
11
12
13
14
15
16
17
18
19
20
21
22
23
24
25
26
27
28
29
30

1
2
3
4
5
6
7
8
9
10
11
12
13
14
15
16
17
18
19
20
21
22
23
24
25
26
27
28
29
30
31

1
2
3
4
5
6
7
8
9
10
11
12
13
14
15
16
17
18
19
20
21
22
23
24
25
26
27
28
29
30

1
2
3
4
5
6
7
8
9
10
11
12
13
14
15
16
17
18
19
20
21
22
23
24
25
26
27
28
29
30
31

1
2
3
4
5
6
7
8
9
10
11
12
13
14
15
16
17
18
19
20
21
22
23
24
25
26
27
28
29
30
31

1
2
3
4
5
6
7
8
9
10
11
12
13
14
15
16
17
18
19
20
21
22
23
24
25
26
27
28
29
30

1
2
3
4
5
6
7
8
9
10
11
12
13
14
15
16
17
18
19
20
21
22
23
24
25
26
27
28
29
30
31

1
2
3
4
5
6
7
8
9
10
11
12
13
14
15
16
17
18
19
20
21
22
23
24
25
26
27
28
29
30

1
2
3
4
5
6
7
8
9
10
11
12
13
14
15
16
17
18
19
20
21
22
23
24
25
26
27
28
29
30
31

1
2
3
4
5
6
7
8
9
10
11
12
13
14
15
16
17
18
19
20
21
22
23
24
25
26
27
28
29
30
31
Reviews
(17)
Tony
We really liked the villa. The accommodation was superb as were the arrangements. Would definitely book again if looking for a villa in Maspalomas for 5/6 adults.
Alexander
Very Nice big house with an large yard. The pool and outside area are very nice and you have enough space to relax and socialise on the terrace. The house is also in a good condition. The bed of the master bedroom is a bit to small and could be more comfortable. The area where the house is located is really central between Playa des Ingles and Meloneras. It was a really nice time we spent at this house,
Family from Finland
Nice house with big terrace and garden which included small swimming pool and good barbeque place. Kitchen includes all equipments what you need for normal cooking. We barbecued several times. House with 3 bed rooms and 2 toilets/showers was big enough for 6 persons (Granny, Mom&Dad, 7 years old child and 19 year's old couple). Quiet area, some time we could hear quietly nice live music from hotel nearby but it was only day time and not in the evenings. Short walking distance (5min) to Golf course or tennis court. Possible to walk to the beach (15min). It was easy to get taxi front of the house or walk short distance to bigger road where was more traffic. Local bus stops was also nearby in the bigger road. Friendy booking service and possibility to get taxi service from and to Airport.
Michela
Una vacanza stupenda! Questa villa ha reso la nostra permanenza una vera favola!!!!! Se riusciremo ci torneremo sicuramente!!!! Tutto estremamente perfetto! Grazie grazie grazie!!!! Michela
Doris S.
Sehr schönes und grosszügiges Anwesen, sehr gepflegt, ruhige eher abgelegene Umgebung, jedoch verkehren Buse und Taxi, auch zu Fuss zum Faro 2 zum einkaufen ideal.
Das Pool zum planschen und abkühlen ist wunderbar geeignet.
Das Haus ist mit allem Ausgestattet was man in den Ferien braucht.
Wir empfehlen die Unterkunft weiter und auch wir kommen wieder.
Fernando G
Muy buena estancia
Philip Watts
The booking team were very efficient, responding within 24 hours to every email. Information was provided promptly and was helpful. Cleaning of the pool and mid-holiday cleaning of the villa was undertaken very efficiently. All round excellent service
H&M
Schönes Haus mit guter Ausstattung. Wir waren sehr zufrieden und würden das Haus wieder buchen!
Henning Osthues-Albrecht
Wir haben uns sehr gut im Haus und Garten erholt.
Bayha Elke
Sehr geehrte Damen und Herren,
zu aller erst möchte ich ein großes Lob für Ihre Agentur, für den tollen Service und die Freundlichkeit Ihrer Mitarbeiter aussprechen.
Wir haben einen sehr schönen Urlaub verbracht. Was uns wirklich gestört hat in der ersten Urlaubswoche war die Baustelle des Nachbargrundstückes. Es wäre fair dem zahlenden Kunden gegenüber dieses zu erwähnen! Nun gut die zweite Woche war erträglich. Ansonsten bietet das Haus ein sehr schönes Grundstück mit einem tollen warmen Pool und tolle Sitzgelegenheiten im Freien.
Die Ausstattung des Hauses ist ausreichend. Einen Punkt was wir zu bemängeln haben ist die Anzahl der Handtücher (1 großes Duschhandtuch. 1 kleines Handtuch - dies pro Woche) ist unseres Erachtens viel zu wenig. Nach Rücksprache mit Ihrer Agentur wurde das Handtuchproblem umgehend am nächsten Tag gelöst. Wiederrum ein Lob an Ihre Mitarbeiter. Fazit: Trotz allem, schöne Location mit etwas Abstrichen was den Luxus betrifft und wir würden die Villa nochmals buchen! Liebe Grüße bis zum nächsten Mal Familie Bayha
Any question? Special wishes? We are here for you!
Villa Maspalomas Golf


Gran Canaria

from 219,00 Euros/night
Maximum occupancy: 6 People
3 Bedrooms
2 Bathrooms
Private pool