Bahía Meloneras 64 in Gran Canaria - Las Casas Canarias

Bahía Meloneras 64
Lovely bungalow with nice outdoor area and large common pool in one of the best areas in the south of the island
Bahía Meloneras 64
(+34) 928 580 030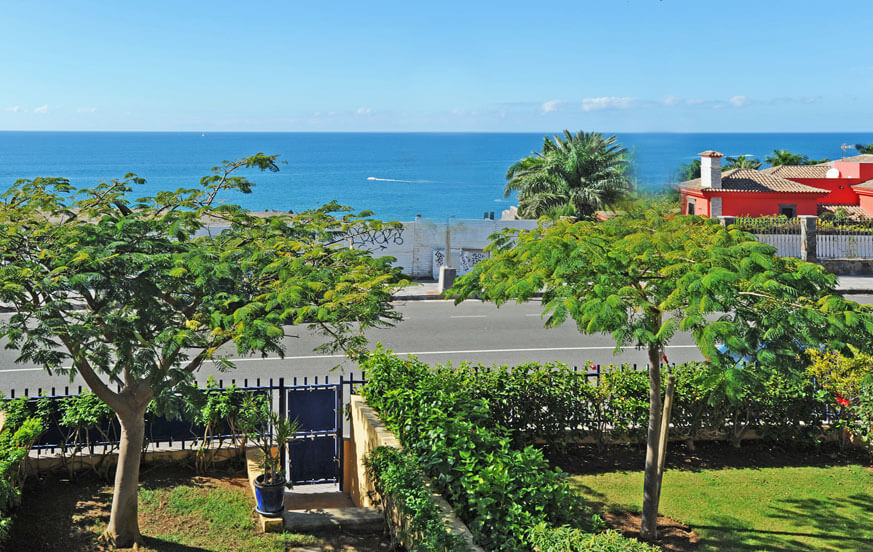 Lovely bungalow with nice outdoor area and large common pool in one of the best areas in the south of the island
Lovely bungalow with nice outdoor area and large common pool in one of the best areas in the south of the island
Description
Reference number: 16538
Cottages with community swimming pool
Maximum occupancy: 2 Adults + 3 Children up to 12 years + 1 Child up to 2 years
Place: Meloneras, Gran Canaria
House / Terrain: 100 m2
First floor
1 Bedroom with double bed
1 Bedroom with 1 bunk bed (2 single beds) and 1 single bed
2 Bathrooms with shower
Ground floor
1 Living room with dining area and kitchen
1 WC
---
Equipment
Ceramic hob
Fridge with freezer
Oven
Microwave
Mixer
Washing machine
Clothes dryer
Clothes iron
Ironing board
Hair dryer
Cot
Safe
Air conditioning (cold only)
Heating
Satellite TV
DVD Player
Sound system
---
Outside
Terrace
Balcony
Dining area
Sun loungers
Sun umbrella
Garden
---
Community area
Terrace
Sun loungers
Barbecue
Parking
Ping pong table
Communal swimming pool
Solar pool heating (ideal bathing temperatures cannot be guaranteed)
Children area
---
Service
Inclusive
For a fee
Final cleaning (obligatory) 60.00 €/per stay
---
Additional information
Maximum occupancy with adults: 4 adults + 1 child up to 2 years in baby cot
Intermediate cleaning with change of bed linen and towels after 7 nights on request (60 euros)
---
House rules
Pets not allowed
Smoking not allowed except in outdoor areas
Minimum stay of 7 nights
Check-in from 15:00
Check-out until 10:00
Surroundings
Beach: 200 m
Hospital: 750 m
Restaurant: 1 km
Shopping mall: 1,5 km
City: 2 km
Marina: 4,3 km
Water park: 5,5 km
Airport: 36 km
---
Activities
Play golf
Horse riding
Paragliding
Cycling
Mountain climbing
Deep sea fishing
Fishing
Boat trips
Water skiing
Sailing
Kitesurfing
Windsurfing
Surfing
Diving
Snorkeling
Swimming
Hiking
1
2
3
4
5
6
7
8
9
10
11
12
13
14
15
16
17
18
19
20
21
22
23
24
25
26
27
28
29
30
31

1
2
3
4
5
6
7
8
9
10
11
12
13
14
15
16
17
18
19
20
21
22
23
24
25
26
27
28

1
2
3
4
5
6
7
8
9
10
11
12
13
14
15
16
17
18
19
20
21
22
23
24
25
26
27
28
29
30
31

1
2
3
4
5
6
7
8
9
10
11
12
13
14
15
16
17
18
19
20
21
22
23
24
25
26
27
28
29
30

1
2
3
4
5
6
7
8
9
10
11
12
13
14
15
16
17
18
19
20
21
22
23
24
25
26
27
28
29
30
31

1
2
3
4
5
6
7
8
9
10
11
12
13
14
15
16
17
18
19
20
21
22
23
24
25
26
27
28
29
30

1
2
3
4
5
6
7
8
9
10
11
12
13
14
15
16
17
18
19
20
21
22
23
24
25
26
27
28
29
30
31

1
2
3
4
5
6
7
8
9
10
11
12
13
14
15
16
17
18
19
20
21
22
23
24
25
26
27
28
29
30
31

1
2
3
4
5
6
7
8
9
10
11
12
13
14
15
16
17
18
19
20
21
22
23
24
25
26
27
28
29
30

1
2
3
4
5
6
7
8
9
10
11
12
13
14
15
16
17
18
19
20
21
22
23
24
25
26
27
28
29
30
31

1
2
3
4
5
6
7
8
9
10
11
12
13
14
15
16
17
18
19
20
21
22
23
24
25
26
27
28
29
30

1
2
3
4
5
6
7
8
9
10
11
12
13
14
15
16
17
18
19
20
21
22
23
24
25
26
27
28
29
30
31

1
2
3
4
5
6
7
8
9
10
11
12
13
14
15
16
17
18
19
20
21
22
23
24
25
26
27
28
29
30
31

1
2
3
4
5
6
7
8
9
10
11
12
13
14
15
16
17
18
19
20
21
22
23
24
25
26
27
28

1
2
3
4
5
6
7
8
9
10
11
12
13
14
15
16
17
18
19
20
21
22
23
24
25
26
27
28
29
30
31

1
2
3
4
5
6
7
8
9
10
11
12
13
14
15
16
17
18
19
20
21
22
23
24
25
26
27
28
29
30

1
2
3
4
5
6
7
8
9
10
11
12
13
14
15
16
17
18
19
20
21
22
23
24
25
26
27
28
29
30
31

1
2
3
4
5
6
7
8
9
10
11
12
13
14
15
16
17
18
19
20
21
22
23
24
25
26
27
28
29
30

1
2
3
4
5
6
7
8
9
10
11
12
13
14
15
16
17
18
19
20
21
22
23
24
25
26
27
28
29
30
31

1
2
3
4
5
6
7
8
9
10
11
12
13
14
15
16
17
18
19
20
21
22
23
24
25
26
27
28
29
30
31

1
2
3
4
5
6
7
8
9
10
11
12
13
14
15
16
17
18
19
20
21
22
23
24
25
26
27
28
29
30

1
2
3
4
5
6
7
8
9
10
11
12
13
14
15
16
17
18
19
20
21
22
23
24
25
26
27
28
29
30
31

1
2
3
4
5
6
7
8
9
10
11
12
13
14
15
16
17
18
19
20
21
22
23
24
25
26
27
28
29
30

1
2
3
4
5
6
7
8
9
10
11
12
13
14
15
16
17
18
19
20
21
22
23
24
25
26
27
28
29
30
31
1
2
3
4
5
6
7
8
9
10
11
12
13
14
15
16
17
18
19
20
21
22
23
24
25
26
27
28
29
30
31

1
2
3
4
5
6
7
8
9
10
11
12
13
14
15
16
17
18
19
20
21
22
23
24
25
26
27
28

1
2
3
4
5
6
7
8
9
10
11
12
13
14
15
16
17
18
19
20
21
22
23
24
25
26
27
28
29
30
31

1
2
3
4
5
6
7
8
9
10
11
12
13
14
15
16
17
18
19
20
21
22
23
24
25
26
27
28
29
30

1
2
3
4
5
6
7
8
9
10
11
12
13
14
15
16
17
18
19
20
21
22
23
24
25
26
27
28
29
30
31

1
2
3
4
5
6
7
8
9
10
11
12
13
14
15
16
17
18
19
20
21
22
23
24
25
26
27
28
29
30

1
2
3
4
5
6
7
8
9
10
11
12
13
14
15
16
17
18
19
20
21
22
23
24
25
26
27
28
29
30
31

1
2
3
4
5
6
7
8
9
10
11
12
13
14
15
16
17
18
19
20
21
22
23
24
25
26
27
28
29
30
31

1
2
3
4
5
6
7
8
9
10
11
12
13
14
15
16
17
18
19
20
21
22
23
24
25
26
27
28
29
30

1
2
3
4
5
6
7
8
9
10
11
12
13
14
15
16
17
18
19
20
21
22
23
24
25
26
27
28
29
30
31

1
2
3
4
5
6
7
8
9
10
11
12
13
14
15
16
17
18
19
20
21
22
23
24
25
26
27
28
29
30

1
2
3
4
5
6
7
8
9
10
11
12
13
14
15
16
17
18
19
20
21
22
23
24
25
26
27
28
29
30
31

1
2
3
4
5
6
7
8
9
10
11
12
13
14
15
16
17
18
19
20
21
22
23
24
25
26
27
28
29
30
31

1
2
3
4
5
6
7
8
9
10
11
12
13
14
15
16
17
18
19
20
21
22
23
24
25
26
27
28

1
2
3
4
5
6
7
8
9
10
11
12
13
14
15
16
17
18
19
20
21
22
23
24
25
26
27
28
29
30
31

1
2
3
4
5
6
7
8
9
10
11
12
13
14
15
16
17
18
19
20
21
22
23
24
25
26
27
28
29
30

1
2
3
4
5
6
7
8
9
10
11
12
13
14
15
16
17
18
19
20
21
22
23
24
25
26
27
28
29
30
31

1
2
3
4
5
6
7
8
9
10
11
12
13
14
15
16
17
18
19
20
21
22
23
24
25
26
27
28
29
30

1
2
3
4
5
6
7
8
9
10
11
12
13
14
15
16
17
18
19
20
21
22
23
24
25
26
27
28
29
30
31

1
2
3
4
5
6
7
8
9
10
11
12
13
14
15
16
17
18
19
20
21
22
23
24
25
26
27
28
29
30
31

1
2
3
4
5
6
7
8
9
10
11
12
13
14
15
16
17
18
19
20
21
22
23
24
25
26
27
28
29
30

1
2
3
4
5
6
7
8
9
10
11
12
13
14
15
16
17
18
19
20
21
22
23
24
25
26
27
28
29
30
31

1
2
3
4
5
6
7
8
9
10
11
12
13
14
15
16
17
18
19
20
21
22
23
24
25
26
27
28
29
30

1
2
3
4
5
6
7
8
9
10
11
12
13
14
15
16
17
18
19
20
21
22
23
24
25
26
27
28
29
30
31
Reviews
(2)
HD
Die ansprechende Unterkunft liegt in einer schönen Anlage. Hinter dem Haus befindet sich ein großzügiger Pool, der trotz des guten Wetters wenig frequentiert war. Die Wohnung besitzt eine gut ausgestattete modernisierte Küche. Der kleine Garten vor der Terrasse erfreute uns durch viele blühende Büsche, die viele Vögel anlockten. Zum Strand sind es nur wenige Gehminuten. Viele Restaurants und Bars sind ebenfalls fußläufig erreichbar.
Ray M
The location is perfect! Few mins walk to the beach and dozens of restaurnts and bars and a supermarket; yet easy parking right in front of the property. The accomodation is clearly the holiday home of a Spanish family with photos of the family on the walls, fridge stocked with beer, sangria, salad dressing. Bottles of wine in the wine rack; cupboards stocked with herbs and spaices; pasta; olive oil, washing powder, soap, shower gel, etc. Everything to make your stay very easy. The accomodation has a patio and garden which gets the sun from about 11am. A small garden out the back which gets sunchine for breakfast. Through the back garden leads to the pool complex. Big pool, childrens pool, couple of jacuzzi; the only down side in April is the water is pretty cold. Upstairs the master bedroom has a small balcony with views of the sea and fabulous sunsets - just the place for a glass of wine as you watch the sun dip. Very recent addition is WIFI with very reasonable speed. Negatives? The place is not luxurious nor new but is clean and practical. The wall are pretty thin and you are aware of what your neighbours are doing - only a problem if you are unfortunate enough to get a family of unruly kids or party animals next door. Our neighbours we very considerate. Overall a very good place to stay Ray
Any question? Special wishes? We are here for you!
Bahía Meloneras 64


Gran Canaria

from 139,00 Euros/night
Maximum occupancy: 5 People
2 Bedrooms
2 Bathrooms
Communal pool