Every five years a spectacular festivity takes place in Santa Cruz de La Palma, the capital of La Palma: the "Bajada de la Virgen de las Nieves", one of the most popular festivities of the Canary Islands. The "fiesta" consists of a series of processions, dances and cultural activities, that have its origin in 1676. In this year the bishop of the Canaries, Bartolomé García Ximénez, visited the island. At the same time the population was suffering the effects of a severe drought. During other natural disasters (droughts, volcanic eruptions and insect pests) the Holy statue of the Virgen de las Nieves had been taken from its church in the hills of Santa Cruz and brought to the capital to take away the bad. The bishop made the decision to do so again and as the procession was well-received among the population, it was decided that the "Bajada de la Virgen de las Nieves" should be celebrated every five years.

Alle fünf Jahre findet ein spektakuläres Fest in Santa Cruz de La Palma, der Hauptstadt von La Palma, statt: die "Bajada de la Virgen de las Nieves", eines der beliebtesten Volksfeste der Kanaren. Das Fest umfasst eine Reihe von Prozessionen, Tänzen und kulturellen Veranstaltungen, die ihren Anfang im Jahr 1676 haben. In diesem Jahr besuchte der Bischof der Kanaren, Bartolomé García Ximénez, die Insel. Zur gleichen Zeit litt die Bevölkerung der Insel unter einer schlimmen Dürre. Schon während anderen Naturkatastrophen (Dürren, Vulkanausbrüche und Insektenplagen) war die Heiligenstatue der Virgen de las Nieves von Ihrer Kirche in den Hügeln von Santa Cruz in die Haupstadt gebracht worden um das Unheil abzuwenden. Der Bischof traf die Entscheidung dies wieder zu tun und da die Prozession eine große Beliebheit im Volk erreichte, wurde beschlossen die "Bajada de la Virgen de las Nieves" alle fünf Jahre zu feiern.
Cada cinco años se celebra una fiesta espectacular en Santa Cruz de La Palma, la capital de la isla: la Bajada de la Virgen de las Nieves, una de las fiestas más populares de las Islas Canarias. La fiesta consta de una serie de procesiones, danzas y celebraciones culturales, cuyos inicios se remontan al año 1676. En este año el obispo de Canarias, Bartolomé García Ximénez, visitaba la isla, coincidiendo con un periodo en el que la población sufría las consecuencias de una grave sequía. Durante otras catástrofes naturales (sequías, erupciones volcánicas y plagas de insectos) ya se había trasladado la imagen mariana de la Virgen de las Nieves desde su templo en los montes de Santa Cruz hasta la capital para hacer frente a los males que afectaban la isla. El obispo tomó la decisión de repetir este procedimiento y como la procesión contó con una gran apoyo entre la población, se acordó celebrar cada cinco años la Bajada de la Virgen de las Nieves.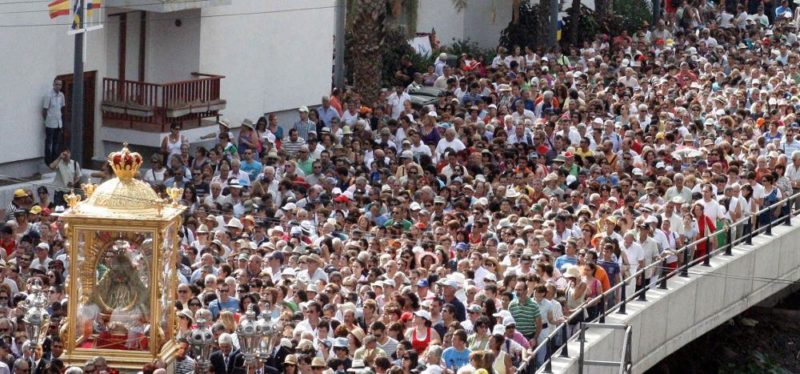 Nowadays the festivities of the "Bajada de la Virgen" take place in the months of June, July and August. Of course, the highlight of the festival is the "Bajada de la Virgen" on "Domigo Grande" ("Big Sunday"). The festivities start at 6 am with the musicians that announce the arrival of the Virgen de las Nieves in the streets. The Virgen is then received by the population and the most important dignitaries and brought in a great procession to the church "Iglesia de El Salvador". The most beautiful events of the "fiesta" are the "Danza de los Enanos" ("Dance of the Dwarves"), where weary figures become cheerful polka dancing dwarfs and "Minué" (Festival of the 18th century) with music, dance and poetry in the style of courtly rococo dances of the 18th century. The Holy statue spends three weeks full of religious celebrations in the city and then it starts its journey back to its church in the mountains, while the inhabitants of the island already look forward to the next festivity in five years! You too can enjoy this spectacle of Canarian traditions during your holidays on La Palma!
Heutzutage finden die Feierlichkeiten rund um die "Bajada de la Virgen" in den Monaten Juni, Juli und August statt. Zu den Highlights des Festes gehört natürlich die "Bajada de la Virgen" am Domigo Grande ("großem Sonntag"). Schon um 6 Uhr morgens beginnen die Festivitäten mit den Musikern die in den Straßen die Ankunft der Virgen de las Nieves ankündigen, die Virgen wird dann von den Würdeträgern empfangen und in einer großen Prozession bis zur Kirche "Iglesia de el Salvador" gebracht. Zu den schönsten Seiten des Festes gehören auch die "Danza de los Enanos" ("Tanz der Zwerge"), wo müde Gestalten zu fröhlichen Polka tanzenden Zwergen werden und das "Minué" (Festival des 18. Jahrhunderts) mit Musik, Tanz und Poesie im Stile der höfischen Rokoko-Tänze aus dem 18. Jahrhundert. Ungefähr drei Wochen voller religiösen Feierlichkeiten verbringt die Heiligenstatue in der Stadt bis sie dann Ihre Rückreise in die Hügel von Santa Cruz antritt und die Bewohner der Insel sich schon auf das nächste Fest in fünf Jahren freuen! Genießen auch Sie dieses Spektakel kanarischer Traditionen bei Ihrem Urlaub auf La Palma!
Hoy en día las festividades se celebran en los meses de junio, julio y agosto. El punto culminante de la fiesta es la Bajada de la Virgen durante el Domigo Grande. Las festividades comienzan a las 6 de la mañana con las bandas musicales que recorren las calles anunciando la llegada de la Virgen. A continuación, la Virgen es recibida por la población y altos cargos políticos, religiosos y militares y en una gran procesión se acompaña hasta la Iglesia de el Salvador. Entre los actos más vistosos de la fiesta se encuentran además la Danza de los Enanos, en la que personajes cansados se transforman en enanos alegres bailando polca y el "Minué" (Festival del Siglo XVIII) con música, danza y poesía que evoca el estilo de las danzas cortesanas del rococó del siglo XVIII. Después de tres semanas llenas de coloridas fiestas religiosas, la Virgen comienza su regreso a los montes de Santa Cruz mientras que los habitantes de la isla se quedan anhelando la siguiente fiesta dentro de cinco años. ¡También tú puedes disfrutar de este espectáculo de tradiciones canarias en tus vacaciones en La Palma!