HEY READER, WE WISH YOU A HAPPY NEW YEAR 2019! Our resolution for the New Year is to travel more. What about you? We recommend you to plan your holidays for all the year now, so that you can look forward to these holidays. It also makes other good intentions for the New Year happen, such as spendig more time with your family and loved or taking care of yourself. The fact that you still have a large selection of holiday houses and you can benefit from early booking offers is a pleasant bonus. To celebrate the New Year, we have put together below a selection of our newest addittions of holiday houses. Take a look!
One of our newest holiday houses is GOLDEN BLUE MELONERAS  on the Canary Island of Gran Canaria.
It is a modern luxury villa over 4 levels with high-quality equipment and large heatable private pool. It is ideal for beach holidays as it is only located a few minutes away from the beach of Meloneras and Maspalomas.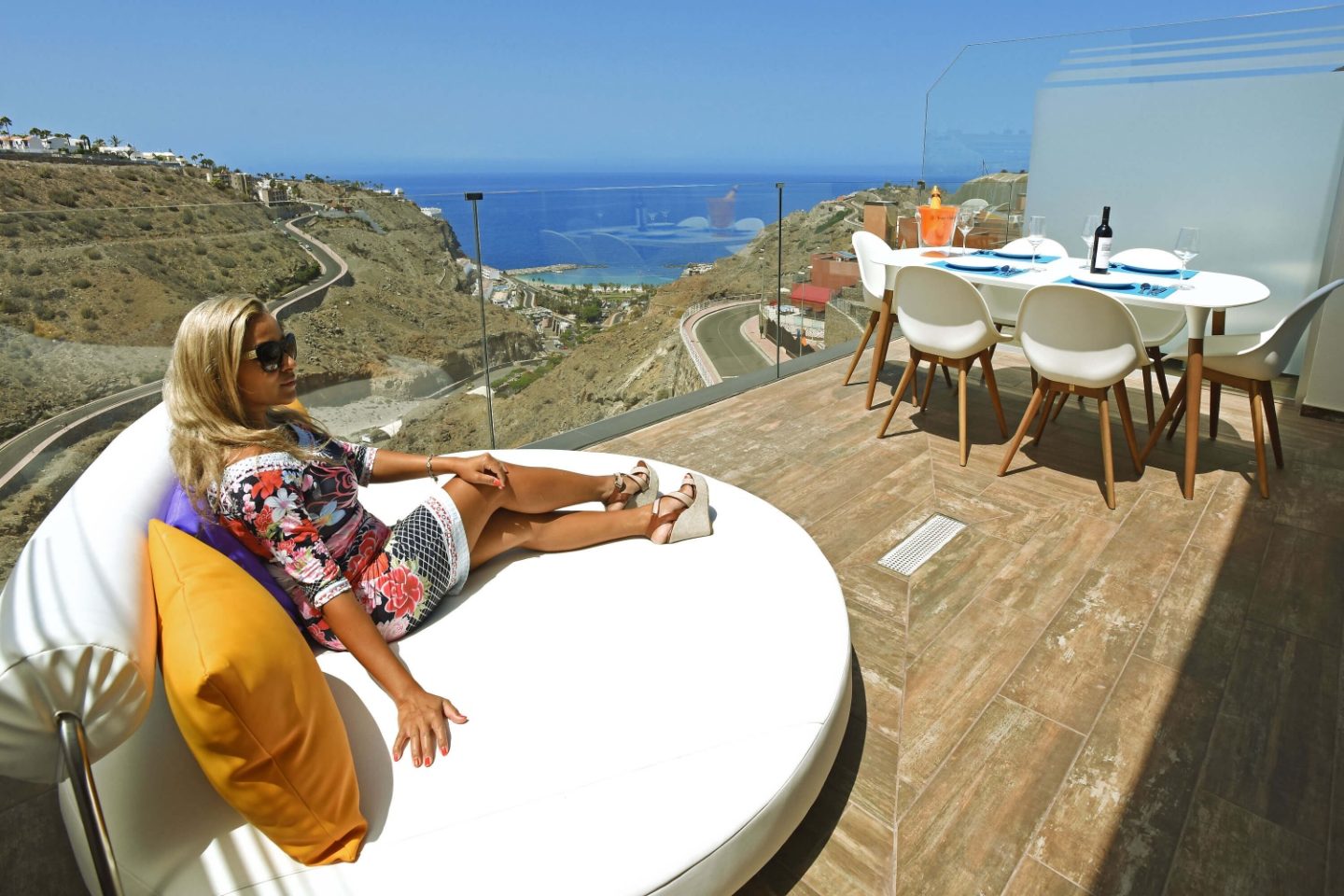 Suites Beyond Amadores Beach on Gran Canaria is another addittion to our offer of holiday houses on the Canary Islands.
It is a stylish apartment with sea views above the beach of Amadores with garage space and community pool. It is the best destination for beach holidays in a prime location in the south of Gran Canaria.
Suites Beyond Amadores Beach ist ein weiterer Zugang zu unserem Ferienhausangebot auf den Kanarischen Inseln.
Stylische Ferienwohnung mit Meerblick oberhalb des Strandes von Amadores mit Garagenplatz und Gemeinschaftspool. Es ist das beste Urlaubsdomizil für ein Strandurlaub in Bestlage.
It is a modern holiday house with jacuzzi and wonderful views to the Salobre golf course and the sea on the south of Gran Canaria. It is ideal for those who want to play golf or enjoy the quietness and peace of this area.
A new addittion to our holiday house offer on La Palma is
CASA MARYLUNA
.
It is a small, lovingly renovated Canarian country house with a very modern pool area and typical Spanish barbecue area. It is a perfect destination to enjoy the panoramic views of the Atlantic Ocean on the island of La Palma.
Another holiday house addittion on La Palma is
VILLA PURA VIDA
.
The modern architect villa has a unique design and dreamlike infinity pool. It is great for a relaxing holidays because the holiday house is located in an isolated area, with panoramic view of the sea and the landscape from all areas of the house.
Another addition on La Palma is CASA EL CONSUELO.
It is a very nice, small holiday house with modern furniture and private pool. The ideal place to relax and as a starting point for excursions and hiking.