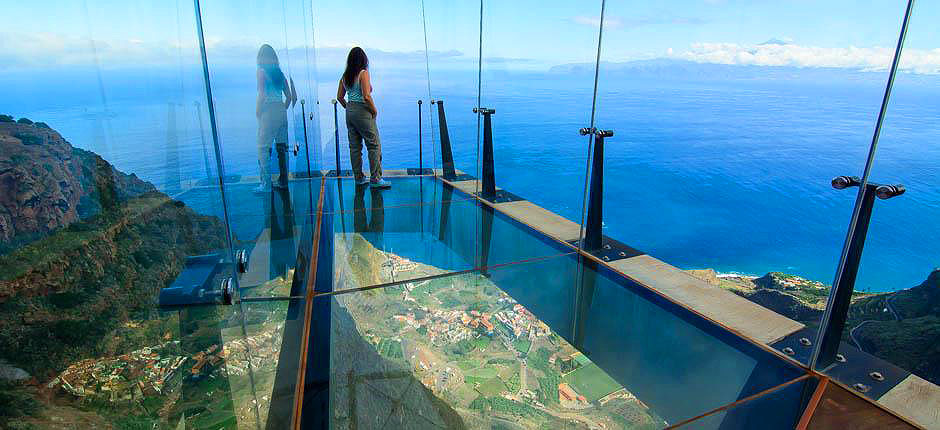 Die Kanarischen Inseln bieten wunderschöne und vielfältige Landschaften. Viele von Ihnen kann man von spektakulären Aussichtspunkten bewundern. Wir haben Ihnen fünf der schönsten Aussichtspunkte ausgesucht!
Las Islas Canarias ofrecen paisajes hermosos y variados. Muchos de ellos se pueden admirar desde miradores encantadores. ¡Hemos seleccionado cinco de los miradores más bonitos!
The Canary Islands offer beautiful and diverse landscapes. Many of them can be admired from spectacular viewpoints. We have picked our five favorites!

1. MIRADOR DEL RÍO, LANZAROTE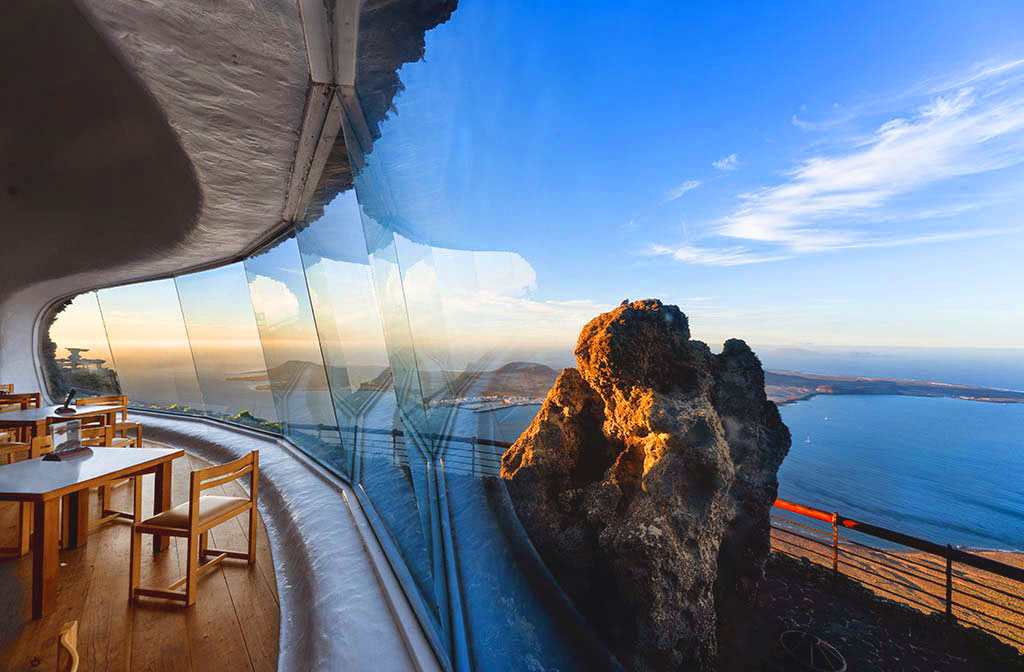 Ein Muss für jeden Besucher der Insel – der Aussichtspunkt "Mirador del Río" bietet einen unvergleichlichen Panoramablick auf die kleineren "Inseln" und Felsformationen, die sich im Nordwesten von Lanzarote befinden, auch bekannt als "archipiélago Chinijo" ("chinijo" ist ein kanarisches Wort für "klein"). Der Aussichtspunkt befindet sich auf einer Höhe von 479 Metern über dem Meerespiegel und wurden in den Ruinen einer alten Militärfestung errichtet. Der berühmte Künstler César Manrique war für das spektakuläre Design verantwortlich.
Una visita obligatoria para cualquier visitante de la isla – el Mirador del Río ofrece unas vistas panorámicas inigualables a las pequeñas islas y formaciones rocosas, que se encuentran en el noroeste de Lanzarote y componen el archipiélago Chinijo. El mirador se encuentra a una altura de 479 metros sobre el nivel del mar y fue edificado reconstruyendo una antigua posición de artillería. El famoso artista César Manrique fue el responsable de su diseño espectacular.
A must for every visitor of the island – the "Mirador del Río" offers a unique panoramic view of the smaller "islands" and rock formations that are located in the northwest of Lanzarote, also known as "Archipiélago Chinijo" ("Chinijo" is a Canarian word for "small"). The viewpoint is located at an altitude of 479 meters above sea level and was built in the ruins of an old military fortress. The famous artist César Manrique was responsible for the spectacular design.
2. MIRADOR DEL ROQUE DE LOS MUCHACHOS, LA PALMA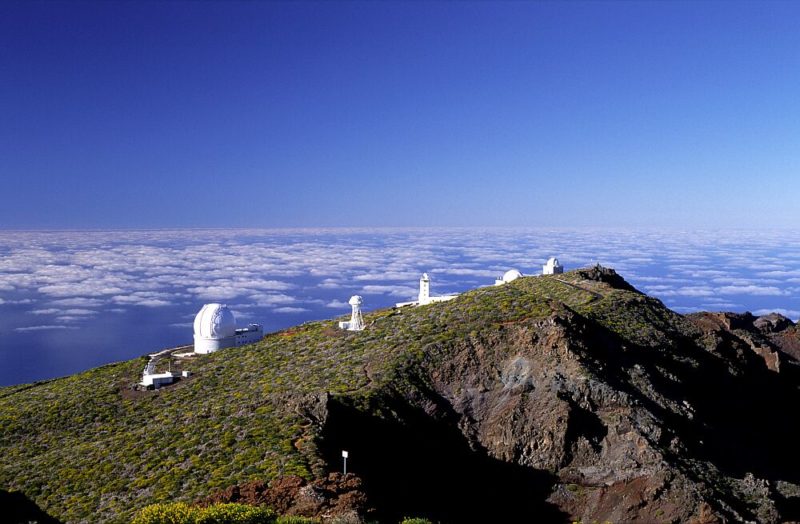 Der "Roque de los Muchachos" ist ein 2.426 Meter hoher Berg, der sich im Norden der Caldera de Taburiente befindet und La Palma zu der zweithöchsten Insel des Archipels macht. Seinen Namen (übersetzt "Felsen der Jungen") hat der Berg wegen der Felsen erhalten, die sich auf seiner Spitze befinden und die aussehen wie eine Gruppe von Jugendlichen. Die Bergspitze ist einfach mit dem Auto zu erreichen und die Aussicht ist die vielen Kurven wert! Von hier aus können Sie bei klarem Wetter die Nachbarinseln Teneriffa, La Gomera und El Hierro betrachten. Für Sternenbeobachter ist der Roque de los Muchachos ein Paradies und wegen seines klaren Himmels befindet sich hier auch das "Observatorio del Roque de los Muchachos", das in bestimmten Monaten auch besichtigt werden kann.
El Roque de los Muchachos es una montaña de 2.426 metros de altura, que se encuentra al norte de la Caldera de Taburiente y convierte a La Palma en la segunda isla de mayor altura del archipiélago. Su nombre se debe a las rocas que lo coronan y que se parecen a un grupo de jóvenes. El pico de la montaña se puede alcanzar fácilmente en coche – ¡las fantásticas vistas hacen que las curvas en el ascenso valgan la pena! En días despejados puede ver desde aquí las islas de Tenerife, La Gomera y El Hierro. Gracias a sus cielo de gran calidad, es también un paraíso para observadores de estrellas y por esa razón aquí se encuentra el Observatorio del Roque de los Muchachos, que se puede visitar en determinadas épocas del año.
The "Roque de los Muchachos" is a 2,426 meter high mountain, which is located in the north of the Caldera de Taburiente and makes La Palma the second highest island of the archipelago. It received its name (translated "Rock of the Boys") because the rocks that are located on top of the mountain look like a group of boys. The mountaintop is easily accessible by car and the view is certainly worth the many curves! From here you can see the neighboring islands of Tenerife, La Gomera and El Hierro when the weather is clear. Because of its clear sky, the Roque de los Muchachos is a paradise for star observers and the scientist that work in the observatory "Observatorio del Roque de los Muchachos", which can be visited during certain months.
3. MIRADOR DEL PICO DE LAS NIEVES, GRAN CANARIA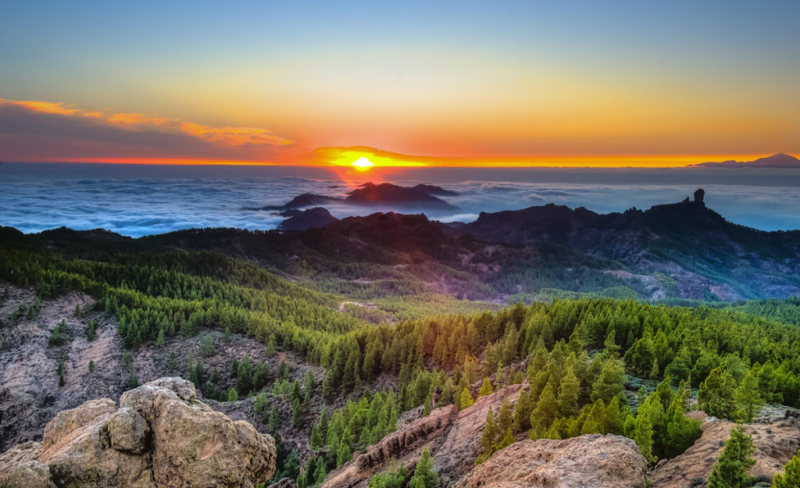 Der "Pico de las Nieves" ist mit seinen 1.949 Metern der höchste Punkt von Gran Canaria. Der Gipfel dieses Berges ist nicht begehbar, aber kurz unterhalb befindet sich dieser Aussichtspunkt, der mit dem Auto erreicht werden kann und einige der schönsten Aussichten der Insel bietet. Von hier aus kann man die spektakulären Felsformationen im Süden der Insel bewundern, sowie die Pinienwälder und einige der wichtigsten natürlichen Monumente der Insel, wie zum Beispiel der berühmte Roque Nublo. Seinen Namen verdankt der Berg den Brunnen, die hier in der Nähe gebaut wurden und in denen im Winter gefallener Schnee aufbewahrt wurde um dann in der Hauptstadt, Las Palmas, als Eis konsumiert zu werden. Einer dieser Brunnen wurde rekonstruiert und kann auch besichtigt werden.
El Pico de las Nieves con sus 1.949 metros es el punto más alto de Gran Canaria. La cima de la montaña no es accesible, pero poco antes se encuentra este mirador, que se puede alcanzar con el coche y ofrece algunas de las vistas más hermosas de la isla. Desde aquí se pueden admirar las espectaculares formaciones rocosas en el sur de la isla, así como el bosque de pinos y algunos de los monumentos naturales más importante de la isla, como, por ejemplo, el famoso Roque Nublo. El nombre del pico se debe a los pozos que se construyeron cerca de él para almacenar la nieve caída en invierno, que después se consumía en la capital, Las Palmas de Gran Canaria, como helado. Uno de estos pozos fue reconstruido recientemente y también se puede visitar.
The "Pico de las Nieves", with its 1,949 meters is the highest mountain of Gran Canaria. The top of this mountain is not accesible but just below the top you can find the viewpoint "Mirador del Pico de las Nieves", which can be reached by car and offers some of the best views of the island. From here you can admire the spectacular rock formations in the south of the island, as well as the pine forest and some of the most important natural monuments of the island, such as the famous Roque Nublo. The "Pico de las Nieves" was named after the wells that were built next to the mountain and where the snow from winter was stored to be consumed as ice in the capital, Las Palmas de Gran Canaria. One of these wells has been reconstructed and can be visited.
4. MIRADOR DE CHIPEQUE, TENERIFE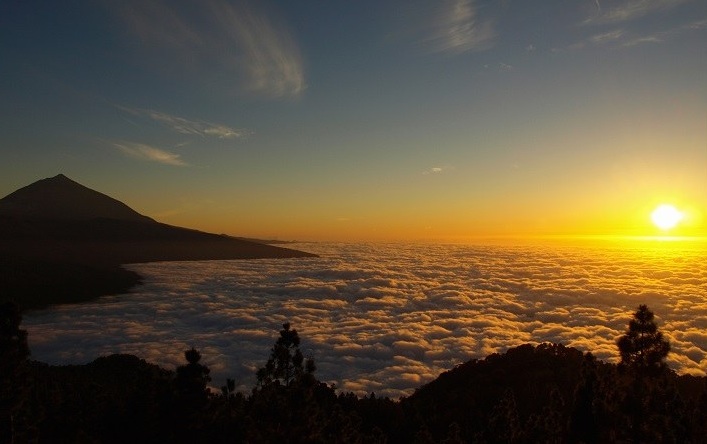 El Teide, mit seinen 3.718 Metern, ist der höchste Berg Spaniens und eines der wichtigsten Monumente von Teneriffa. Der Aussichtspunkt "Mirador de Chipeque" kann mit dem Auto erreicht werden und hier findet man eine der schönsten Ansichten des Teide. Bei klarem Himmel können Sie hier einen wunderschönen Panoramablick auf das Orotavatal, die Ortschaften in der Umgebung, den majestätischen Teide, das Massiv von Teno und am Horizont die Insel von La Palma genießen. Unterhalb des "Mirador de Chipeque" befindet sich der "Mirador de Chimague", nicht ganz so spektakulär, aber von dem aus man das Tal von Güimar und bei klarem Himmel die Nachbarinsel Gran Canaria betrachten kann.
El Teide, con sus 3.718 metros, es la montaña más alta de España y uno de los monumentos más importantes de Tenerife. El Mirador de Chipeque se puede acceder mediante coche y aquí encontrará una de las vistas más bonitas del Teide. Con el cielo despejado puede disfrutar de unas maravillosas vistas panorámicas al Valle de la Orotava, los núcleos de población colindantes, el majestuoso Teide, el macizo de Teno y en el horizonte la isla de La Palma. Cerca de este mirador se encuentra el Mirador de Chimague, no tan espectacular, pero desde el cual se puede observar el valle de Güimar y la isla vecina de Gran Canaria en días sin nubes.
El Teide, with its 3,718 meters, is the highest mountain in Spain and one of the most important monuments of Tenerife. The viewpoint "Mirador de Chipeque" can be reached by car and here you will find one of the best views of the Teide. On clear days you can enjoy a wonderful panoramic view of the Orotava Valley, the surrounding villages, the majestic Mount Teide, the massif of Teno and the island of La Palma on the horizon. Below the "Mirador de Chipeque" there is located the "Mirador de Chimague", which is not as spectacular, but from which you can see the valley of Güimar and the neighboring island of Gran Canaria when the sky is clear.
5. MIRADOR DE LA PEÑA, EL HIERRO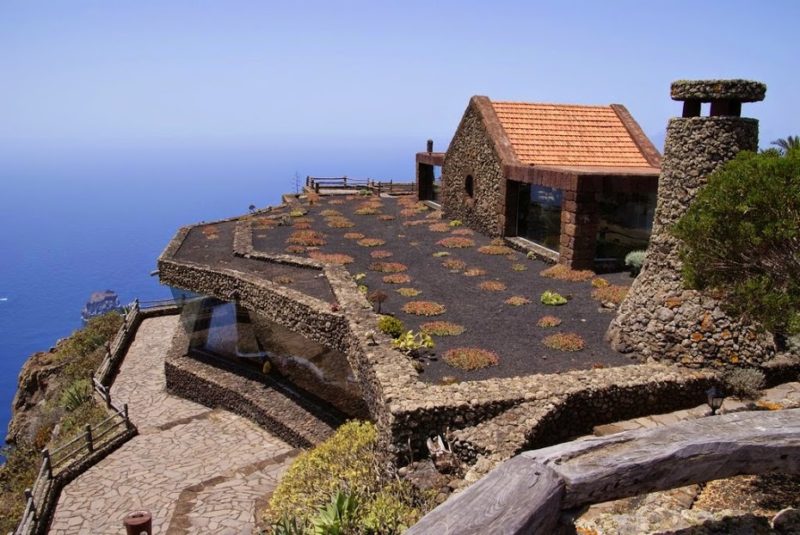 Im Norden von El Hierro auf einer Höhe von 700 Metern befindet sich der spektakuläre Aussichtspunkt "Mirador de la Peña", der einen wunderschönen Ausblick auf das Tal "Valle de El Golfo" mit seiner dichten einheimischen Vegetation, den Wein- und Obstfeldern und den Atlantischen Ozean bietet. Dieses architektonische Juwel vereint die typischen Materialien der kanarischen Architektur (Stein und Holz) mit modernen Einflüssen und integriert den Aussichtspunkt perfekt in die ursprüngliche Umgebung. Der Aussichtspunkt und seine Gärten wurden von dem kanarischen Künstler und Architekten César Manrique entworfen. Nachdem man die Aussicht bewundert hat, kann man in dem exklusiven "Restaurante Mirador de La Peña" typisch kanarische Gerichte probieren.
En el norte de El Hierro a una altura de 700 metros se encuentra el espectacular Mirador de la Peña, que ofrece unas vistas maravillosas al Valle de El Golfo con su vegetación endémica, los viñedos y frutales y el Océano Atlántico. Esta joya arquitectónica combina los materiales de construcción típicos canarios (piedra y madera) con influencias modernas e integra el mirador perfectamente en su entorno natural. El mirador y sus jardines fueron diseñados por el artista y arquitecto canario César Manrique. Después de disfrutar de las vistas, se pueden probar platos típicos canarios en el exclusivo Restaurante Mirador de La Peña.
In the north of El Hierro at an altitude of 700 meters there is located the spectacular viewpoint "Mirador de la Peña", from which you can enjoy beautiful views of the valley "Valle de El Golfo" with its dense vegetation, vineyards, fruit plantations and the Atlantic Ocean. This architectural gem combines the typical materials of Canarian architecture (stone and wood) with a modern touch and incorporates the viewpoint perfectly in the natural environment. The viewpoint and its gardens were designed by the Canarian artist and architect César Manrique. After admiring the view, you can try out typical Canarian dishes in the exclusive "Restaurante Mirador de La Peña".